Overall, compared to Thai food Vietnamese food is much less spicy and more bland. You can choose from a variety of soups (called Pho's), seafood dishes, vegetable dishes, rolls, and rice dishes.
You can have an excellent dinner for around $10 – you can however, eat much cheaper than this if you like. There are also some excellent French restaurants in Saigon as well as coffee shops.
The following are a few restaurants that Dave frequented during his time in HCM City.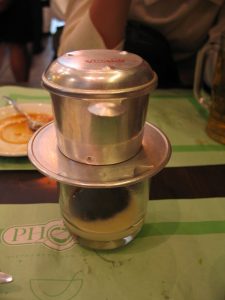 An Nam is an excellent Coffee/drinks/restaurant located at 52 Truong Dinh, Dist 3, PHONE: 932 2037 or 932 2038. Fax: 932 2039 They serve Vietnamese drinks and food with live music. Also serves buffet lunch but their real specialty is their coffee! This restaurant is owned by Mr. Pham Tan Phat who was born in the center of Vietnam and currently lives in US (He is Viet Kieu which means he is Vietnamese but lives overseas). The coffee served is from his own coffee plantations. A great place to bring a date after dinner.
Binh Soup Shop is mentioned here for its historical reasons. It serves pretty decent Pho noodle soup – but of additional interest is this restaurant served as a secret headquarters during the war where attacks were planned against US held areas in Saigon. This "soup shop" is located in District 3 at 7 D Ly Chinh Thang.
La Casa Latina is located at 11 Thai Van Lung in District 1. This place is chic, hip and rich in vibrant activity; a good intro feel for Saigon's nightlife. It is a nice Spanish style restaurant in the heart of District 1 in Saigon. Serves excellent food and is a hub for young Saigonites to hang in the evenings. Latin music. A good size bar, large selection of alcohol with great prices to. Salsa lessons are given Monday – Wednesday by the owner of La Casa Latina, a young handsome man of French/Vietnamese descent. His lessons range from beginner to more advanced. If you are lucky you may see this man demonstrate his dancing with other dancers. When two dancers are at the top of their game, it is a beautiful thing to watch. Nice bathroom located behind hanging beaded strings. Rolled up scented hand towels available for your cleaning pleasure. Located next to a net cafe. For more information PHONE (84-8) 822 3240
Muc Dong Seafood Restaurant (Buffalo Boy) is located in District 3 at 183 Vo Thi Sau Street. This is a cozy intimate restaurant – either indoor dining in an elegant air conditioned setting or outside dining in the patio available. The service here is *excellent* – with the waiters attentive to your every need. A wide selection of dishes and drinks are available including turtle. The prices are quite reasonable for what you get. This restaurant is well worth visiting. For more information call PHONE: (84 8) 932 7488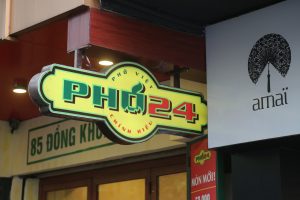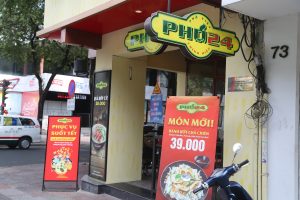 Pho 24 is a very clean restaurant located not far from the Opera House just off of Dong Khoi street in District 1 at 5 Nguyen Thiep Street. Note that this is a franchise and there are several Pho 24 restaurants scattered around town.
Pho is basically considered Vietnam's national meal – it is extremely popular. It is noodle soup which contains either beef or chicken. A side dish of "veggies" is always served with the main soup, usually mint, sprouts, lime, peppers, onions and maybe another veggie or two. These veggies are to be added to the piping hot soup and then stirred. Even though it is an additional cost, we highly recommend you get the side dish of small eggs to add to your Pho. Finish out your Pho with a nice cup of coffee that drips into a cup on your table while you wait. www.pho24.com.vn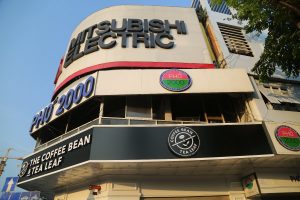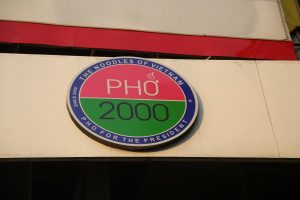 Pho 2000 is located across from one of the sides of the Ben Thanh Market. Gained immediate notoriety when former US president Bill Clinton dined here. It is rare to find a country and or city that this former US president has not been to! This Pho shop is located at 1-3 D Phan Chu Trinh – upstairs.
Signs for no photography are fastened to the walls. Service was a bit slow when we were here – the Pho didn't seem to be exceptional – but portions are sizable. Pay at the counter rather then at the table when finished with your meal.
Quan An Ngon (Ngon means delicious) is located at 138 Nam Ky Khoi Nghia, in District. 1, PHONE: 829-9449, fax: 825-7178 They serve authentic Vietnamese food in a traditional Vietnamese style. Many rooms to the restaurant. You can walk around before you eat to look at the food on display. Reasonably priced: VND8,000 to 40,000 per dish This place can be very very crowded in the evenings with both foreigners and Vietnamese alike. Great selection of fruit shakes! This restaurant is well worth a visit.