Galleries – Saigon features a diversity of galleries and various works of art – many of these galleries and shops are located in District 1 along Dong Khoi Street. However there are also other galleries scattered throughout the city. Artwork ranges from paintings, embroidery, wood carvings – to other small Vietnamese arts and crafts.

XQ DaLat Silk Hand Embroidery Picture Gallery is located at 81 Dong Khoi Street in District 1. This gallery features the delicate embroidery work of artists hailing from the city of Dalat located in Vietnam's central highlands. This artwork is quite treasured by many people around the world including many SE Asian heads of states & dignitaries. The famed soccer/futbol star David Beckham even has one or two in his collection. The smaller pieces take 3-4 months to finish and the larger pieces take much longer than that.
The attention to detail is amazing on these pieces of art – unless you look very closely this artwork resembles an oil painting. There are many nature scenes and artwork of elderly men and women. This gallery is located on Dong Khoi street which is a tree lined street that contains many nice galleries.
For more information please Email: contact@xqvietnam.com –> or visit their Website: www.xqvietnam.com or phone: (84) 8 8222856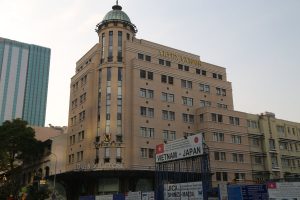 Opera View Mall is appropriately named as it is nearly across the street from the famous Saigon Opera House. This is one of several luxury malls in this part of town – with numerous shops containing well-known designer brands.
A destination for the locally affluent and the well-heeled travelers passing through town. Primarily the focus is on clothing, handbags and other related products.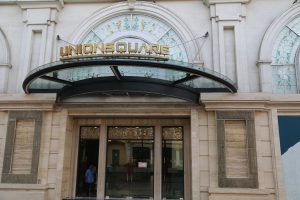 Union Square is centrally located in District 1 within a short walk of luxury hotels and some of Saigon's most prominent historical buildings. This high-end major mall features a number of luxury brands contained within interior decor that feels like somewhere in Europe.
Bordered on one side by the 'shopping street' Dong Koi and several other popular streets. Can get busy in the evenings and on the weekends. A popular spot for hi-so Vietnamese and travelers passing through. Open from 10am until 9pm daily.
Miscellaneous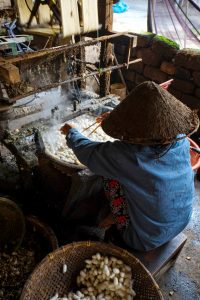 The Beauty Center is located at 85 Dong Kho Street PHONE (848) 912 5042 They offer the latest in beauty care for both men and women.
The Royal Foot Massage & Royal Coffee house is located at 36 Mac Thi Buoi St in District 1. Phone: (08) 8-230589. They offer foot, head, back & shoulder massage + 1 tea for around $10 US dollars. One can add a 50 minute food massage and a tea for a few more US dollars.
There are many cheap DVD stores in the Tax Trading Center located at 135 Nguyen Hue Street District 1. Most of these are located on the ground floor in the main "disk" selling area.