Castro District is centered along Castro Street (just off of Market Street) and is one of the original gay neighborhoods in the entire country. It retains its unique heritage and gay community – rainbow flags fly proudly above the sidewalks including the tallest one at the corner of Market, Castro and 17th Streets. The world's second GLBT History Museum opened here in 2010.
Harvey Milk is a name synonymous with this district – a former gay San Francisco politician who operated a camera shop here. And you can't visit the Castro District without noticing the prominent Castro Theatre – one of San Francisco's finest theatres, it dates from 1922. And similar to the Hollywood Walk of Fame, in 2014 a LGBT Walk of Fame was added along part of Castro Street (400 to 500 blocks) and part of 19th street – this is known as the Rainbow Honor Walk and pays tribute to prominent gay and lesbian individuals.
Chinatown is the largest home to those of Chinese ancestry outside of China and Hong Kong. China town can be entered merely a few blocks from the main Union Square shopping district. This cultural delight spans a length of 16 square blocks. Grant Avenue is the main street through town. Along this street you will see many temples, tourist shops, tea rooms and Chinese grocery stores. I enjoy wandering in China town, especially down the back allies away from the tourists. It is away from the main streets that you are able to truly get a feel for Chinatown. It is as if you were in a foreign country. Very few people are speaking English and the markets contain some truly exotic fruits and vegetables. At the Xuong Market near Grant Street I was able to purchase many small packages of food ranging from dried oysters, to seaweed, to fresh shrimp. This food contributed greatly to my Chinese cooking for the next several weeks.
The "real Chinatown" is where all the fruit and vegetable markets are located – along Stockton street near the corner of Broadway – spanning both directions of Stockton street for a few blocks. Chinese is the most common language you will hear spoken in this area and very few tourists will be present. All the signs are in Chinese. In the mid to late summer a great variety of tropical fruits including durian, logans, leeches, and jackfruit are sold here.
In this area, free parking is available above the Stockton tunnel on Broadway – its where you take tourists when you want to scare them. Its a dead end death trap for those who aren't comfortable parking on one of the steepest hills in San Francisco. You have to park sideways and when you get out of the car on the uphill side, it can be a real struggle to open the door!
– Chinese Culture Center located on the 3rd floor of the Holiday Inn is a great place for finding information about Chinatown and viewing Chinese art. For more information call PHONE NUMBER (415) 986-1822. They are open Tuesday through Saturday from 10am until 4pm and then again on Sundays from noon until 4pm. Admission is FREE. Visit: www.cccsf.us
– Chinese Historical Society of America is located at 650 Commercial Street. They document the history of the Chinese in San Francisco. They are open Tuesday and Friday from noon until 4pm. Admission is FREE but donations are accepted. For more information call PHONE NUMBER (415) 391-1188. Visit: www.chsa.org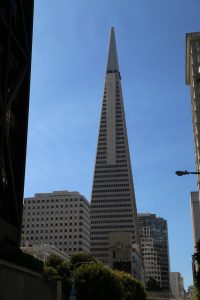 Financial District is located in the downtown area. You are lucky if you see the sun in this part of town. The tall buildings tower above everything and you feel like you are in a forest of tall trees. On weekdays the most common scene you will see are business people dressed in their finery walking from one place to another.

Haight Ashbury is well worth a trip if you want to see an area that is unlike anything that you have ever seen. Often homeless, young and old are lounging around on the streets. Colorful dress is common. Tie-die shirts and pants are the norm. There are many small cafes and bookstores located here.
The place has historically contained a feel of drugs, extreme loneliness, emptiness, and a lot of searching for something that we were not able to put our fingers on. Many young people are wandering around with vacant empty stares on their faces. There are some good stores that sell a lot of inexpensive jewelry here. It is a real shame that San Francisco has outlawed public nudity – the Haight is clearly a place where people can creatively express themselves.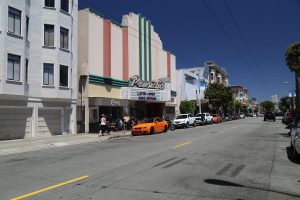 Marina District is located near the water near Marina Blvd. This area was severely damaged during the Loma Prieta earthquake in 1989. The reason for this is that most of the Marina is built on fill soil onto what was originally the waters of the bay. We personally toured in the days following this natural disaster; the destruction made a strong imprint in our memory which lasted for years.
When an earthquake strikes this soil takes the consistency of Jell-O and liquefaction occurs. This district is mostly residential but there are several nice shops and restaurants here.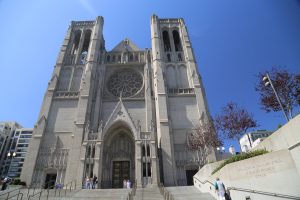 Nob Hill is the home of luxurious homes. This section of The City is located near California, Sacramento, and Jones Streets. Grace Cathedral is one of the nation's oldest Episcopal churches. If you have a chance, spend some time at this church.
The outside architecture is impressive and so is the inside. Admission is FREE but donations are accepted. For more information about this church and tours call Phone Number (415) 749-6300. www.nobhillgazette.com

North Beach was and to a lesser extent still is an Italian community. In recent years the influence of neighboring Chinatown has advanced into North Beach especially down Stockton Street. However, there is still a good mix of trendy Italian restaurants here. When we have eaten at several of the small cafes we have heard people speaking Italian.
A delicious delight that is a specialty from Italy is a bread called Foccacia. This is a flat bread that is slightly oily but is very flavorful depending on which of the four flavors that you choose. One local business specializes in producing this bread. This is all that they produce. They make four different types. One is raisin (our personal favorite) plain, pizza, and onion. Liguria Bakery is only open on the weekdays. You MUST get here in the early to mid-morning on a weekday to be able to purchase their freshly baked fares or you can call your order in and they will save it for you until 1pm at the latest. They usually run out of the days bread by late morning and are often closed by early afternoon.
This bakery is closed for the entire month of August as the owners close down and vacation in Italy. They are located at 1700 Stockton Street on the corner of Filbert Street – their Phone Number is: 415-421-3786.
Washington Square is typically considered the heart of North Beach. This is a small park great for relaxing in on the benches or feeding the pigeons. It is anchored on the south side by the impressive Catholic Church Peter and Pauls and on the north side by Italian Restaurants.
Presidio is located in the northern fringes of the city of San Francisco – one of the city's primary "green spaces" despite housing numerous buildings (700+ in the park) from when this used to be a U.S. Army military fort. Unlike parts of San Francisco which are highly urban and vertical, this space gives you room to breath – with its wide streets, lawns and natural environment. This part of San Francisco was established as a fort in 1776 and was under the control of the U.S. military for 200+ years until in 1994 it was transferred to the National Park Service.
Today there are numerous hiking and biking trails among plenty of natural beauty including along the coastal dunes and sea bluffs. The Presidio also houses a spring fed lake.
Highlights of any visit here include a stop by the Visitor's Center to learn more about this historical and unique part of town, the Disney Family Museum (take an extended trip through the life of Walt Disney and his various cartoons and of course exhibits about Disneyland), walking down some of the streets among the old barracks – and a glance at the historic Inn at the Presidio (yes you can stay here).
For more information visit the official website: www.presidio.gov
Twin Peaks are the tallest hills in San Francisco; while not very tall, the views from the top are inspirational and panoramic. The homes up here are also worth seeing – some of San Francisco's multi-million real estate. From San Francisco the primary access is initially via Market Street.
A small road winds up to the top of Twin Peaks where if clear, you will have stunning views overlooking downtown San Francisco, the Golden Gate Bridge, and across the bay into Oakland. Bring a coat as when the fog is rolling in it can be quite windy and chilly. Several pay toilets are available on the top; there is usually ample parking – although on busy evenings you may have to wait for parking (when busy, people start parking on the sides of the road before actually reaching the top parking lot.