All cities, attractions and sites below are listed in alphabetical order
AVILA BEACH is located next to a small bay in the 'shadow' of the Diablo Valley Canyon Nuclear Power Plant. Sometimes when shifts get off at the power plant a long line of cars will empty out all at once (this power plant is set to shut down in the year 2025).
Avila Beach is a short drive from San Luis Obispo – only about 15 minutes. After taking the Avila Beach turnoff from the 101 you will pass two hot spring properties; the Avila Hot Springs resort – nice place to soak for a while and Sycamore Mineral Springs.
Gardens of Avila is located inside the Sycamore Mineral Springs. We have eaten here before. The food was better then average but not what we expected for the higher prices. Their dinner entrees are between $25 and $40. Semi formal. They also offer massages and a "dine and dip" special in which you can use the spa for an hour before you eat dinner. They are located at 1215 Avila Beach Drive, which is just off of the 101 southbound. Visit: www.sycamoresprings.com/avila-beach-restaurant
Continuing a short ways past Avila Beach you will reach Port San Luis. You can charter fishing boats from the Port San Luis pier as well as purchase very fresh seafood. There is one permanent seafood vendor as well as sometimes 1/2 way down the pier a local vendor who sets up shop with his tanks.
Also note sea lions love the Port San Luis pier and you will often see them lounging around towards the end of the pier – on some steps leading down to the water (a lower level). Some old 'sea dog' also live in their boats in the vicinity of the pier. Several restaurants are also located here. One is at the end of the pier, a cafe is located towards the middle of the pier and "Fat Cats" is located next to the side of the road and is open 24 hours a day. Fat Cats is always a nice stop.
Avila Beach has been carefully crafted for tourism; the entire town was transplanted inland by several hundred feet during a huge cleanup operation a number of years ago Unocal (oil company). Unocal cleaned up the beach area from seeping oil and other pollutants and replaced the entire beach with new sand. When finished they changed the look of the front of town, and moved the buildings back into near their original locations.
Today the town looks quite a bit different from just a few years ago. It has become more "quaint", touristy, and clean looking offering a variety of charming shops, restaurants, and wine tasting rooms. Avila Beach features three hotels; Avila Lighthouse Suites, Avila La Fonda Hotel and the Inn at Avila Beach.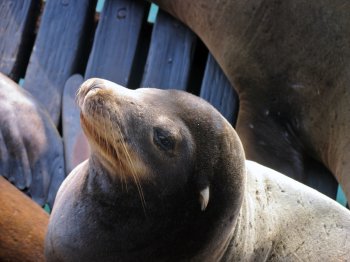 A woman was killed in a shark attack off the main beach here in 2003 and there are warning signs to this effect posted about. Visibility in the water is often not very good and can be quite silty. Avila Bay is fairly sheltered and you will typically not find surfers here. Nearby Pismo Beach however is often a great place for surfing – especially near the main pier.
A gorgeous "SLO" way to Avila Beach that we highly recommend if you have the time is the Perfumo to See Canyon from San Luis Obispo – the "camino en la cielo" — Road in the Sky, (here we name borrow from the scenic road that leads east off of the 154 San Marcos Pass in Santa Barbara County).
Perfumo Canyon Road leads off from Los Osos Valley Road in San Luis Obispo, about 1 – 2 miles South of where the junction of Foothill and Los Osos Valley Roads meet. It winds its way into the hills above San Luis Obispo, where you will have excellent views of the 9-sisters, including the "small" Morro Rock in the distance. This road will lead down the back side of these hills where it will become a compacted dirt road for about a mile (it is well graded and easy for cars to drive this – although I would exercise caution after severe rain). This eventually drops into See Canyon (a well-known local apple growing region). From See Canyon its less then a 10 minute drive to Avila Beach.
HEARST CASTLE, no visit to the central coast is complete without stopping to see this remarkable property (42 miles north of San Luis along Highway 1). Hearst Castle was one of William Randolph Hearst's homes. He was a newspaper baron among other professions. There are several tours given; because the grounds and mansion are so big, you cannot cover everything in one tour. The main house consists of 115 rooms. There are three guesthouses on the 127 acres. There are four daytime 1.75 hour tours given.
The FIRST TOUR covers the gardens, a guesthouse, both pools and the ground floor of the mansion.
TOUR 2 includes the upper stories, Hearst's private quarters, the study/ library, and both pools.
TOUR 3 includes the north wing of the main building, a guesthouse, gardens, and both pools. Lastly, TOUR 4 covers mostly the garden area, wine cellar, the largest guesthouses and both pools.
TOUR 4 is given only between April and October. Tickets for the day tours are $24 for adults. Children between the ages of 6 to 12 are discounted. Evening tours are also given.
The mansion is quite impressive. However we have been most impressed during our visits with the spring fed Neptune Pool and the nearby marble statues of sea goddesses and other creatures. On a clear day the views from the pool side are spectacular. The ocean lies in the distance and the rolling hills east and north of the castle are beautiful in their own right, especially when they are green. This pool also runs into a room and under walkways. 24 carat gold tiles line the pool. The mansion contains old priceless paintings, carvings, statues and books among other antiquities.
For lodging in the San Simeon area try: www.raggedpointinn.com This is an ocean view resort located near Hearst Castle & San Simeon, featuring a luxury hotel, restaurant, gallery, hamburger stand, general store, nature trails, gardens, & a weddings department.

LOS OSOS is a historic and small community nestled near the coast next to even smaller Baywood Park and between the Montaña de Oro State Park and Morro Bay. It is the gateway community to Montaña de Oro which offers a diversity of hiking and biking trails as well as coastal access.
Coming from Los Angeles or San Francisco? One can breathe a sigh of relief based on the fact that there is little traffic in this community! Oh and if it's clear at night you can actually see the stars as there isn't a lot of ambient light from any nearby cities.

Looking for a cozy, quiet and private stand alone studio in a residential neighborhood? Check out our good friend's AirBnB private studio here and mentioned we sent you!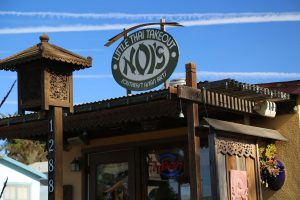 A nice stop especially outdoors on warm days is Noi's Little Thai Takeout, a decent Thai restaurant located at 1288 2nd St. Phone: 805-528-6647. They have a small selection of noodle or rice dishes – each one is very well prepared and seasoned to meet any level of "heat" that you desire. The owner, Noi has been serving food in her restaurant for 15+ years and hails from northern Thailand. The restaurant is well decorated in SE Asian decor with articles about Noi and her restaurant hanging inside. Deck and outside dining available.
She and her sister also operate the nearby Noi & Doi's 2nd Street Cafe.
We also enjoy stopping at Celias Garden Cafe located near central Los Osos at 1188 Los Osos Valley Rd. This picturesque and scenic setting is idyllic for enjoying a good breakfast in their outdoor patio on warm sunny mornings. A go to restaurant for meeting friends in the area. Service has always been prompt and we always look forward to either their crab or eggs Benedict (served with their home made hollandaise sauce).
Very good freshly squeezed local orange juice – be sure to request their home made apricot jam with your muffin or bread sides. Visit: www.celiasgardencafe.com
Elfin Forest is a 90 acre natural area within Los Osos accessiuble via numerous dirt trail entrances leading off of the end of select streets from 11th to 17th Street. The easiest access is via the end of 16th Street because of all the entrances, this is the only one tha tfeatures a reaised boardwalk (so you don't have to get sand in your shoes). And this entrance is also handicap accessible – there are no curbs on these streets – parking is either in one of just a couple at the end of the street next to the entrance or in between driveways on the street.
Other then the entrance sand trails access to this natural area is entirely on raised board walks. Several highlights are worth visiting including the Bush Lupine Point and Siena's View – offering excellent views looking west over the tiny bay with the Morro Rock easily visible to the north. Visitors should also make a point to see the Rose Bowker Grove – a shaded area under numerous Coast Live Oak Trees. The difference however is obvious, Coast Live Oak trees often grow 40 and 50 feet tall; here they are typically no more then 10 to 12 feet in height. These trees are around 200 years old, although other groves in this part of the state have been dated to around 400 years old.
For more information visit, www.elfin-forest.org
MORRO BAY can be quickly accessed from San Luis Obispo by driving along Highway 1 or Los Osos Valley Road. Highway 1 is the quickest and most direct. Leaving San Luis Obispo on Highway 1 you will pass the California Men's Correctional Colony where Timothy Leary once lived and most recently Marlon Brando's son.
Continuing down 1 you will pass Cuesta Community College on your left. This quaint Junior College has Spanish style architecture with tiled roofs. If this drive is taken in the springtime you will see beautiful green hills with some wild flowers. You will enter Morro Bay about 12 miles after leaving San Luis Obispo.
Morro Bay is a picturesque town centered around two physical features, one natural (Morro Rock) and one human made (the Three Stacks) left from the power plant that was built in the early 1950's but closed in 2014. The Morro Rock cannot be missed; while not terribly tall (581 feet) it rises dramatically from sea level and can be seen for miles around. It is a popular bird nesting site – people are not allowed to climb on the rock (other then an exemption for a few native american tribes) but one can certainly stand below it and gaze up in awe.
Morro Bay was also the home to prominent fitness master, Jack LaLanne until he died here at age 95 in 2011.
A short hike is to the top of the point/hill at the Morro Bay Museum of Natural History Museum (incidentally, opened in 1962 and is the only museum of its kind in the California State Park system). Located a few minutes south of central Morro Bay at State Park Rd. Park your vehicle for free in the provided parking lot and wind your way up the hill on the pathway. Bedrock Indian mortars are located next to the trail – but the real highlight here are the views overlooking Morro Bay and the Morro Rock.
The harborfront is an excellent place to stroll and take in the picturesque surroundings. Sometimes if you are lucky you can see cute otters floating on their backs in and among the eelgrass. Because of its active fishing industry (working harbor for fishing vessels) and proximity to the ocean, Morro Bay has a number of excellent seafood restaurants.
One place that is great on a warm sunny day is Tognazzini's Dockside Too Fish Market and Dining. Captain Mark Tognazzini was born and raised in Morro Bay and fishes the area on Bonnie Marietta, a 38' commercial Fishing Vessel he name after his wife. Mark and Bonnie operate three restaurants in Morro Bay; their original Dockside Restaurant, the one mentioned above and most recently the Dockside 3 Smokehouse Oyster Bar and Pub. All are within very short walks of each other next to the harbor.
Their little fish market focuses on freshly caught, mostly local seafood. Can you eat raw? If so order their sashimi plate – delicious tuna with wasabi, soy sauce and a bit of lemon juice. Excellent oysters and smoked fish. Eat outside and be treated to some local sound – often live music will be on 'tap' in the mornings. Visit: www.morrobaydockside.com
Frankie and Lolas is a very popular restaurant for breakfast with common wait times during busy mornings (they are also open for lunch – closing daily at 230pm). Limited indoor and outdoor seating. Across the street from the harbor. Plenty of parking nearby. Visit: www.frankieandlolas.com
Coffee Pot Restaurant is located at 1001 Front Street in Morro Bay. It is run by Lu Chi Fa who has published a book titled Double Luck: memoirs of a Chinese Orphan – he has sold over 20,000 copies and has donated a portion of the earnings to a children's scholarship fund. They serve breakfast and lunch. Phone: (805) 772-3176 www.morrobaycoffeepot.com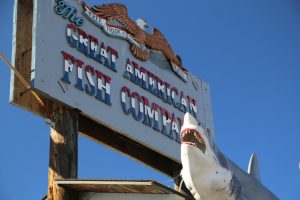 Another particularly good seafood restaurant is called the Great American Fish Company. The food is good and is complemented with ocean front views from your table. Lots of glass windows allows for these views – including of the nearby Morro Rock. Established more then 30 years ago. Fresh Local Dungeness Crab when in season and broiled lobster. Often voted San Luis Obispo County's best seafood restaurant.
Dinner runs from the low end (fish and chips) $12 to the meats around $25. They are located at 1185 Embarcadero in Morro Bay. Their phone number is (805) 772-4407. Visit: www.bestfishrestaurantmorrobay.com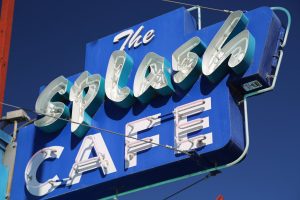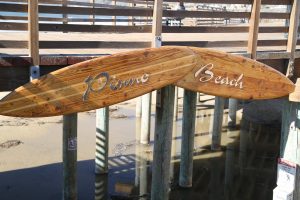 PISMO BEACH is a complete contrast from Morro Bay. Instead of being calm and quiet and a gallery town, Pismo caters to the young crowd, the surfer crowd….the look better, wear less crowd. There is an energy found here that is not found in Morro Bay. There are numerous beachware and surfer shops. Parking can be very tight on surface streets leading down to the center of town/pier – if you don't find streetside parking – turn off of Cypress Street onto Pomeroy Ave, drive all the way down to the pier and look for parking in a decent sized open air metered parking lot. This is a town renowned for excellent clam chowder including at Splash Cafe where there always seems to be a line out the door when we visit.
Pismo Beach is also where famed NFL Coach and announcer John Madden supposedly met his wife.
Piers extend out into the ocean, often times you will see people fishing from the ends of the pier. Pismo Beach is actually a part of a few beach towns (the 5 cities) which are spread along the coast including Grover Beach and Shell Beach.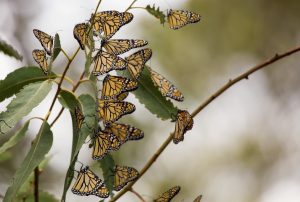 Pismo State Beach Monarch Grove is famous for its over wintering Monarch butterflys – these butterflys fly several thousand miles from the highlands in central Mexico to overwinter in the same places every year on select parts of the California coastline.
Butterflies come to nest in this area in the fall through the late winter months; during the peak of the season Eucalyptus trees are literally covered in moving orange, yellow and black colors. Also note that one will see more activity when the temperature warms to 57 degrees or higher; this is when the butterflys are more active. This is one highlight that should never be missed if you visit the Central Coast during these months. We conducted a study on these butterflies some years back involving wing aerodynamics. For more information and the latest butterfly counts, visit: www.monarchbutterfly.org
POZO is a gateway for outdoor activities including 4-wheeling, camping, or bike riding. The main attraction here is the Pozo Saloon. It dates from 1858 and is oozing with character. Be sure to order a beer – orders must be placed for 1/2 or gallon sized jugs of beer only. The beer is brought out in glass olive jar containers with a bed of green olives lying at the bottom. Suck it dry.
Pozo Saloon is located about 40-45 minutes by car from downtown San Luis Obispo. This saloon is located in the thriving metropolis of Pozo – at last count population 52. The town's population wasn't always this low – gold was discovered in the late 1870's in La Panza (east of Pozo) and the population of the town had swelled to over 850 by 1882. The building is a fine example of old 'western' architecture. The Pozo Saloon reopened in 1967.
Throw back a cool drink in their bar on a hot summer day. Or hang out on their deck in the back. Outdoor events including concerts are sometimes held in their "back yard" (usually on the weekends). We once saw Willie Nelson perform here – the outdoor concerts feature the small stage and a large grassy field where the audience sits. Other well-known performers have included Snoop Dogg and Lynyrd Skynyrd among others. The annual Scottish games are also held at the Pozo Saloon.
More recently the Pozo Saloon has another hospitality neighbor – the Vintage Cowboy Winery operates a tasting room next door, open only on the weekends. Visit their website for much more information including menus, directions or to receive their email newsletter: www.pozosaloon.com – Phone (805) 438-4225
Visit their website: www.pozosaloon.com
SEE CANYON APPLE TASTING – See Canyon is located between San Luis Obispo and Avila Beach – South about 5 miles West of San Luis Obispo. From the 101 take the San Luis Bay Drive exit and drive for about 1 mile west on San Luis Bay Drive. On your right you will see See Canyon Road – take this – most of the apple farms are 1-4 miles in on this road.
Apple season is typically from August to early November – with the majority of apples picked in September and October. Enjoy fresh apples and apple cider! One such apple farm we enjoy visiting and have done so several times is called the Gopher Glen Apple Farm. They have over 60 varieties of apples available. They are located at 2899 See Canyon Road. More info? Visit: www.gopherglen.com