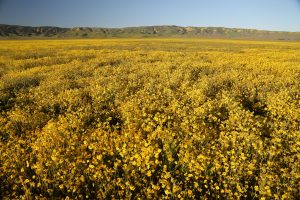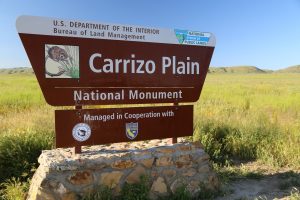 Carizzo Plain is located a little over an hour driving from San Luis Obispo – the drive to reach the plains and a visit here reveals the diversity of San Luis Obispo County both in topography, flora and population. Unlike coastal San Luis Obispo which is fairly well populated – the Carrizo Plains are in a part of the county that is almost completely uninhabited by people. It almost reminds one of the rolling prairies of the Midwest other than the fact that it is surrounded by mountains. This part of the county receives less rain then the coastal areas and as a result supports an environment that is meso – not quite desert and not quite coastal.
To reach the Carrizo Plains take the 101 from San Luis Obispo – eight miles to the north to the Santa Margarita exit. Then drive through the "western style" town of Santa Margarita and turn right onto Highway 58 – then follow the signs for highway 58 and stay on 58 all the way until you reach California Valley.
This is the first major valley you reach on highway 58 – the road drops out of the hills and goes through a serious of several 90 degree turns. About 8-10 miles after you enter this valley you will see the road to Soda Lake on your right hand side. From the 58 to Soda Lake it is 13 miles. The Highway 58 drive is gorgeous. It is a seldom traveled road and once you leave the small town of Santa Margarita it is something like 90 miles before the next services are found (gas, restaurants etc). As you drive east you will notice the vegetation becomes more and more indicative of a drier climate. About 15 miles before you reach California Valley you may see a herd of grazing Buffalo. Good photo op here.
Most of the year this area is very dry and in the summer months it can be quite hot here.
The absolute best time of year to visit is from early to the end of April after a high rainfall year.

Depending on the year the wildflowers in this area can be simply breathtaking. Carpets and carpets of yellows and oranges blanket parts of the Carrizo Plains and especially in the vicinity of Soda Lake.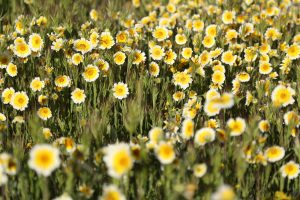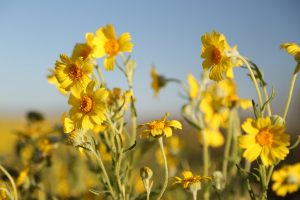 Once you reach Soda Lake be sure to take the dirt road leading to the Soda Lake overlook. A short dirt trail leads from the dirt parking lot to the top of a small hill which affords one excellent views of Soda Lake, the Carrizo Plains and the nearby mountains. Sometimes you can see snow on these mountains way in the distance.
Almost directly across the paved Soda Lake Road from the Soda Lake overlook is a small dirt parking lot next to a trail.
This 1/4 mile trail leads to Soda Lake and is well worth the hike. A raised trail made from recycled milk cartons winds around a short section of the lake. Soda Lake is one of California's saltiest lakes and is an important migratory stop for birds.
After you have made these two stops continue south on the paved road – and if conditions are right, you will soon come to one of California's most extensive and impressive yellow wildflower displays – a carpet of color sprayed out in all directions (most of our photos below are from this particular part of Carizzo Plains).
On your return trip to San Luis Obispo consider taking the old road back to Pozo which then meets up with highway 58 just outside of Santa Margarita. This road leads off of Highway 58 about 5 miles west of California valley – where the 58 enters the hills again after climbing out of California Valley. Its a paved road for a few miles and then becomes a dirt road all the way to just outside of Pozo. It is a bit rocky dropping down the grade into Pozo and is not a recommended drive during rainy weather. It is not a bad dirt road, as far as dirt roads go – we have taken several 2-WD vehicles over this road. If you do drive it, drive it slow and watch for rocks in the road.