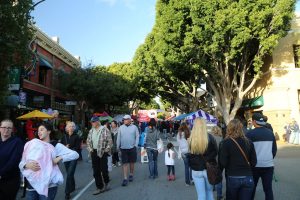 Every Thursday night (except in the case of inclement weather) the main street, Higuera, is closed to all vehicles – and barbecues, produce vendors, and entertainment fills the streets (6pm to 9pm). The tradition of the Thursday night market started in the 1800's when instead of barbecues the locals would gather around a large pit in the ground on Higuera street. Wild bears from the county and bulls were put into the pit and left to fight. After all was said and done the dead animals would be cleaned and cooked.
About 2 blocks of Higuera street are dedicated to vendors selling fresh fruits and vegetables (and yes most of the produce here is fresh!) and 2+ blocks are dedicated to local vendors and barbecues. Be sure to sample some of the excellent food here. Moe's and SLO Brew are two of our favorite barbecues. Depending on the season you can find many varieties of fresh fruit, strawberries are usually available most of the year, and fresh vegetables are available year round.
Often a side street or two will be closed for special exhibits such as for displaying city fire, medical or police equipment, or for clubs at Cal Poly. There is always entertainment of some kind – from a puppeteer for the kids, to live music to jugglers.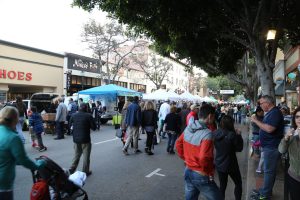 "Farmers" as its affectionately called by locals is well attended. Often up to 15,000 people attend this in the summer time with numbers dipping to around 10,000 during the spring and fall. The San Luis downtown area is not large and there is not a lot of parking. During "Farmer's" parking spaces are in extremely high demand. The 'safest' bet for parking is in one of the parking garages – either the Palm Street Garages or the garage off of Marsh street (although note that these parking garages do also fill up completely at times).
Parking is also available for free on side streets and in the parking lot between Monterey and Higuera streets – just south of the Fremont Theatre but this lot and the side streets usually fill up before the market even starts. Best bet is to find parking before 6pm.
Food starts selling at 6pm and the produce section opens at 6:30 – always with the ringing of a bell by a certain Cal Poly Biology professor. Often if you come to "Farmers" near the end of the evening (around 8:30-9pm) you can bargain with the barbecue vendors and often buy the food for cheaper than what it was originally selling for earlier in the evening.
See if you can spot the gentleman who walks up and down the street carrying a religious sign. He attends every "Farmers" without exception. This gentleman is getting up in years and you may now find him sitting on local benches with his sign instead of walking up and down the street.
For additional information please visit www.downtownslo.com or call 805.541.0286
Watch a video about Farmer's Market and San Luis Obispo in general: