PASO ROBLES WINE COUNTRY
This region is rapidly growing and is starting to become very well-known. This area is an excellent alternative to the high priced Napa Valley. This region is situated about 20 miles east of the Pacific Ocean – about 30 minutes north of San Luis Obispo. Today there are well over 200 wineries in this region – one of the neat aspects of these wineries is that many are small and family owned. Often tasting is by appointment only.
San Luis Obispo County continues to increase its wine production – in fact it is now the 4th largest premium Coastal growing area in California, after Sonoma, Napa, & Monterey counties. Wine making in this area dates all the way back to the late 1700's when grapes were first planted by Franciscan missionaries.
Summertime temperatures can be quite hot with temperatures often reaching the low 100's. Wintertime temperatures can range anywhere from freezing at night to the low 60's during the day.
Guests flying Alaska Airlines into San Luis Obispo Airport (SBF) can check a case of wine at no extra cost.
For the ultimate guide to Paso Robles Wine Country please visit: www.pasowine.com They have updated weather information, detailed information about every winery in the region, maps and much much more!
Several annual events are held each year in or around Paso Robles.
The Zinfandel Festival is held the 3rd weekend in March
The Paso Robles Wine Festival is held the 3rd weekend in May
The Harvest Wine Tour is held the 3rd weekend in October

AVILA BEACH
Tiny Avila Beach has become home to several tasting rooms including Alapay Cellars.
Alapay Cellars has a small tasting room in Avila Beach at 415 First Street. They are a small winery but consistently win awards at the San Francisco Chronicle's annual wine competition. Tasting is $10 and includes tastes of 12 different wines! Be sure to talk to the Indonesian lady behind the counter – this is very friendly and a great source of local information. Awesome dessert wines. Visit: www.alapaycellars.com

EDNA VALLEY
Edna Valley is located about 15 minutes from San Luis Obispo – although it is not very well known among overall California wine regions, this valley is home to over 20 wineries. Most of the wineries are very small compared to the larger wineries located in some of the more well-known wine regions in California such as Napa, Sonoma and the Santa Ynez Valley. The focus here is on Chardonnay and Pinot Noir with wine also made from Syrah.
Several wineries in the Edna valley & San Luis Obispo area that we have visited are:
Baileyana and Tangent is located in a charming yellow old schoolhouse that dates from 1909 www.baileyana.com Small tasting room – picnic area and ample parking. Their outdoor tasting areas are very popular during good weather. Homey inside and picturesque outside.
Founded by Catharine and Jack Niven – both came to San Luis Obispo in the early 1970s nurturing a vision of planting a vineyard in Edna Valley (at that time dairy farms). Jack planted vines in 1973 – the Paragon Vineyard and today it is the oldest continuously producing vines in Edna Valley. Jack was also part of the group that petitioned Edna Valley to become an AVA in 1982.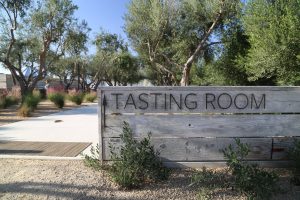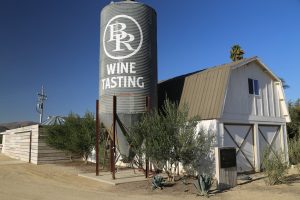 Biddle Ranch Vineyard is located at 2050 Biddle Ranch Rd just south of the San Luis Obispo Airport and next to Highway 227. Conveniently located less then 15 minutes from downtown San Luis Obispo. This is one of the newer tasting rooms in the Edna Valley having been founded in 2013 by a group of friends with the tasting room on this property opening in 2016. The surrounding property is planted to 23 acres of Chardonnay. Very clean, picturesque and inviting property.
The Vineyard House is listed on VRBO. Sizable at 3,100 square feet it includes four bedrooms and three bathrooms – and accommodates up to 12 people. Ideal for a home base for wine tasting as numerous wineries are within a short drive of the property. Visit: www.biddleranch.com

Chamisal Vineyards is located at 7525 Orcutt Road and is surrounded by vineyards. Visitors can choose from several tasting options including the Chamisal Flight (seated tasting in their garden patio or at the bar), the Picnic Patio tasting where wines are paired with your picnic lunch or the appointment only Educational Tour & Private Tasting where you are driven through part of their vineyards and given an educational tour of their property and history.
Focus is on Chardonnay, Pinot Noir and Syrah. Loads of vineyard history as it relates to Edna Valley.They were the first winery to plant vines in Edna Valley in 1973. The name come from the native Chamise plant which grows on the property. For more information visit: www.chamisalvineyards.com
Claiborne & Churchill is located next to Highway 227. This winery is located in a "straw bale" building and one small part of one of the walls has been cut out so you can see this type of construction. Tastings are inside in the cellar or outside in their garden. They focus on lighter style varietals including a number of whites (Dry Riesling, Dry Gewürztraminer, Pinot Gris, Pinot Blanc) as well as several Pinot Noirs. They also make a stellar port. Look for the 'Gewürz 'til it hurts' t shirts! More info: www.claibornechurchill.com
Edna Valley Vineyard is located at 2585 Biddle Ranch Rd. The tasting room offers a wide variety of tasting options. Also somewhat unique to a visit here is their Demonstration Vineyard (planted right next to the parking lot).
Gorgeous views from their lawn, especially in the evenings into Fall watching the sun go down. Tables and chairs are available here for your comfort. Equally gorgeous views through the large window in the tasting room. The focus here is on Chardonnay but they also make a number of red wines. Some wines are only sold out of their tasting room. Visit: www.ednavalleyvineyard.com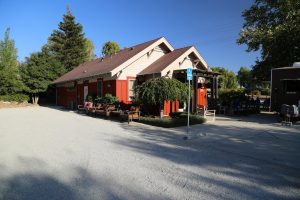 Saucelito Canyon is built upon the heritage of old vine zinfandel (3 acres) originally planted in the Arroyo Grande Valley in 1880. In 1974 vintner Bill Greenough camped out on this property and discovered some of the old vines were still producing fruit (despite not being managed for decades). Bill decided to restore the vineyard rather then replant – their first vintage was released in 1982.
The winery takes its name from Rancho Saucelito, in Spanish, named after the little willow trees that grow on site. While there is no tasting room on site of these original Zinfandel vines, the maintain a small tasting room located at 3080 Biddle Ranch Rd. Homey feel to the property, gravel driveway with gravel parking lot. Weather permitting there is pleasant outdoor seating next to the tasting room. Nice change of pace to make a stop here compared to many of the other wineries who focus on Pinot Noir and Chardonnay. Visit: www.saucelitocanyon.com

Tolosa Estate Wines is located at 4910 Edna Road – the winery is popular enough that they warrant their own stop light – located down a driveway at the often busy intersection of Buckley Road and Highway 227. Tolosa Winery was founded in 1998 and appropriately named after Mission San Luis Obispo de Tolosa (founded 1772). Like at other California missions, grapes were grown on site.
The winery was founded by Vintner Robin Baggett and several other partners (Baggett Field at Cal Poly is named after him). Robin also founded Alpha Omega Winery in Rutherd (Napa Valley) in 2006. Unlike the focus at Alpha Omega on Bordeaux varietals, the focus at Tolosa is on Burgundian varietals including Pinot Noir and Chardonnay. Robin first purchased property in the Edna Valley in the late 1970's with hopes of running a cattle ranch. Ultimately it turned out this land would be more productive growing grapes. Visit: www.tolosawinery.com

Wolff Vineyards is located off of Orcutt road on a small side dirt road that leads to the top of the hill where the winery and owners home is located. This is a very family oriented winery. Tasting is typically outside weather permitting in a small patio overlooking the vineyards of Edna Valley. This is one of the oldest wineries in the valley. Be sure to try their Teroldego wine – which is an unusual wine in the USA – and originates from Italy. More info: www.wolffvineyards.com
For more information visit Central Coast Foodie, www.centralcoastfoodie.com – the go to guide for food, wine, travel and sustainability as it relates to California's Central Coast.
Central Coast Wines is a fantastic resource for the region; it is a shop specializing in local wines and is located at 712 Higuera Street in San Luis Obispo. They sell wines of numerous varietals, they have a wine club, and often they will invite local wineries to bring some of their wines for wine tasting. Please visit www.ccwines.com for more information.

SLO WINE TOURS
Central Coast Wine Tours – www.thewinewrangler.com
Wine Country Tasting Tours – www.gogrape.com
Our recommended tour company for Paso Robles is Toast Tours offering two local group experiences, the Toast Together tour which visits 3 wineries and then finishes in Tin City, and our Hearst Castle & Wine tour which departs from both San Luis Obispo and Paso Robles and visits Hearst Castle, Cambria & 2 wineries plus Tin City. They offer private tours, charters & transportation, which are completely flexible and full concierge services. Hosts, Lars & Kristina have worked as wine tour guides in the Napa Valley and Sonoma and as guides in Barcelona. For more info visit: www.toasttours.com
NAPA VALLEY?
Heading up to Napa at some point? Check out Dave's enormous Napa Wine Project in which he has personally visited and tasted and written reviews of well over 1,000 unique commercial wine producers: www.napawineproject.com