For more information on the city of San Luis Obispo and the county of San Luis Obispo visit:
www.visitsanluisobispocounty.com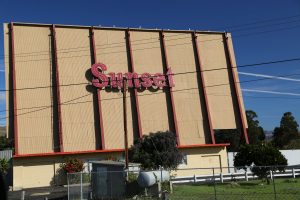 San Luis Sunset Swap Meet is held every Sunday morning (weather permitting) beginning at the cheery hour of 4:45am in the morning. However, most vendors are not yet setup at this hour. Dave's recommended time to arrive at this Swap meet is around 7am. It is held just south of town in the parking lot at the Sunset Drive-in Movie Theatre – which is located off of South Higuera street close to the cemetery at 225 Elks Lane. This drive-in has been operating since the early 1950's and features some 500 parking spaces.
It is $2 to enter the gate – once inside you will be treated to many many vendors selling an eclectic variety of items – mostly used. Produce vendors also sell at this swap meet. Parking is available for free in a dirt lot to the east of the swap meet and is VERY competitive. During rainy season this is a "mud fest" galore! Parking is also available along the sides of the main road outside of the swap meet. Some excellent bargains are to be found here.
In addition please visit the following sites:
San Luis Obispo
San Luis Obispo County
Wine Tasting
Other
www.centralcoastfoodie.com the go to site for all things wine, food, travel, and sustainable related for the entire Central Coast – Los Osos based