Mission Santa Barbara called the "Queen of the Missions" was founded on Dec 4, 1786, on the Feast of St. Barbara. This mission is the tenth of the California missions and is the only one with two bell towers. It's construction was completed in 1820, and today is still one of the best preserved missions. However, between the founding of the mission and today it has been severely damaged by several earthquakes, one in 1812 and one in 1925.
Both times the mission was partially rebuilt and in 1950 the main facade was completely rebuilt. We have visited numerous times, often on clear warm Santa Barbara days, that this city is most known for. Sometimes wedding ceremonies are performed here in the main Church (still used for service).
During one such ceremony we were able to see the inside of the church and the mission gardens and museum. Admission for adults is $10, and children under 16 are free. Docent tours are led on select days in the mornings. The museum is in the old living quarters of the missionaries and exhibits old mission artifacts, Chumash Indian artifacts, and very old oil paintings.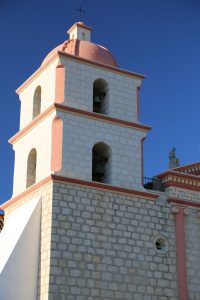 These paintings are examples of 18th and 19th century Mexican art. Some of the paintings are undergoing restoration and may be unavailable for viewing. The mission gardens are beautiful. Many different species of plants and trees grow here. Walkways allow you to wander and explore the gardens. Numerous native Americans are buried under these gardens – their graves no longer marked. Also be sure to visit the mausoleum (restored in 2011); since 1893 it has been home to a number of Franciscan friars and early citizens who played important roles in Santa Barbara's history.
A Moorish fountain built in 1808 is located in the front of the mission and offers up beautiful reflections of the mission. Also in front is a large lawn area (the Mission park), a cactus garden, and a rose garden towards the back of the lawn. More then 1000 roses are growing here.
Often you will see people playing Frisbee or other sports on the front lawn. A beautiful drive is located directly behind the Mission. Explore some of the side roads off of Mountain Drive or Mission Canyon Road. There you will see some large homes and be treated to visually stunning views of Santa Barbara.
The Mission is open daily from 9am to 5pm. They are closed Easter, Thanksgiving, and Christmas Day. Mission Santa Barbara is located at East Olivos and Laguna streets. A gift shop is available near the entrance; they sell various souvenirs. Phone is (805) 682-4149.
For more information visit: www.santabarbaramission.org
And every May the i Madonnari street painting festival turns the pavement a pixelation of brilliant pastel colors as local artists create an eclectic mix of street paintings in front of the Mission. We have attended this festival before – it is great fun for the entire family. Visit: www.imadonnarifestival.com