Leave early from Villa Sjotorp and drive to Helsingborg
Driving time: approximately 2 hours and 45 minutes.
Check in at the
Clarion Grand Hotel
– this historic hotel is centrally located – minutes walking from the waterfront and nearby a number of Helsingborg's central attractions. There is a pay for parking garage as well as a select number of parking spots in front of the hotel that you pay for during daytime hours. Visit:
www.clarionhelsingborg.se
Helsingborg has long history – it is one of Sweden's oldest cities having been founded and continuously settled since 1085. Geographically it is in an excellent location – Denmark is only 4km across the water. How many cities have a town hall building that looks like a castle? Helsingborg's gorgeous red brick town hall sits just down the street from the Clarion – you will pass it on your way to the waterfront.
A tropical beach in Sweden? Yes at least for a few months! A white sand beach in Helsingborg earns this name each year when approximately 40 palm trees are planted seasonally and then removed before winter sets in. This is a short walk from the Grand Hotel.
A brisk walk down to the water and then along the waterfront to dinner at Sillen & Makrillen will take about 20-30 minutes. The restaurant is perched on the edge of the bay; order up a drink and watch the sun slowly dip into the Straight of Oresund – looking across to Denmark. Lots of windows ensures a good "synch" between the indoors and outdoors. Great bar and wine list. Creative cuisine and presentation – Swedish mainly. Large portions. Strong focus on seafood including herring, fish, lobster and shrimp. Visit: www.sillenmakrillen.se
Sofiero Palace & Gardens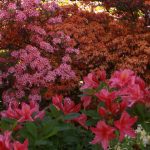 These beautiful gardens are about a 10-minute drive from the historical center of Helsingborg. Parking is free, in a small gravel lot directly across from the entrance. The estate dates back to 1864 when Swedish royalty, Prince Oscar and his wife Sophie built the magnificent castle. Prince Gustaf Adolf (who later became king) tended the gardens for many years.
The gardens were a summer home for the aforementioned royalty until as recently as the 1970 at which point they were donated to the city of Helsingborg. Today a number of landscape architects and gardeners care for the collection year round. These gardens are world class – In 2010, Sofiero was named Europe's most beautiful park.
Besides the main gardens, there is also an English and a Victorian garden on site and greenhouses. A restaurant is located on the first floor of the palace (products are served locally) and from here there are nice views of the strait of Öresund and the Öresund bridge leading to Denmark. Flowers bloom throughout the summer, but with over 10,000 rhododendrons growing on site – you really want to visit at the end of May and early June! Visit: www.sofiero.se
Driving time: about 25 minutes
Wallåkra Stoneware Factory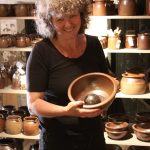 This was originally a site where pottery was made with local clay taken from the surrounding land. The original buildings date to 1864. In the late 1980's, occupational therapist Åsa Orrmell was shown this property by a friend. She had no formal training in what would come next. The site was abandoned and in serious disarray with major work needing to be done before it would become a working stoneware factory again. In 1988 with help of friends, Asa reopened the stoneware factory.
Today Åsa overseas this rural center of creativity and is the driving force behind its success and its central mission to educate about and preserve the unique history of the property. She wants to bring to life in a contemporary setting – the beauty of the past. As she says, "if we don't preserve the past and its ways of life, we will lose this forever."
With customers and visitor's looking for culinary options in the vicinity it made a lot of sense to open a restaurant on site. Åsa converted an old storehouse, hired a chef and now serves lunch here. Using local products and ingredients is a primary goal of this restaurant – from the wash-bin and waste basket in the restroom (built on site) to some kitchen ware to herbs and other vegetables grown on site. Care, creativity and quality are essential ingredients in every meal served here.
After enjoying a meal or whipping up that "special" pot (pottery class)– take some time to enjoy the calm of the gardens. A stop here is worth every minute. Visit: www.wallakra.com
Driving time: about 1 hour, 10 minutes
Check in to Ystad Saltsjobad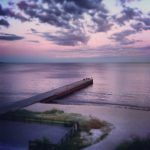 Ideally located on the edge of the Baltic Ocean – this fine resort delivers excellent service – from their spa, to the Port Restaurant to well appointed rooms. The hotel is easy to get to; it is located about 45 minutes from Malmo. The charming town of Ystad is nearby and has plenty of things for visitors.
Think there are no beaches in Sweden? Think again! Over 40 kilometers of white sand beaches are along this part of the Baltic Sea. In fact their indoor and outdoor spa overlooks these beaches, a long pier and the sea. While there is a cold plunge pool inside the spa – why not enjoy the real thing. After a sauna or soak in one of their indoor or outdoor hot tubs head straight for the pier and take a swim in the Baltic! A large pool is also located in the interior of their courtyard near the lobby. This is the perfect place to be pampered for a few days.
The rooms are well decorated and elegant – with many having a small balcony and windows that overlook the beautiful views below. The Port Restaurant is a hub bub of activity during dinner, with classy dressed gentleman in jackets and well dressed ladies. The food is excellent – especially the seafood. Indoor and outdoor dining available. This is a premium place to stay with an International "feel". Visit: www.ysb.se/en
Dinner this evening is on property at Port Restaurant.