Today is minimal driving day spent exploring beautiful Ystad and or enjoying the pampering amenities of the Ystad Satsjobad Hotel. Ystad is only about 10 minutes from the hotel. For a small town (only 17,000 live in the city limits) Ystad packs a pretty powerful punch when it comes to tourism.
This picturesque town is a photographers dream, especially during late spring and summer. If the town was only historical buildings (of which there are plenty) it would be a beautiful place – but then throw in the gorgeous array of flowers and blooming trees during this time of year, and if its not too much to ask – warm days with plenty of sunshine.
There are many shopping opportunities in Ystad, especially along the main street in the Medieval part of town – as well as restaurants. Visit old churches, walk down charming streets, enjoy historical architecture and even explore the town's art museum. Tired of walking? Take a break and pop into a local "fika" or Swedish coffee shop for some pastries and coffee.
Ystad has a world class theater (built after the original one burned down) – the town's architect traveled around Europe to other great theaters for ideas and inspiration. While the theater in Lepzig Germany no longer exists – the one in Ystad was modeled after it.
Consider taking an informative walking tour of the Medieval part of city. During a recent visit to Ystad guide Vivianne Jeppsson opened our eyes to the unique history of this small town. She works for www.guidepoolen.se a tour company based in Ystad. Tours are offered in Swedish, English, German and Polish.
Medieval towns used to employ night watchmen especially to alert townspeople of fires (common in those days). When the Ystad church tower was built the town's night watchmen moved to the top where he could keep an eye out in all directions. He was given a special horn – he would have to blow this every 15 minutes to let people know he was still awake! Ystad honors this tradition today – a watchman is on the city payroll – although his hours have been altered from historical times; he is only awake until 1am. If you are in the vicinity of the church tower, you will surely hear his calls every 15 minutes until 1am.
Ystad Studios – this was an old air defense hall; several investors had the vision to turn it into a studio which opened in 2004. While they were counting on shooting film and tv here – perhaps they didn't count on how well-received their new studios would become. The wildly popular Wallander series (best known in Sweden and the UK) shot 13 of their films here. People come here from all over the world because of the Wallander Films and series.
Guided tours are available of the studios and sets by appointment. A film museum on site promotes film tourism and highlights the movies and other made for TV series filmed here. This is a working studio and you may see actors and actresses, TV commercials being filmed or other related work. The studios are located about a 5-10 minute drive from central Ystad.
(Listen to Tour Guide)
Stay: Ystad Saltsjobad
Kopingsbergs Vineyard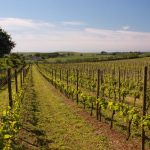 Did you know there are wineries in Sweden? A group of dedicated vintners are producing both sparkling and still wines in the Skane region of southern Sweden. Proprietor Carl-Otto Ottergren left a 10-year career in finance to return to his family's property and start a vineyard. His small vineyards face the Baltic Sea and on a clear day you can easily see the blue waters in the background. Today Carl-Otto focuses his efforts entirely on producing sparkling wines. Production is tiny, with only about 6000 vines – volume is measured in the number of bottles produced annually. All are hand riddled (turned to eventually get rid of any sediment in the bottles).
A visit here is as personal as one finds at a winery (be sure to make an appointment prior to arriving). The house dates to the 1600's but the winery is modern and so is the tasting room. You drive down a dirt/gravel road to reach the property – there is no fancy gate or driveway – this is uniquely refreshing. A tour and tasting is always with Carl-Otto. He is an engaging fellow who loves to talk about viticulture and the unique challenges of wine making in this climate. Visit: www.kopingsberg.se
Driving time: about 6-7 minutes.
Osterlenkryddor Herb Farm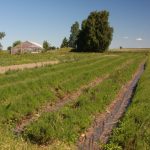 This family farm is run by the husband-wife team of Eva and Olle Olsson. During a recent visit, even their children were hard at work in the fields during school holidays. Their focus of production is on a variety of herbs and spices all grown and processed on site; tours are given in their fields, workshop and production facilities. Their gift shop has a wonderful collection of local produced products from their farm as well as other regional products.
The majority of their production is Green Herbs for use in foods. They use steam distillation to produce natural essential oils – mostly from lavender. It is amazing the diversity of products they make from lavender including bees wax, paste, oils for health uses, for use in ironing and as foot salts and soap.
Besides offering general educational tours, they offer classes in growing and using herbs in a variety of ways.
(Listen to Olle Olsson)
Other products grown and manufactured on site include Marigold (its oil is made to use on skin) and Lovage which has a variety of uses ranging from culinary to medical. With a small cafe on site, they serve this herb in a delicious dip as well as their other farmed products. Visit: www.osterlenkryddor.se
Driving time: about 10 minutes.
Olof Viktors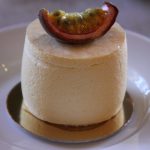 This small cafe and bakery is located in the middle of the rural Skåne countryside. It is hard to believe that this little place produces such an array of tasty products. This is a 24 hour business – with baking starting at midnight and running through the early morning before they even open to the public. The name is tribute to the owner's grandfather and his way of life. Olof used to own a small convenience store nearby and made his own food from scratch, salting meat, making his own ice cream etc. The focus here is on healthy locally sourced and produced foods made by hand with no unhealthy additives or artificial flavors added.
While this is their only physical location, they also selectively distribute to a number high end retail locations within Sweden and other European countries. As Marten Gothberg, the Managing Director told us, "people who are interested in food want to see if there is a story behind a product and we are that original story, people want to see how things are made." If you want to see their work in action just ask. They will show you the flower they use in their breads, how they roll the dough by hand and the process of how they bake the items.
A visit here is a culinary treat. A small cafe and eatery is located on site; crayfish sandwiches are one of their trademarks. They go through over 3,0000 kilograms of crayfish each year! Olaf is also noted for their desserts – having won a number of prizes over the years for these tasty treats. Some of these prize winner desserts are available at the cafe. Their long time pastry chef and chocolatier Jan Hedh is a prolific baker and author – and a number of his books are for sale in the gift shop. Have lunch here. Visit: www.olofviktors.se
(Listen to Marten Gothberg)
Driving time: about 6-7 minutes.
Kerstin Rosengren Design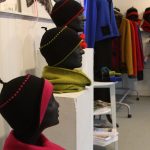 It is hard to find a more personalized shopping experience than this one. Kerstin and her husband live in the Österlen-region just outside of the town of Glemmingebro, east of Ystad. Their restored farmhouse is next to a small road which is entirely surrounded by agricultural fields. With a degree in Fashion, Kerstin creates knitted wool clothing that honors Swedish tradition for both men and women. This is a rare opportunity to visit a fashion designers studio, gallery and workshop with her by your side as you shop!
Kerstin is also a prolific hobby farmer – with a garden that contains a surprising diversity of plants ranging from Mediterranean (such as an olive and lemon tree and passion fruit) to 150 varieties of hot chili peppers including the world's hottest, the Trinidad Scorpion. It is remarkable how with the help of a greenhouse her garden can get an early start – often in the beginning of February. By the first part of June tomatoes may even be ripening and her chili peppers are flowering, some with peppers already.
Driving time: about 40 minutes.
Stay: Kiviks Strand

Kiviks Strand is located in the small town of Kiviks directly across from the Baltic Sea. This personally and meticulously cared for Bed & Breakfast is owned by a husband wife team. Each of the 14-rooms are individually styled; several hostel style rooms are also available. It is superbly quiet here – the inn is located in a residential neighborhood on the north end of town. A small sauna is located across the road on the beach – and guests can use this to relax with advance notice. This is your chance to swim in the cold Baltic Sea regardless of the time of year – often guests warm up and then take a quick plunge into the nearby cold waters!
Their cafe serves light breakfast, lunch and bakery items and coffee throughout the day. Parking is in a gravel lot directly across the street. For more information and to reserve, visit: www.kivikstrand.se
Dinner – you can walk the 2 kilometers to Badhotell located in the neighboring town of Vitemölla or make the short drive – as you face Kiviks Strand from the parking lot across the street – turn right. Badhotell, contrary to its name is surprisingly not bad at all. This historical 100+ year old building has a fine restaurant as well. Both inside and on the porch dining available. Excellent seafood, respectable but not huge portions (always nice!) and good desert. Visit: www.badhotell.com