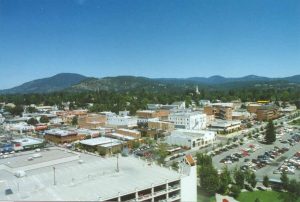 Coeur d' Alene is the name of a city (population 30,600) and also a lake. Lake Coeur d' Alene has been called "one of the 5 most beautiful in the world" by National Geographic. And one can experience this relaxing on her shores some warm summer day. When the sun is out the water is extremely blue. Pine trees grow around the water's edge and forests cover the surrounding hills.
The resort town of the same name is located along its shores. A large park is located near the Coeur d' Alene resort (the tallest building in Coeur d' Alene, near the waterfront). The park is usually crowded in the summer.
In early August this park reaches capacity during the Art on the Green days. This three day event features a variety of entertainment, food, and northwestern crafts.
I saw several art galleries displaying local crafts. One place featured a dizzying number of highly shined bronze statues exhibited on pedestals. The line for snow cones was about 20 people deep and the wait to be served took a good 25 minutes. This part of the festival was held at the park. However, 10 or 11 blocks of Main Street were closed to traffic and additional vendors had set up shop and were selling everything from local arts to antiques to food.
Coeur d' Alene has the largest population of osprey in the western United States. During the right season one can often see their nests on top of logs at the lake's edge. This lake is also famous for its Chinook Salmon weighing up to 30 pounds. In the winter bald eagles arrive to feast on the salmon.
More information about Coeur d' Alene can be found by visiting the Official Visitor's guide: www.coeurdalene.org