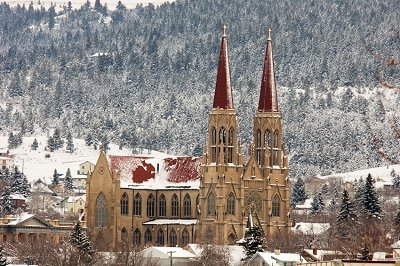 Helena is the capital city of Montana. At about 28,000 people it is one of the smaller state capital cities in the USA. For such a small city it features a number of attractions that are well worth seeing. Helena was founded by four prospectors from the state of Georgia in 1864. The city was first named, Last Chance Gulch.
The miners were tired of finding no gold on their travels and this gulch where downtown Helena now lies, produced lots of gold for them. Helena became a territorial capital in 1875 and a state capital in 1889. The name Last Chance Gulch, was not thought to be suitable for a state capital so its name was changed to Helena. Miners thought Helena was too feminine so they changed the pronunciation to Helena (hell – eh – nuh).
The Montana Chamber of Commerce is the advocate of business in Montana and is the driving force in promoting a favorable business climate. Please visit their web site at: http://helenacvb.visitmt.com
Snowy Helena, Rocky Mountain Cathedral
Believe it or not Helena is located very close to the Missouri River. The Missouri River which eventually empties into the Mississippi River is not more then 15 miles east of downtown. In fact the headwaters of the Missouri River are only located about 60 miles south east of Helena.
When you approach Helena from most directions you will cross a large valley with mountains on all sides. It is in valleys like these that you can see why Montana is called Big Sky Country. Helena is located at the base of these mountains.
One other attraction that is located about 19 miles north west of Helena is the living ghost town Marysville . They call this a living ghost town because it has the appearance of a ghost town with many abandoned and decrepit buildings but there are also several restored buildings in which people are still living in. This is a great town for taking photographs. There are several old cars and homes next to brightly painted walls. Old dogs lie in the streets soaking up the sun's rays. The road to Marysville is paved for 9 miles and then turns to dirt for the next 10. During the winter people come skiing up here. There is a small ski resort just above Marysville. Apparently this dirt road that leads to Marysville can be a bit icy and slippery as indicated by all the white crosses that I counted lining the road.
A great place to experience the magic and beauty of Montana is just past Marysville. Keep driving on the dirt road to the top of the Continental Divide near Mullen Pass. This is very unpopulated country. There are wide open plateaus up here as well as forested sections. As you leave Marysville and climb higher in elevation you will see old mine shafts and buildings left over from old mining towns. One thing that I noticed was different in in Montana mining towns compared to mining towns in California or other states was that most of the buildings were still standing, even in what seemed like the middle of nowhere. Even in late summer I was able to see snow capped peaks in the distance from the top of the Continental Divide.
Keno is legal in the state of Montana, therefore you may see gambling at restaurants or in malls. You won't hear coins dropping as you would in Nevada but you will see people parked in front of Keno machines. Some of Missoula's attractions well worth seeing are listed below:
Cathedral of St. Helena is a Catholic church located at the junction of Lawrence and Warren Streets. I spent over an hour walking trying to find this church. From my motel room I could clearly see the gothic spires of this beautiful church but as I got closer I lost elevation and somehow couldn't find it. I finally gave up and later drove to the location. This church was built in the early 1900's and is modeled after the Votive Church in Vienna, Austria. Unfortunately the church closes at 4pm and I got there at 5pm so I was not able to go inside. I have seen pictures of the inside of this church and it is as impressive as the outside. The interior furnishings are made of Carrara marble and the stained glass windows were made in Munich, Germany. Allow at least 30 minutes. They are open Monday through Friday from 10am until 4pm. On Saturday they are open from 10am until 6:30pm. On Sunday they are open from 7am until noon. Phone Number (406) 442-5825. Visit: www.sthelenas.org
Last Chance Gulch Tour is a one hour tour through the past and present of Helena on the Last Chance Tour Train. Tours depart from the Montana Historical Society Museum (See below). The tours leave at 9am, 10am, 11am, 1pm, 2pm, 3pm, 4pm and 6pm. The price is $6.50. For more information call Phone Number (406) 442-1023. Visit: www.lctours.com
Montana Historical Society Museum Library and Archives is across from the impressive State Capitol (See below) at 225 North Roberts Street. This museum displays the history of Montana and the northwest. They have very informative displays. They also have a large collection of C.M. Russell's paintings and sculpture. There is a gallery containing the photography of Jay Haynes. Another interesting exhibit is the Montana Homeland exhibition which contains more than 2000 artifacts, photographs, and documents that trace Montana's history from the end of the last ice age through World War II. They are open Monday through Friday from 8am until 6pm. They are open on Saturday and Sunday from 9am to 5pm. Admission is free, however donations are accepted. Phone Number (406) 444-2694. http://www.his.state.mt.us/museum/default.asp
The State Capitol is located at 6th and Montana Streets near a residential neighborhood. There is a large lawn and flowers planted in the words "Montana 2015" or with whatever happens to be the current year. The inside of the capitol building is also quite impressive and features several very nice murals that line the dome. The staircase is impressive. I visited the capital building after 5pm and I was able to walk into the senate chambers and the other chambers. There are also nice murals in each of the chambers.
The building is faced with sandstone and Montana granite. The top of the dome is Montana copper. The cornerstone was first laid in 1899 and the building was dedicated in 1902. Guided tours are offered and they depart on the hour from Monday through Saturday 10am until 4pm. On Sunday they are open from 11am to 3pm. These tours are given from early June through Labor Day. Admission is free. For more information call Phone Number (406) 444-4789.
The Original Governor's Mansion was built in 1888 for a local family. In 1913 the state of Montana acquired the property. Then for nearly a century Montana's first family lived in this quaint mansion. In 1969 the building was restored with the help of the city of Helena. The museum offers free tours from April to Memorial day from noon until 5pm. From Memorial Day through Labor day tours are given Tuesday through Sunday from noon to 5. Lastly, tours are given Labor Day through December from Tuesday through Saturday from noon to 5pm. For more information or for group reservations call Phone Number (406) 444-4789.