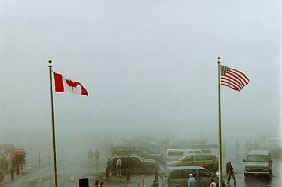 Kalispell is located in the Flathead Valley between the West Glacier entrance and Big Flathead Lake. The city has a population of 23,000 and is located on Montana's most dangerous road, the 93 Highway. In fact no sooner had I left Kalispell, I ran into slow traffic. I was caught in a traffic jam for only a minute or two before a firetruck came racing up from behind. After another 10 minutes, I passed the accident just as they were loading the injured into an ambulance
As best as I can figure there are more people on this road then most of Montana's other roads (and the population of Kalispell has grown significantly over the years). The shoulder next to the road is almost nonexistent and drivers often drive this road at high speeds. Combine this with bad weather and one has a formula for an accident.
Highway 2 from west Glacier to Kalispell passes through some interesting terrain – this part of Montana compared to the rest of the state is relatively populated.
I must have seen at least 20 different cherry and huckleberry stands between Glacier National Park and Kalispell. Some of this fruit is trucked in from Washington state but most of it is actually grown near the shores of Big Flathead Lake. The climate must remain warm enough in the winter for some crops due to the slow release of the heat from the lake. Some of the fruit stands were even offering to pay people for huckleberries that they had picked. Late July and August are the best time for the fresh fruit. On the way to Kalispell from the West Glacier Park entrance I also passed by several family attractions including a couple of carnivals, 2 bumper car tracks, and the "world's longest maze".
Flathead Lake is the largest freshwater lake in the United States west of the Mississippi River. It is 28 miles long and its shoreline covers 124 miles. This lake resembles Lake Tahoe in a certain way, most similarly the tall mountains on the eastern side. Over the years there is talk of a large or several large creatures living in the lake. Sightings of a long undulating thing with dark skin have been recorded since 1889 when someone tried to shoot it with a gun. In 1993 there were 13 sightings – the most recent sighting occurred in 2017. The people who have seen it always describe a serpent like creature leaving a long wake as it glides through the water.
This part of Montana is glacier country but I only saw pretty glacial aquamarine and green colored water once. This was in the Flathead River which flows into Big Flathead Lake. The glaciers are much smaller in Montana then they are in Jasper and Banff National Parks in Canada. This means that the silt is not ground and pulverized as much in Montana as it is in Canada. It is this silt and sediment that causes the water to have that distinctive glacial color. For more information about this part of the state, visit the convention & visitor's bureau: www.fcvb.org
Wild River Adventures – is a river rafting company offering river rafting trips based in West Glacier. They offer full and half trips on the middle fork of the Flathead River. This is the river that was captured in the film The River Wild, starring Meryl Streep. The half day trip is 8 miles on mild to wild parts of the Flathead. All trips are in self bailing rafts.
A full day trip, called the Comfy Rafter, covers 15 miles through some extremely wild whitewater. This trip includes a wetsuit, neoprene socks, river-shoes, a pullover, and a guide style splash jacket.
Wild River Adventures even offers two and three day excursions. These trips are held on either the north fork or the middle fork of the Flathead River. The middle fork is more known for some of the finest whitewater in Montana. The north fork is better known for its spectacular scenery and wildlife.
Several other non-conventional rafting trip options are available. These include Evening Dinner, Wild Side, and Scenic Side. A dinner trip includes an afternoon of rafting topped off by a delicious riverside BBQ featuring sirloin steak or halibut, a fresh salad and home baked goodies. Yum! All you need is an appetite and a thirst for celebrating the good life.
The Wild Side is for river diehards, hardcore water enthusiasts. This trip requires your full participation but rewards those who desire maximum river thrills. Class 4 rapids here. Prices include the guide/ instructor, complete wetsuit package and a helmet.
Lastly, the Scenic option is a trip traveling by kayak or raft through clear smooth waters. This trip skips all the thrills or dangers of rapids. It departs daily during the summer at 1:30 in the afternoon.
Wild River Adventures can be reached at 800-700-7056 or: wildriver@riverwild.com or: www.riverwild.com