Bloedel Conservatory is located on a hill overlooking the entire city of Vancouver. The observatory is surrounded by lush gardens. This is a great spot to bring the family for a picnic lunch. The observatory contains a diverse garden of tropical plants and birds. During the dead of the winter months this can be an enjoyable outing to escape the frigid temperatures. For example, one can come up here and dream they are in Costa Rica or some other tropical country.
Queen Elizabeth Park, surrounding the Conservatory, is according to the pamphlet put out by the Conservatory, "an oasis in the heart of Vancouver." I would have to agree; the 53 hectares display many different types of trees, shrubs and also exotic species. Bloedel Conservatory is located at 33rd and Cambie. They are open 7 days a week; the only day they are closed is Christmas day. In the summer they are open from 10am until 9pm and in the winter they are open from 10am until 5pm.
Botanical Garden, UBC
Located on the campus of University of British Columbia, this is Canada's oldest university botanical garden; it contains a series of gardens including one of it most popular visits, the David C. Lam Asian Garden. Wander between tall cedar and Douglas firs among numerous Asian plants growing on the forest floor. One of the highlights in this particular garden is the Greenheart TreeWalk, a suspended narrow aluminum 'path' suspended up to 20 meters above the forest floor. It is attached to a number of trees and provides one a birds eye view looking down. A circular staircase platform attached to part of this walk allows one to climb even higher into the forest.
The garden shop located at the main entrance is worth peeking into. It sells a number of gardening supplies, seasonal plants for sale, seeds and dried flower arrangements. The botanical garden is also used for private events such as weddings and related receptions.
Capilano Suspension Bridge – is the longest and highest suspended footbridge in the world. Its entire length spans over 450 feet across a river canyon at a height of 230 feet. This bridge is located at 3735 Capilano Road in North Vancouver. Discounts are given for students with ID and those over 65 years of age. For more information call: (604) 985-7474. Website: www.capbridge.com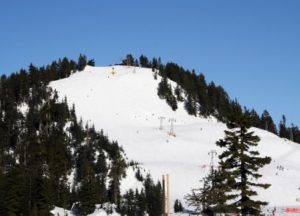 Grouse Mountain – to fully see Grouse Mountain and experience the awesome views it is best if one takes the SkyRide, a 3,700 foot climb in a fully enclosed gondola to the top of the mountain. The tram is about 1/2 hour from downtown and operates year round. From the top one can experience panoramic views of the surrounding area. This is a great spot on a clear warm summer night for overlooking much of the city of Vancouver. Visitors will be able to see the twinkling lights of the city as well as the lights of the wharf reflected off of the harbor.
A cafeteria, gourmet restaurant and a theatre are located at the top. Skiing is offered in the winter time and helicopter rides are given in the summer. The tram is open daily from 9am until 10pm. Discounts are given for those over 65 years of age as well as students with ID and those children between the ages of 6 and 12. The tram is located at 6400 Nancy Greene Way in North Vancouver. For more information call Phone Number: (604) 980-9311. Website: www.grousemountain.com
Lookout! at Harbour Centre is located at 555 W. Hastings Street. This lookout is basically an observation deck with awesome views of Vancouver. Two glass elevators whisk visitors up to the top on the outside of the tower. A large screen theatre and a revolving restaurant are located at the top. Elevators run run daily from 8:30am until 10:30pm from April until November. The rest of the year they are open from 10am until 8pm. Discounts are given to students with ID, children and seniors. Phone: (604) 689-0421. Website: www.vancouverlookout.com
Museum of Anthropology, University of British Columbia . This museum is well worth a visit. With so much on display, one could easily spend two days and come away thirsting for more knowledge. Numerous large wooden totem poles are displayed both inside and outside of the museum. Impressive wooden sculptures were carved by renowned artist Bill Reid. One depicts a large raven standing over a clam shell, from which small children are emerging. This sculpture depicts a story told by the local Haida tribe.
The museum is located at 6393 NW Marine Drive almost at the end of University Peninsula, the western most part of the campus. There is also a nude beach located on the campus. Hint: it is located very close to the museum. The museum is open daily in the summer from 11am until 5pm, and on Tuesdays until 9pm. In the winter they are closed Monday. For more information call Phone Number: (604) 822-3825. Website: www.moa.ubc.ca
Playland Family Fun Park features rides, games, miniature golf, and a delightful roller coaster. They are open daily, however the times vary throughout the year. Call ahead for times. Admission is geared towards children with the actual cheaper "guardian" ticket available for adults. Call: (604) 253-2311 for more information. Website: www.pne.ca/playland
Science World is located at 1455 Quebec Street. The OMNIMAX theatre regularly schedules scientific films. Scientists are regularly scheduled to share scientific information. Phone: is (604) 268-6363. Website: www.scienceworld.bc.ca
Stanley Park is located on the downtown peninsula, only 5 miles from the central business district. There are approximately 50 miles of roads in the park. Also houses a zoo, lawn bowling, tennis, rose gardens, children's zoo, and totem pole displays. The park is open 24 hours a day and admission is free. From parts of the park there are awesome views of the Vancouver skyline, i.e. the Seawall.
The seawall is 6.5 miles long and took over 60 years to finish. Allow about an hour to bicycle around the seawall path (there are numerous bike rental stores within a short bike ride of Stanley Park. Be sure to look for the bronze sculpture "Girl in a Wetsuit" located on a rock in the water, just off of the seawall on the opposite side of the park from Vancouver. This sculpture is somewhat similar to the "Little Mermaid" sculpture in the harbor of Copenhagen in Europe.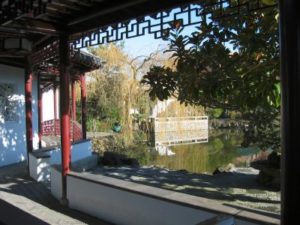 Sun Yat-Sen Classical Chinese Gardens are located in the heart of Vancouver's Chinatown at 578 Carrall Street. A visit here is very relaxing and like going back in time to how things may have looked in 15th century China. Dr. Sun Yat Sen is considered the father of modern China and even visited Vancouver 3 times. He was the first president of China. Daily tours are given. Phone: (604) 662-3207. Website: www.vancouverchinesegarden.com
VanDusen Botanical Gardens is home to an outstanding collection of trees, plants, and shrubs organized into 39 unique sections. Some sections include the Sino-Himalayan garden, foliage of Canada and small ponds with water lilies, streams, and waterfalls. The gardens are located at 5251 Oak Street. Features plenty of parking with a in-front pull in section to drop off passengers. A neat feature of the garden is a set of displays containing freshly cut flowers greeting visitors as they walk to the main entrance; these are changed regularly to keep visitors informed as to what is blooming in the garden. Shaughnessy Restaurant is located next to the main parking lot. Allow one hour minimum.
However if you like to relax, or read a good book, you will want to spend much more time here. I spent close to half a day. A special highlight for children is the hedge maze. This maze is built entirely out of a hedge supported by wire mesh. A small gift shop sells small garden mementos as well as some fine pottery. Free guided tours are offered every Sunday at 2pm and also on other days by reservation. The gardens also have electric carts for those with limited walking ability (April through October). For more information call: (604) 878-9274.
Vancouver Art Gallery is located at 750 Hornby Street. This museum is fantastic and is well worth a visit for those interested in art, especially by those who appreciate varied works from the 17th century to the present. I spent several hours here, exploring the wide variety of paintings. Some of the countries represented are Canada, the United States, the United Kingdom, the Netherlands, and France.
Canada's own artist Emily Carr is also well represented. Georgia O'keefe has some intriguing paintings on display. Discounts are given to students with ID, children and seniors. Phone: (604) 662-4719. Website: www.vanartgallery.bc.ca
Vancouver Aquarium – this aquarium exhibits more than 8,000 marine mammals. Special emphasis is placed on Arctic Canada and the Amazon Rain Forest. Houses a sea otter colony, killer whales, and beluga whales. I would recommend 2 hours at the minimum. Phone Number: (604) 659-3474. Website: www.vanaqua.org