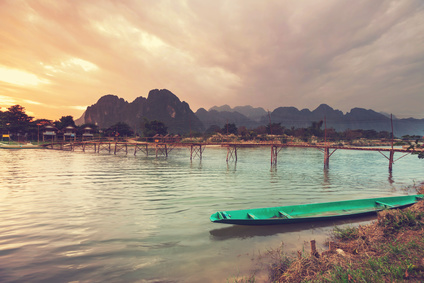 There are many guesthouses setup for travelers in Vang Vieng – most reasonably priced. Air conditioning is certainly available in some of the guest homes. The guest homes that we visited are comfortable, safe and clean.
Diamond Gold Hotel, formerly Bungalow Thavonsouk is located really close to the Bamboo Footbridge overlooking the Nam Song River. They offer bamboo thatched lodges – essentially small bungalows overlooking the river. There is a restaurant with a deck – this is an excellent place to watch the sunset over the Karst limestone formations in the "golden hour." This location is also where many of the kayak trips end their days trip. All rooms have a fan (no Air conditioning). PHONE: 511096
Nana Backpacker Hostel is located at Thanon Luang Prabang and is one of the cheaper guest homes. Located on the main street, it is very centrally located. Its clean, looks modern and there is a restaurant on site. PHONE: 511036
Viengvilay Guesthouse is a 4 story columnar hotel – one of the tallest in town (see photo below). They have many rooms – most with air conditioning. There are very good views over the city due to the height of this guesthouse. The morning market is held near this hotel.
The bathroom was interesting in the room I stayed at. All the water from the sink poured directly onto the floor and then down a drain. The owner lives in Portland Oregon and his wife runs this hotel in his absence.
Shoes need to be removed at the entrance and carried with you up to your room. They can be left downstairs for the day, or until you return to the first floor, but they should not be left outside over night. The owner has a small safe which he will rent the use of it to you for a nominal fee. There are locks on the doors but by accident I found my door's key worked on several other rooms.
My general feeling was that this was a safe hotel to stay at – it was a little more upscale than the low end budget guest homes. For more information about this hotel please call PHONE: (856-23) 511 177
Dave's Tip for Hiding Valuables:
The ceilings are drop tile and before I left for the day I would hide some of my valuables in the ceiling on top of one of the drop tiles.