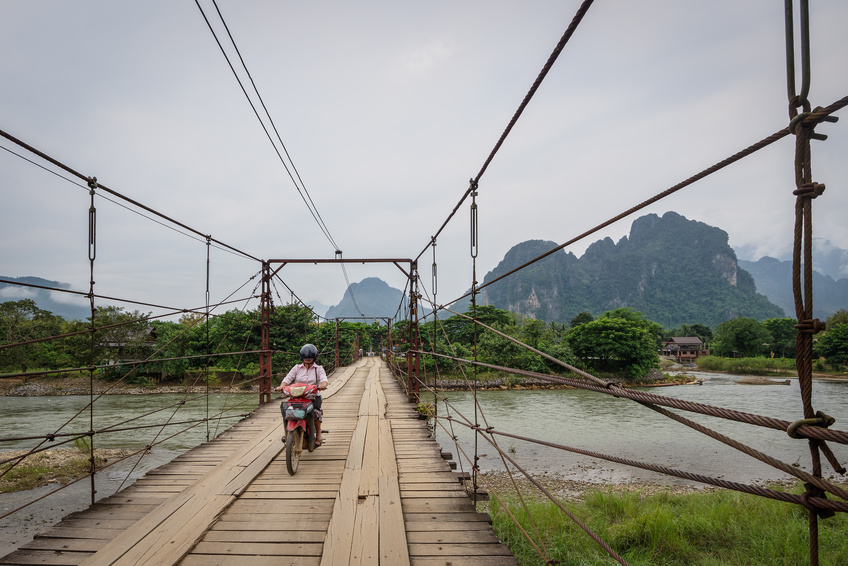 Several small businesses located in Vang Vieng rent motorbikes.
Renting motorcycles is a great way to see the surrounding countryside and small towns near Vang Vieng. Motorcycle rental should be around 6 to 8 US dollars per day. You are responsible for getting gas. Sometimes the gas stations in town (and there are about 3 or 4 stations) run out of gas. I experienced this – fortunately the company I rented from had another family member elsewhere in town who stockpiles gas. I drove my bike to his shop and he filled it up for me. Its always a good idea to ask the company you are renting bikes from if they have alternative gas supplies.
Its quite important to wear a helmet. If the renter does not have helmets tell them you will not rent the bike until they produce a helmet. This usually stimulates them to visit a friend or another bike shop so that they can get you a helmet. Be very careful about the exhaust pipe in the back of the bike – most of the bikes I rode in Vang Vieng did not have heat protectors covering the exhaust pipe, and as a result it is very very easy to burn your leg on the back of the bike. I highly recommend wearing long pants and closed toe shoes when riding motorcycles.
Motorcycles give you a lot of freedom to explore the countryside on your own – far away from any tour groups – or limitations of buses and cars. I especially enjoyed visiting small villages on the outskirts of Vang Vieng. Small children would flock enthusiastically to the motor bike – a digital camera is an instant attention getter. The kids absolutely loved seeing themselves on the screen after the photo was taken. We gave several small children rides on the back of the bike – they were the envy of their friends!
As a side note, if you prefer a slower pace, you can also rent bicycles in Vang Vieng.