Dong Dok University is located several miles north of Vientiane and is a great place to meet Lao students. Often these students are interested in practicing foreign languages with tourists.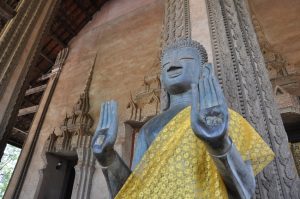 Internet cafes are mentioned here because this USED to be an activity in and of itself! Back in the day, this city had the most internet cafe's of any city I had ever been to. These used to be predominantly located in the center of town and along Thanon Fa Ngum – the closest main road paralleling the Mekong River. For several years, every block contained several Internet cafes. They became less concentrated the further away from the Mekong River.
Today of course, the best and cheapest way to stay connected during your trip in the country is to purchase a local sim card – either available at the airport or shops in town. We recommend Unitel for very good coverage throughout the country.
Morning Market is best visited in the morning but parts of it stay open all day. Its a good place to shop for fruits and vegetables. The permanent part of this market stays open all day and sells many different items ranging from "supposed antiques" to old coins, knives, clothing and other assorted jewelry. There is a lot of the same type of items sold here – there is not a lot of variety. Be very careful when purchasing antiques here – before you buy, at least know the value of what you are buying. There are several "hole in the wall" antique shops located here.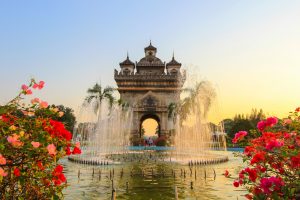 Patuxai is a fairly impressive arched monument located in Vientiane. Climb up several floors for impressive views overlooking the city.
This monument in part was built with concrete from the USA that was originally intended to be used for the construction of a runway strip. This monument was built as a tribute to Lao soldiers who have died in battle.
As of late 2002 a new road was finished directly in front of this monument.
Wat Sok Pa Luang is the place to visit if you are in the mood for inexpensive massages and herbal saunas. These services are given by individuals who live at the monastery but are not actually monks. Most Tuk-tuk drivers will have heard of this Wat. Its about 10 minutes by tuk-tuk from the center of town – its in the direction of the Morning Market.
Each massage takes about 1 hour and costs about $2.50 – if you want the masseuse to continue after your hour is up – just tell them. It is not uncommon to see people enjoying several hour massages. Before, in between, or after a massage – you can enjoy a wonderful warm steamy herbal sauna bath.
The massage platform can accommodate up to about 8 massages at any one time. The sauna seats about 12 people. The massage platform is a great place to meet fellow travelers and sit for hours talking to other people. The evenings are are great time to be here provided there aren't a lot of mosquitoes. This will depend of course on the time of year.