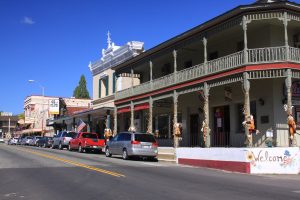 Mariposa was originally founded as a mining town and during the height of the gold rush had a much larger population than today which is currently under 2000 people. The town boasts a number of small family owned shops, galleries and restaurants as well as many items of historical significance. Mariposa County has one fast food restaurant and no stop lights.
The one fast food restaurant is in the town of Mariposa and opened before a loophole in the county law was closed. The town has not seen huge growth like other Sierra foothill towns namely some of the towns east of Sacramento and Sonora in neighboring Tuolumne County. As a result, Mariposa refreshingly maintains its small town feel. Mariposa County is sometimes called the "Mother of all Counties" due to the fact it was California's second county (behind San Diego) and it used to comprise 1/5 of the entire geography of California.
It should also be noted that what makes some of the attractions highlighted below really come alive are the docents, rangers or guides. We found these folks to be extremely passionate and expressive about Mariposa's rich history; as a result the town's "stories" are brought to life in a much more experiential way rather than simply reading from a book or staring at objects in a museum.
We have visited the following area attractions:
The California State Mining and Mineral Museum is one of the best museums of its kind anywhere. The museum itself is small but very rich in diversity showing both an International collection as well as a focus on California gems and minerals. One of the highlights is certainly the Fricot Nugget which weighs in at almost 13 pounds. The weight, while fairly high for a single piece of gold is not what sets this nugget apart, rather it is the type of gold along with its size. This is a crystalline nugget which means it is composed of small crystals and at one point was part of a larger rock (quartz).
Other highlights are the Benitoite, the state gem of California which to date has only been found in one small mine in San Benito County, and a replica of a mine shaft tunnel which may appeal to children more than adults. The museum is located at the Mariposa Fairgrounds (hence plenty of parking) just 2 miles south of Mariposa on Highway 49. The rangers who work here are passionate about the museum and are more than happy to spread their wide breadths of knowledge with visitors. For more information visit: www.parks.ca.gov/?page_id=588
These two videos show how a stamp mill works – this was taken at the Mariposa, CA Museum & History Center (described below). Heavy weights move up and down crushing the gold bearing ore for later processing.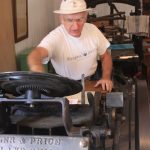 One of Mariposa's real treasures can be found at the Mariposa Museum and History Center. Allow at least an hour here and more if you enjoy history. A docent is always on hand during their working hours. You can't miss seeing the well-preserved Stamp Mill located next to the parking lot. This mill actually works (it is rare to even see a historical stamp mill much less to find a working one) and with prior arrangement it can be operated by one of their "living history" docents while you watch. These grizzled guys look the part of an old miner from their scraggly long beards to era clothing. Essentially large weights hammer up and down crushing quartz rock and thus freeing any gold that is contained within the rock for additional processing.
A must visit at the History Center is the old Mariposa Gazette building which contains a number of historical items used for printing the newspaper. What is more amazing is to see these items in action; yes they still work! The museum itself is a treasure trove of Mariposa's past including an excellent display of Native American baskets, a case containing some very nice quality gold nuggets and walls covered with historical documents and photographs. Visit: www.mariposamuseum.com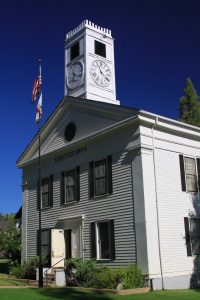 Mariposa Courthouse, like the Mariposa Gazette was founded in 1854 and is the longest continuously operating county courthouse west of the Mississippi.
It is a stately photogenic old building that was built entirely by hand from trees that were cut down in the vicinity.
This is an active courthouse, albeit somewhat small so its important to be quiet when walking through the first floor.
Note the tall clock tower, the original clock which is still in use was brought from the East coast around Cape Horn. It is still hand cranked.
Food & Drink
Butterfly Cafe is located in the heart of the town of Mariposa along main street. The food is priced affordably and the quality is clearly evident. Dining is either inside or outside on their covered patio. We recommend the charbroiled Salmon for dinner. They offer a fine variety of salads.
This is the quintessential old town cafe with good food and reasonable prices; dining takes place in a casual environment. Yes there is a reason for their name, look for the monarch and other butterflies outside during warm weather as well as the hummingbirds. UPDATE: Currently closed.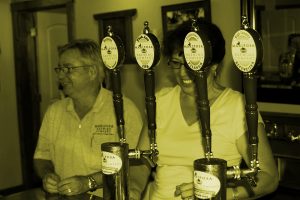 Getting thirsty? Stop by and say hi to Steve Lach, entrepreneur from San Luis Obispo and owner of Mariposa Brewery . This is a micro brew with a number of appealing brews on tap including the Prospectors Pilsner and our favorite, the Pick Axe IPA.
Make a beeline for their tasting counter and choose from different sized pours. Steve uses local ingredients for the beer including spring water from the property (filtered a number of times) and a variety of wild grown hops. UPDATE: Currently closed.