The following are select hotels in Mariposa or Tuolumne County's as well as within Yosemite's park borders.
Ahwahnee Hotel or sometimes mistakenly branded as The Majestic Yosemite Hotel is without a doubt the premier hotel to stay at in Yosemite. Location, location, location. This is always key when you are seeking inspirational natural beauty and this hotel is in the heart of it. In addition, besides the main building 24 small private cottages on the grounds are available for stays. This is a very historical hotel that dates back to 1927. Two presidents have stayed here, Theodore Roosevelt and John F. Kennedy as well as a number of celebrities including Charlie Chaplin, Queen Elizabeth, Robert Redford and more recently, Brad Pitt. The rooms and main public areas feature Native American art. The grand lounge is a fantastic place to hang out, relax and read a book especially near the roaring fireplace on a cold snow covered winter's day.
We recently had a chance to tour the Ahwahnee kitchen with executive chef Percy Whatley. The hotel's sense of history bleeds over into "function" within the kitchen. Take for instance their large bread mixing machines – these date back many years and are used every day. As Percy indicated, "you just can't find kitchen machines like this that will last so long". Much of the focus in the bustling kitchen is on sustainable and organically grown products. In addition, to reduce their carbon footprint and transportation costs, they try to source products as locally as possible. They make a variety of bread each day, some of which are from yeast cultures decades old.
Invariably when people ask for a top meal in Yosemite, the Ahwahnee's dining hall is always at the top of our list. We have eaten here a number of times and are always pleased with the quality of food as well as the service. You do not need to be a guest at the hotel to eat here.
The Ahwahnee puts on a variety of well attended events including their always popular Bracebridge Dinners which showcase a wide variety of food, Middle Age Music and Renaissance events. In addition, their Vintner's Holidays are annual events in which vintners from well known and well regarded wineries hold seminars and are on hand to talk about their wine. Lastly the Chefs' Holidays are always held in January and February and feature acclaimed chefs from across the nation with the majority coming from California. For more information and to make reservations visit: www.nationalparkreservations.com/lodge/yosemite-ahwahnee-hotel

Big Trees Lodge (formerly the Wawona Hotel) has a storied history dating to before 1860 and sits just inside the Highway 41 entrance to Yosemite National Park. It is located near a variety of attractions including the Mariposa Giant Sequoia Grove, only 30 minutes from the Badger Pass Ski area and about 45 minutes from the valley floor. Most of the 104 rooms on site open to verandas (relax in one of their many Adirondack chairs), breakfast is included with each room and the hotel sits across from a nine hole golf course.
This is a resort where you come to relax and get away from technology. Cell phones often do not work and there are no phones or TV's in the rooms. People often vacation here year after year and rather than being isolated from one another by technology, the pace of life slows and with a stay here, you will certainly meet and get to know your neighbors.
Yosemite is a leader in the "green" movement and this hotel is no exception. Delaware North runs the major hotels and restaurants within Yosemite park; Delaware North is a leader and pioneer in the use of local, organic ingredients wherever possible. They strive to purchase locally thus helping to reduce transportation costs and their "carbon footprint" on the environment. For more information and to make reservations, visit: www.nationalparkreservations.com/lodge/yosemite-wawona-hotel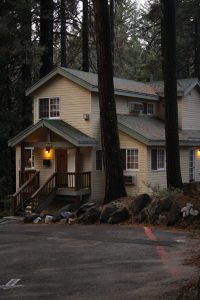 Evergreen Lodge is a year-round destination resort offering 90 cabins in the woods, 15 custom campsites and the exclusive John Muir House. The lodge is popular with couples and families alike and features an amazing restaurant/tavern and a unique mix of guest facilities, guided recreation and activities. The property blends the modern comforts of a resort, the relaxed approach and activities of a dude ranch and the timeless warmth of a historic 1920's lodge.
The Evergreen is a very special place, with more character than most any accommodation you'll find. The lodge borders Yosemite near the Highway 120 park entrance – the most direct route from San Francisco. One other unique feature of this lodge that is they are a social purpose business: they also operate and self-fund a behind-the-scenes youth employment program.
Their innovative program is central to what they do, and you can learn more about it at www.evergreenlodge.com/youthprogram.html
For more information about staying at the lodge please visit: www.evergreenlodge.com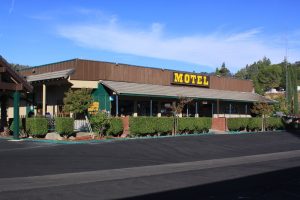 Miner's Inn is located in the heart of the town of Mariposa and is a perfect spot to stay for exploring some of Mariposa's attractions and the area's four wineries. Its within walking distance of the central part Main Street. When you pull in you might mistakenly think you are pulling into a shopping center as the entire hotel is set around a large shopping center looking parking lot. There is a small pool and hot tub towards the back of the parking lot. Hang out by this pool and chances are you will meet travelers from around the world on their way to explore the wonders of Yosemite National Park. The Miner's Inn has 78 rooms as well as 8-10 custom suites all of which feature lots of space, a private fireplace, in-room Jacuzzi as well as a kitchenette. A gift shop and small restaurant are located near the main lobby.
For more information and to make reservations, visit: www.yosemiteminersinn.com

Tenaya Lodge is located right off of Highway 41 in the small town of Fish Camp. You can't miss it – there is a large sign on your right hand side as you drive towards Yosemite National Park. Tenaya Lodge is located about 2 miles from the southern park entrance. This is certainly one of the highlight accommodation options for any stay at Yosemite. A loaded question to ask this resort is "what do you offer?" In return, you can expect the answer to be a significant one!
This is a full service resort that will cater to families, couples of all ages and those who want a variety of activities at their disposal. There are several indoor pools as well as an outdoor pool, a spa (currently set to expand to 10,000 square feet by May 2010), 38 miles of trails (hiking, biking in the summer and skiing and snow shoeing in the winter), an ice skating rink, and an amazing variety of seasonal activities to suit all interests. Depending on the time of year the following are offered: Perseid Meteor shower gazing, wine tastings, cooking demonstrations, photography workshops, fishing, waterfall, and hiking and biking trips. Several of their most popular activities are the Christmas tree lighting, sled rides and the Gingerbread House workshop.
Click on thumbnail photos for larger images, photos courtesy of Tenaya Lodge

You can choose to stay either at the resort or in one of their cozy elegantly decorated cabins. They offer 4 dining options – from near the large lobby you can physically stand in one spot and depending on the direction you walk you will find the doorway entrances to three different restaurants. Consider Embers, the fine dining romantic restaurant where waiters often prepare certain dishes at your table. Try the "blue flaming coffees" – it is always an experience to see this prepared tableside! Also note the appealing artwork, a local photographer contributes his photographs and his "gallery" is displayed on the walls of this restaurant.
Tenaya Lodge truly becomes a magical winter wonderland when it is surrounded by snow. There is so much happening at this resort that vacations can easily revolve around the resort's activities. A full service concierge is located just around the corner from the main lobby. This is a major destination for corporate meetings and events. For more information and to make reservations visit: www.tenayalodge.com

Tin Lizzie is run by antique car aficionado David Woodworth along with his wife Sheran. This historical Victorian Bed & Breakfast is located about 2 miles from the park entrance off of Highway 41 in the small town of Fish Camp.
Two rooms are available – either the cottage or the suite; be sure to check out the "suite" which takes up the entire second floor and includes luxury amenities such as a walk in shower with three body sprays and a huge bathroom with both a heated floor and a towel warmer. This hotel was painstakingly refurbished and is fabulously decorated. Visit: www.tinlizzieinn.com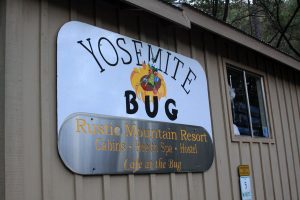 Yosemite Bug is located at 6979 Highway 140 about 10-15 minutes outside the town of Mariposa and about 45-50 minutes from the valley floor. This is an eclectic rustic hillside resort which offers a variety of well priced services for travelers and is extremely popular with foreigners, especially Europeans as well as other independent travelers. It is part hostel, spa, private lodging, cafe and social hangout. This is a great place to meet fellow travelers especially those from many parts of the world.
Yosemite Bug is perched on the side of the hill surrounded by trees about a 1/4 mile from the main Highway.
This resort used to be a boy scout camp and it still retains some of that camp feel. During the early summer months a swimming pool in the nearby creek is a 5 minute walk away. A wide range of massages are offered as well as Yoga classes. The spa is small and includes a sauna and a handsome looking stainless steel hot tub.
Dining takes place outside on the decks or in their large dining hall. The cuisine widely varies with options for both vegans, vegetarians as well as meat lovers. Lodging options range from insulated tent cabins, to a dormitory to private rooms. The owner's mother has a flair for decorating and each room has its own unique theme. Some people who stay here year after year often request the same themed room!
The Yosemite Bug also offers airport pickup in the San Francisco Bay Area, transportation and tour options with their appropriately named Yosemite Bug Bus. Check out: www.yosemitebugbus.com. For more information about this one of a kind resort, visit: www.yosemitebug.com

Yosemite View Lodge is a rather large hotel spread out nicely along the edges of the Merced River. They boast 336 rooms but because the hotel is divided into a number of buildings it doesn't feel crowded and its certainly not noisy. This is a wonderful family style modern lodge. The Yosemite View is located only about 1 mile from the western park entrance off of Highway 140 in El Portal. As a result they are fairly close to some of Yosemite's main attractions as well as in the warmer months, river rafting along the Merced River.
Be sure to request rooms with small balconies that overlook the Merced River. Walk out on your balcony on a clear night and see the bats and brightly shining stars; its dark here and the stars shine so much brighter then you will ever see in a city. Leave your window slightly open but keep the screen closed (to keep out the raccoons) and be silenced by the river's melody as you fall asleep. If the river noise bothers you, simply close the glass door, draw the drapes and you will not even hear it due to the hotel's excellent sound insulation.
This resort boasts 3 outdoor pools and one indoor pool as well as 1 indoor and 6 outdoor spas. Another nice feature of a stay here is each room has spa tubs with jets and double showers. We must mention these are extremely nice to come back to after an all day of hiking in and around Yosemite!
Two restaurants are on site; the Yosemite View Restaurant & Lounge and the Little Bear Pizza. Note that the same owners of Yosemite View Lodge also own the nearby Yosemite Cedar Lodge and several other area locations. To make reservations, visit: www.yosemiteresorts.us