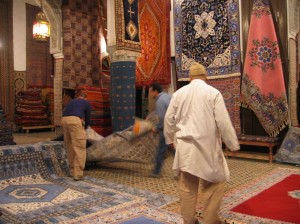 "Sure," I said, waving goodbye. I hadn't the heart to remind her that the film was shot on a Hollywood sound stage in the 1940s and that Rick's Cafe opened in Casablanca only three years ago.
Nine short miles across the Straits of Gibraltar from the Southern Coast of Spain, Morocco, the world's westernmost Arab country, looks both ways'to its ancient roots in the Middle East and north to its European neighbors. Long an outpost of the Roman Empire, this territory was overrun in the seventh-century by Arab invaders from the Middle East. The conquerors promptly established Muslim rule over the indigenous Berber people and set about building the first of the medieval walled cites, medinas, that have made Morocco a living museum living because the fabled medinas in the ancient cities of Marrakesh, Fez and Meknes have never stopped teeming with life. Thousands of families live in these timeworn enclaves, meet and greet in their convoluted streets, worship in the mosques of their fathers and shop for the daily bread in their bustling souks. Then there's the European Morocco, a legacy of the French who occupied the country from 1912 to 1959. Rather than tamper with historical treasures, they added their own new neighborhoods of broad tree-lined boulevards, modern dwellings, hotels and business centers. By the time they were forced out of Morocco, French had become the second language of the country (English is spoken, too), and bakers were turning out the crustiest breads and flakiest croissants outside of Paris.
When I asked why a group of 20-somethings in designer jeans were gossiping away in perfect French instead of Arabic at the next table in the Marrakesh McDonalds, I was told it made them seem more avant-garde. They are part of a new generation that is leaving the djellaba to grandma in exchange for the freedom of a new international lifestyle. Jetsetters and celebrities like our own Brad Pitt and Angelina are frequent vacationers here. In their wake, the city is seeing the opening of new high fashion boutiques, trendy restaurants with international gourmet menus, and to the tourist's delight, nightclub restaurants with belly dancing (not a part of the culture here).
Why were we wolfing down Mac fries at 5 p.m. in this city of wonderful couscous and tajines? Because we'd swapped lunch for the dizzying tiled courtyards of one of the city's best-preserved treasures, the 14th-century Koranic school, Ali Ben Youssef. Then, we clambered around the ruins of the 16th-century Badi Palace, snapping photos of the migrating storks who build their nests on its crumbling towers. (Restaurants in Morocco don't serve dinner till eight.)
Marrakesh's reputation as a raving beauty is well earned. Picture a city of one million people whose buildings are all (by law) done in shades of coral to match the 10th-century pressed mud walls that encircle the old medina for more than five miles. No building is higher than six stories, and tiled roofs echo the grayed green of the fronds of the surrounding palm groves. Marrakesh and other treasured cities like Fez and Meknes are oases of culture and keepers of history in this land of Lawrence-of-Arabia deserts, snow-capped mountains, humble villages, and its two largest cities, high rise Casablanca and Morocco's modern capital Rabat.
More than half of the country's citizens are Berbers, and many of these have blended into mainstream society, but Berber villagers still thrive in the mountains, clinging to their tribal languages and music, tending the sheep and turning out tightly woven carpets that are prized throughout the world. For the visitor, Marrakesh can also be an oasis of another kind, offering unsurpassed luxury in its sprawling resorts, five-star hotels and the latest rage, the riad. The formula for this upscale urban inn is simple: Join together a small row of centuries-old dwellings, each built around its central garden, into one small exclusive hotel of maybe six rooms or more. Update and then lavish your riad with a steaming hamam (Arab spa), swimming pool and an Arabian Nights decor with chiffon-veiled beds and at least one gurgling petal-strewn fountain. Offer gourmet dining and costumed attendants who know the wishes of their guests before they do. If only there was time to enjoy it!
Even as I lolled on satin riad pillows with sweet mint tea and honey cakes at my side, Jama el Fna was calling. Within minutes I was hanging onto the seat of my battered red taxi as we dodged a Mercedes, evaded two bikers and skirted a tourist horse and carriage. Finally we met our match, slowing to a crawl behind a spindly-legged donkey lifting his nuzzle to wail at the sky. The family of seven in the cart he was pulling waved at the driver and smiled.
It was rush hour, that time when the city's beating heart, the mammoth Jama el Fna city square, fills up with after-work shoppers and diners. Gateway to the two-square-mile Marrakesh medina, this monstrous space in the shadow of the city's iconic Koutoubia minaret, is mobbed from morning to night. But dusk is when the rows of tented food stalls fire up their charcoal, and the snake charmer, the acrobats, the soothsayers and the Berber dancers get their second wind. Crowds of clapping and cheering onlookers form circles five-man deep around them all across the square. A Tuareg Blue Man from the Sahara beckons us to his blanket spread with medi-cinal bones and herbs. A henna tattoo artist squats among his paints and brushes, to trace a graceful pattern on a young girl's wrist. A Barbary ape gnaws at his tether, and a beggar holds out cupped hands to us. It doesn't take long to realize that this square is not theater for tourists; it's really a slice of life. The next morning, hungry for more, I joined the shoppers in the narrow alleys of the jam-packed souk lined with stalls selling everything from raw sheep's heads to rubies. Hey, make way for that donkey delivery truck with the bathtub on its back.
Nothing could have torn us away from Marrakesh except the lure of the ancient city of Fez, sprawled in a wide riverbed a leisurely day's ride north. Its own picturesque medina, with 20,000 people, no motorized vehicles allowed, is considered the oldest and best preserved in the world. And it's a short drive west to the 11th-century city of Meknes and the ruins of Volubilis, the fourth-century Roman city that flourished here. Fez is a city of craftsmen, with separate streets and districts delegated to each endeavor and product such as musical instruments, wool, jewelry, pottery, kitchenware, wool carding, carpet weaving, shoemaking, tent making, metalwork and a long list of others, tourists welcome. Two of the most extraordinary visits are first, the tannery, where you can watch the workers dipping the skins in giant stone vats of chemicals and colors in a scene from the Middle Ages. And second, the Nejjarine Museum of Wood, housed in a graceful building that is itself a masterpiece of the carver's art. The last chance for souvenir hunting came for us in Meknes, in the heart of the wine and olive growing country, where we scooped up last minute bracelets and babouches in Meknes' mini Jamal el Fna. The city's biggest attraction is the dizzying tiled tomb of the sultan Moulay Ismail, who was a contemporary of Louis XIV of France and vowed to make Meknes the Versailles of Morocco. Hence the intimidating arched city gates such as the ponderous Bab Mansour and the delicate palace Dar Jamai, now a leading museum. Our grand finale was a step back in time at the ruins of Volubilis. Its triumphal arch still looks out over the fields that once fed this city of 20,000, and the miraculously well-preserved mosaic floors of its long gone villas still tell the myths of the gods.
Peer between the broken columns of the temple down by the forum and you can see what looks like a giant flock of white doves on a nearby hillside. These are the white houses and domes of the sacred town of Molay Idress, the first settlement in Morocco. The last Roman city and the first Arab city looking across the valley at each other.
The next morning, on our way to the airport in Casablanca, we stopped to see the country's 20th-century pride, the King Hassan II mosque. It was opened in l993 on the shores of the Atlantic with room for 25,000 worshippers inside and 100,000 more on its seaside esplanade. The mosque's 650-foot minaret is lighted at night, and lasers point the way to Mecca.
No, we didn't make it to Rick's Cafe, but we hear there's another Rick's in Chicago. Surviving the Souk "Madame, Madame, I invite you for tea," said the owner of a shop stacked to the ceiling with rolled up carpets. I knew better, but a chance to sit was a temptation. I sank into a silken leather hassock while a server poured sweet mint tea in a long thin stream into a delicate glass. The rug man clapped twice. Three assistants began unrolling colorful masterpieces. I finished my tea. They kept unrolling. I got up to go. Still unrolling. In the end, the price of escape was the brilliant throw rug that now brightens my front hall. Beware medina tea.
I defy a living soul to emerge from the great souks of Marrakesh, Fez or Meknes empty handed. Guaranteed to empty your wallet of dirhams, the Moroccan dollar, are these temptations and more:
Fragrant piles of cumin, cinnamon, cloves, turmeric, ginger, saffron, cayenne and acres of nuts, dried apricots and dates all waiting to be wrapped and brought home for gifts. Stalls packed with jangling harem jewelry and fine hand-wrought silver. Pottery and carvings. Rows of candy-colored pointy slippers (babouches). Flowing djellebas and kaftans from no-nonsense to couturier. Jewel-tone silk scarves and tooled leather wallets, handbags and satchels. Brass lanterns pierced in lacy patterns. Jewel-rimmed mirrors. Mountains of baskets and miles of shelves with herbs, perfumes and potions. Bring extra bags!
Anyone for Couscous? They say that the popular Moroccan lamb stew on a bed of fluffy grains of semolina, called couscous (same name as the dish) is disappearing from restaurant menus. Cooks generally make it at home from family recipes, which often include ras el hanout, their own blend of spices that can have dozens of different pinches of this and that. But many restaurants still do serve it, as well as other favorites like the popular meat and vegetable stew tagine, which is named for the cone-shaped earthenware dish it steams in. Be sure to try the roasted chicken stuffed with preserved lemons, and for a special treat, bostilla, a meat and almond pie, wrapped in papery phyllo dough dusted with cinnamon and powdered sugar. As for starters, the platters of Moroccan salad should look familiar. It's just mezze in a different format.
Note: a handy traveler's lunch on the run is a bowl of steaming harira (chickpea stew) or a pair of lamb kebabs with flat bread and a sweet Moroccan beer.