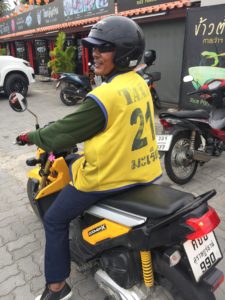 When the minivan pulled in at the station in Hat Yai, I got off the car and randomly made my way into one of the travel agent's offices lining a bustling street. At the desk sat a gray-haired woman with a warm smile, exuding the true hospitality spirit of the Thais.
"Where are you going?" She asked with a heavily accented voice.
I glanced at the clock. It was quarter past ten in the morning.
"Where is the next bus leaving for?" I asked.
"Samui. The bus leaves in 15 minutes" She responded with a suspicious look.
"Yeah, please put me on that bus!" I said without a hesitation, mustering a look of determination.
My spontaneity had certainly taken her by surprise. In fact, it came as a total surprise for me too. All the nervousness and adrenaline for the unknown suddenly caught up with me.
I had just decided on this spontaneous trip the night before. I did not pack much, I did not know where to go, I played it by ear and went with the flow. I was stoked with excitement and could not wait to find out where would I wind up in the end.
The randomness of this trip led me to Ko Samui, a picture-perfect and palm-fringed island paradise lying in the Gulf of Thailand.
I had no clue as to where to stay and what itinerary to follow. However, having not done the homework and not knowing what is in store turned out to be the best thing for me. Without the restriction of a fixed itinerary, I just took my own pace to chill out and smell the roses.
Many ferries depart to the island from Surat Thani – a sleepy town and a gateway to some of Thailand's most beautiful islands including Koh Samui, Koh Phangan and Koh Tao. The one that I went with was Seatran. It has a large air-conditioned seating area, a mini store that sells food and snacks, a small dining section and an open deck with breathtaking sea views. I climbed up to the deck to stretch my legs and get a breath of sea breeze, admiring extensive limestone mountains in the distance and a giant Buddha statue sitting on a mountaintop. 
A quick search on the internet landed me at a hostel in Chaweng Beach – Lub D Ko Samui. The hostel was brand new and modern looking. Little did I know that it was a party hostel. Most of my roommates went out partying till the early hours. It got boisterous at night and early morning hours when the intoxicated party animals staggered back and made a racket in the room. At one point in the middle of the night, the bunk bed on top of me shook violently in a synchronized quake, punctuated with moans of climax in between. I almost shouted in exasperation, "GET A ROOM, YOU TWO!" but soon sank back to reality that we were all in a ROOM, a DORMITORY ROOM.
Despite the slightly flawed experience, I thoroughly enjoyed my stay there. I ran into a group of Spanish girls and a German tourist. We had a great time playing Jenga in the open space patio. Every guest is entitled to a free cocktail drink. The staff would gather new guests in a lounge and offer them the cocktail, during which guests will have a chance to mingle and get to know each other.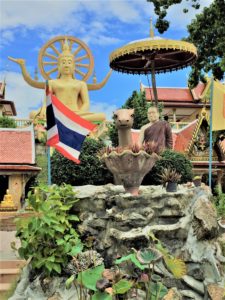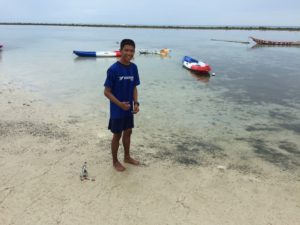 There were hammocks and beach deck chairs for guests to use. Laying down on a hammock overlooking a wide expanse of the blue ocean was especially relaxing and therapeutic for me. The airport is not far from the beach. Every now and then, the roaring airplanes flew in for a low landing over the sandy beach, making it an awe-striking sight to behold.
A simple stroll along the beach often led to a new discovery. One time, I saw a couple of local men standing knee-deep in the sea, keeping their eyes on the water. I inched closer and found out they were collecting trash in the sea. It was indeed a thought-provoking moment. People always take a glistening beach for granted, but do we ever realize there has always been a group of unsung heroes quietly getting their hands dirty to keep the beach sparkling clean all the time?
I took an opportunity to do some sightseeing around the island. There are two types of taxis on the island – Songthaew (A roofed pick-up truck comes with two long benches on either sides of the vehicle) and motorcycle taxi. I find Songthaew slightly more expensive and they only let you in if you are heading in the same direction as they are. Motorcycle taxi is the way to go for traveling multiple stops.
A motorcyclist agreed to take me on a tour around the island at a fraction of the cost. He went out of his way to explain the details of every place I went – Wat Plai Laem, Grandfather's Grandmother's Rocks, Big Buddha, Mummified Monk Temple and Na Mueang 1 Waterfalls. He even brought me to several bonus stops with some that are only locally known. 
Mummified Monk Temple struck me as the most memorable. The temple is devoted to a monk who dedicated half of his life to Buddhism teaching. He had premonition of his own death, which came true in 1973. His body remained undecomposed after his passing.  His relatives and disciples decided to remember him by putting him in a lotus sitting position inside a glass case.
The afternoon sun in Samui can be brutal. The searing heat drove me to take shelter at a very cozy cat cafe not far from the Big Buddha. The cafe was built on stilts above the sea. I chose a quiet corner to snuggle up with a book, surrounded by feline friends hopping from one table to the next.
I used to be indecisive when it comes to choosing the right destination. This trip has inspired me to seize the moment to enjoy whatever comes my way. As I am writing this, my mind is already wandering to my next spontaneous trip – and this time, I wonder where my heart will lead me to ?