Kalaw
In a monsoon rainstorm we climbed off the train in this cool wooded hill station built during the British occupation. The locals laughed (with me) at my little paper sun umbrella I carried that I had bought at the umbrella shop in Inle. Only transport available was in a partially covered horse cart Driven by a kind old man. Off went the horse clipclopping with us along to the ironically named Dream Villa Hotel a few blocks away in the center of town. It was off season and we and a French couple were the only tenants in the second floor room in the very friendly hotel painted white with verandas and windows open on two sides.
I looked down into the street to see a common occurrence in Asia that we hardly see in the West…males touching each other…often holding hands while walking down the street. On this day three boys stood one behind the other looking out toward the street, each with hand and arms around the boy in front and finally the one in the back reaching to the boy in front, lovingly cradling the boy in the middle…it was done spontaneously and naturally and lasted only a few seconds. Refreshing I thought.
We explored the rotating market that happened to be in town the following Saturday…we have wonderful pictures of the goods that the colorful tribal hill people bring to town to sell; flowers, fish including eels, perfect looking leafy green vegetables of all kinds, cigars, prepared food of all unidentifiable kinds. Everyone wears flip flops; heels cracked and calloused. Babies in Burma are not diapered…the child is just held out in the air at the right time and whatever wants to come out comes out. One mother in the seat in front of us on the moving train to Kalaw held her baby with bare bottom out the window for this event.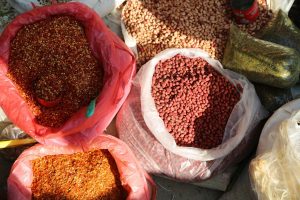 We stop by a tea and spices/nuts shop (patrons are almost always men and they all stare at me; women stay at home as they did in Morocco, Egypt, Africa, India, Greece and Thailand) to rest and watch the street scene. There was cheap clothing brought in from China…some of the tables piled with used plaid shirts, levi jackets and 501's. So this is where the young Burmese university students get their levis I thought…you know those levi trucks you see in the Fred Meyer parking lots at home?
I called out to a Western looking couple walking by…look…somebody from the West! The couple, from Israel, laughed and joined us at our low table for tea…all of us sitting on little stools with our knees around our ears again. The woman had been in Rangoon for six months as a UNICEF advisor to the local education authorities. Families have about 10 children because about half die by the time they are teenagers she said. When the ethnic children go to school, she explained, they are confronted with both English and Bamar languages layered over their ethnic dialects and they have a very hard time learning. Old story I thought to myself thinking of the indigenous Indian children from Mexico who come with their migrant parents to the States. Coincidentally, when I told her we were from Salem Oregon, she said a woman friend from Israel went to our city a couple years ago to live with a man friend but after six months of boredom she went back to Israel. What did she miss especially, I asked. Having fun, she said, dancing, having fun and street life. Yes, I know the feeling I said, thinking that is much of the reason I probably won't go back there to live either.
Western Eyes Again
Am finding myself identifying more with the 'West' these days instead of just 'America.' Well, my Western eyes are seeing hundreds of monks steaming out from their monasteries into the city centers every morning…with their begging bowls…through neighborhoods…into businesses…loading up in the markets…loading up from people who can hardly afford food for their own children…loading up without working for it all. Then it was all I could do to contain myself when I saw two young monks in a Sony music store laying out a whole pile of kyets for a top of the line Sony boom box. My friend Jiraporn, in Bangkok, when I told her about my feelings, told me I should not jump to conclusions… the stereo could have been purchased on behalf of a whole village who would use it…for…? But my skeptical Western eyes keep seeing something else…kept making judgments. But the people are grateful for the opportunity to give, we are told…that is how they obtain merit to gain heaven…I guess we Americans are just too practical I said to Jiraporn.
Trek to Pa-O Villages
Bob was happy to get out and stretch his legs on a two day trek in the hills. His guide used to be a chemistry teacher who only made about $8.00 a month teaching school. So now he makes $15 for a two day trek in the hills. They visit several villages…the people know and love him and welcome the people he brings to their homes for a meal and overnight stay in exchange for the tips they receive. Bob was introduced to a young woman who had been his guide's chemistry student. She quit studying chemistry in the local high school because she could make 10 times more money raising garlic. If the progress of the country depends on education, it is going to be a very long time before these humble people dig themselves out from under their oppressive military regime. Makes one wonder if this is by design.
Extended families live in a large building, usually on stilts, called a Longhouse. Over dinner in the longhouse that night, Bob, in his way, made one three month old baby giggle which delighted and impressed the family. When Bob offered to buy the baby they all laughed and said no….but the mother then offered to sell him the rambunctious 18 month old sitting next to her!
Sr. Christine and Christ the King Church
While Bob was trekking I decided to walk a couple kilometers up the hill to Christ the King Church. Sr. Christine, a Burmese nun who was walking behind me caught up with me and introduced herself. When we got to the church compound about 20 little girls in raggedy clothes came running out to greet us. These are our children, Sister says. They have no parents so they live with us. (The boys live with Father Paul in the rectory.) Then the children all lined up to sing some touching little songs about friendship for us…obviously having done this before. How do you get money to support yourself, I asked. By donations from tourists, she said honestly. Then she asked me to sit and have juice and little butter and bread sandwiches while we talked softly and quickly about the oppression of the military government which had confiscated most of the buildings belonging to the church. They lost their school and dormitories…everything except the rectory and one small building the four nuns share; the children sleep on cotton mats on the sidewalk out in front of the building at night.
I asked Sister if she had seen the BBC (British Broadcasting Corp) special on TV a few nights before about the war going on between the government and the ethnic groups. Oh no, she said, they didn't get satellite TV. (About a year before she had visually seen the Pope for the first time in her life on a video.) When I described some of the atrocities that the BBC special showed, including a Karen village burned to the ground on Nov11, 2001, she began to cry…remembering, she said…her father who had been tortured and killed by the army.
When the missionaries, mostly Catholic, arrived in the country, she explained, they immediately went into the outlying areas of the country where most of the ethnic minorities were located. So now, the people in central Burma are nearly all Buddhist and the minority areas are mostly Catholic and some Baptist. The ethnic groups therefore are not only culturally and linguistically different than the ethnic Berman people in central Burma but religiously different as well.
In the BBC special an American doctor from Louisiana said that burning the villages to the ground causes much more suffering for the people who are then forced to run into the jungle with whatever possessions they can carry…stopping to cook some food on little fires on the ground… than if they just shot the people. The most effective weapons, he said, are fear, poverty, hunger and disease. In addition, the army kidnaps young teenage boys from their families and forces them to be porters in the jungle. One who was interviewed by BBC said that they know if they run they will be shot and killed like others they have seen. "There are times when you have to take a stand and fight the evil…when we see people, their homes destroyed putting their belongings on their backs and slowly walking into the jungle to find someplace to hide, we know we have every right to be here" the doctor from America said, "because no one else will come to help." By the time the world wakes up to the plight of the minorities it will be too late, he says, in spite of all the UN resolutions and efforts of governments who have put pressure on the country. But our tour leader in Pagan (Bagan ) had denied that there was any fighting going on in Burma…
The highlight of the visit to mass at Christ The King Church the next day, Sunday, was the singing by the children. The entire back half of the church was filled with children singing with strong raised voices…singing with exaltation if ever I heard it.
So the situation in Burma is very complex and any solution will be long and protracted. When I asked Father Paul at Christ the King Catholic Church what will have to happen before a solution can be found he drew a big silent question mark in the air with his finger.
Political Freedom
Today citizens are forbidden to talk to foreigners about politics and of course this makes the Burmese afraid to talk to you about anything. Government workers from mail carriers to university professors, must sign a pledge not to discuss the government among themselves, at risk of losing their jobs. Red and white signboards posted in public areas of all major cities carry slogans such as "Only when there is discipline will there be progress, and The strength of the nation lies only within."
News Publications including the only English language newspaper called 'The New Light' carry the following under the heading 'People's Desire:' 'Oppose those trying to jeopardize stability of the State and progress of the nation' and 'Crush all internal and external destructive elements as the common
enemy.'
Myranmar TV is a hoot! TV Myranmar operates nightly and regular features include military songs and marching performances. A segment of national songs is performed by women dressed in ethnic costumes; when the songs are over the national flag is hoisted by the singer wearing Bamar dress.
Educated Burmese listen to short-wave BBC and VOA and the Burmese service of Radio Free Asia (RFA); state controlled Radio Myanmar broadcasts news three times a day.
The He Ho Airport for flight to Rangoon
Question: How do you know the Westerners standing behind you in the airport check-in line are not American? Answer: Their backpacks are pink, purple, yellow and orange. Probably French I say to Bob.
Then we take the shortest bus ride in history the 150 meters from the airport to the airplane! Waiting for the plane to take off we saw the ground crew standing at attention while the plane revved up…and then they all saluted briefly to the pilot before they walked off…waving…and we were off to Rangoon.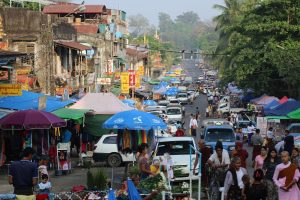 At the Rangoon airport we discover how a local gets a cheap taxi ride…jump into a car with a paying tourist! Images: on the way to the hotel we see half a dozen men sitting on top of a huge load of rice sacks having their lunch…tea cups and plates spread out-all. Some places not seen in Rangoon the first time: Beauty Saloons, Denney Fast Food Station, McBurger (complete with arches) and JDonuts. Military trucks seem to be used to transport the citizens…or else they are government mandatory work parties. A 'Drive Safely' sticker is on the back of every single vehicle…after awhile you don't even notice them of course.
Talking Talking…Chinese guy in back of us on the plane…Indian guy on the train to Shimla…Morrocans on the ferry…the Italians…the Spanish…talking talking. It takes so many words?
Where are the British and the Germans when I need them?
It occurs to me that my soul needs soothing…I am really hungry for some down and dirty American rock music…life-filled…defiant…power-filled…the personification of confidence…no wonder oppressed youth (and others) all over the world clamor for it. "I will not be broken!" Walking down the street a guy squatting at a tea stall yells out, "what is your country?" America, I yell back at him. "Springsteen!" he yells. "Born In the USA," he sings again and again and we can hear him singing behind us all the way down the block. Later, walking around that afternoon I see a young guy coming toward me with a Sex Pistols T Shirt. "Where did you get your T Shirt," I ask him…he answers with a thumbs up. That is how I feel too on this day.