I'm in Myanmar, dining at the home of a local family, being serenaded with a nostalgic playlist of American pop tunes reminiscent of my favorite childhood radio station. It's a surreal scene that looks like an outtake from a David Lynch movie. Sometimes truth is stranger than fiction.
With one foot inching towards the 21st century, ancient and modern mingle with ease here. After consuming a lovingly prepared feast, my homespun hosts, joined by their eccentric uncle and assorted teenage relatives, begin strumming their guitars. They know all the lyrics to John Denver's 1970's classic "Take Me home Country Roads." Why they know the words is a mystery, but it somehow bonds us. Like Myanmar itself, it's calm and complicated at the same time.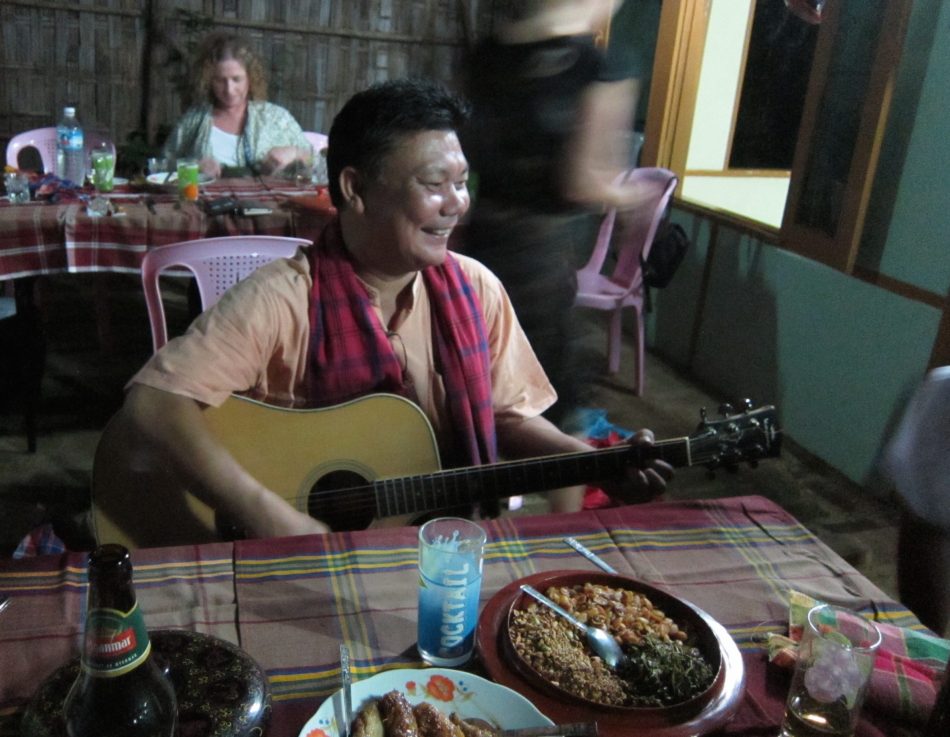 How did I arrive at this after-dinner episode of "Myanmar's Got Talent"? I was exploring Myanmar with Trafalgar. It's the latest of their Hidden Journeys vacations, guided itineraries that feature off the beaten path destinations for small groups of no more than 26 guests. First-rate accommodations and many fine meals are included. Dinner with a hospitable local family is part of their Be My Guest program, created to facilitate meaningful encounters between visitors and residents.
Lost in Translation moments like these are why I travel. I want to see attractions and sites, but unscripted interactions are my fuel. In this land of traditional dress, where men are draped in maxi-skirts called longyis, and women's faces smeared with thanaka, a cosmetic paste made from ground bark, random wildcards of Western pop culture seep into the mainstream.

Emerging from more than 50 years of military dictatorship, Myanmar, formerly known as Burma, has quickly gone from having virtually no international tourism to welcoming over three million visitors annually. With the eyes of the world returning, there's optimism that human rights violations will cease and that tourism might just be the domino to start a chain reaction. While censorship has ended, this country has been only lightly brushed by the modern world. I had been concerned that Myanmar's decades of isolation would make it difficult to get acquainted with its people. Instead, I found them delighted to reveal their ways to the wider world.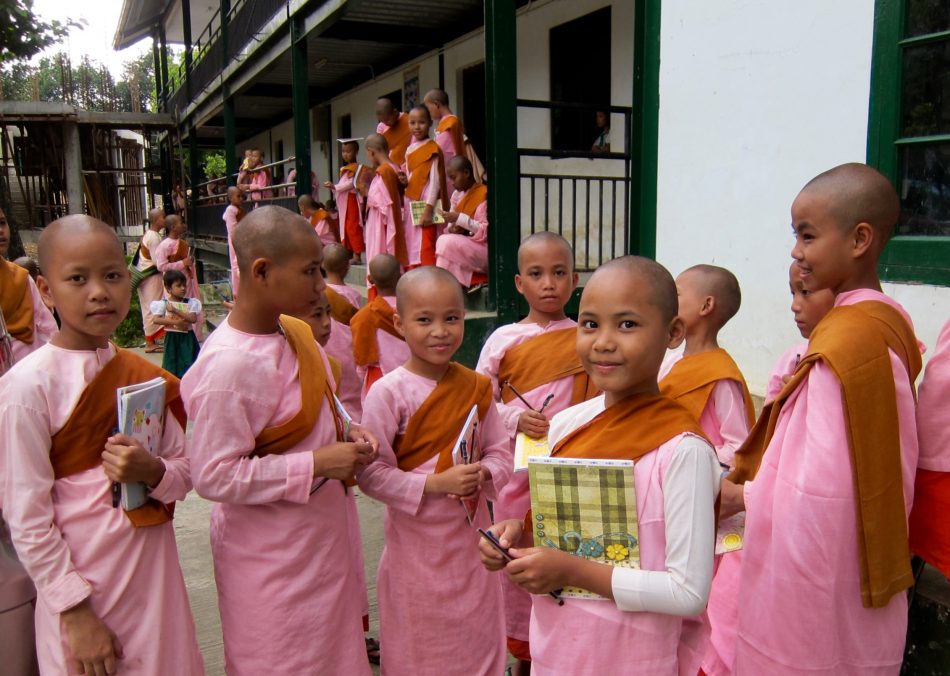 As a traveler focused on the human element, I had hit the jackpot. Besides visiting top attractions and iconic sites in this culturally rich country, the 11-day Secrets of Myanmar itinerary includes numerous Insider Experiences.
The religious core of Myanmar can be seen in the countless Buddhist temples that grace the landscape. I observed the complex nuances of its faith more intimately when I visited a monastic school in Yangon. I conversed with teachers and met young students, gaining firsthand insight into their everyday lives.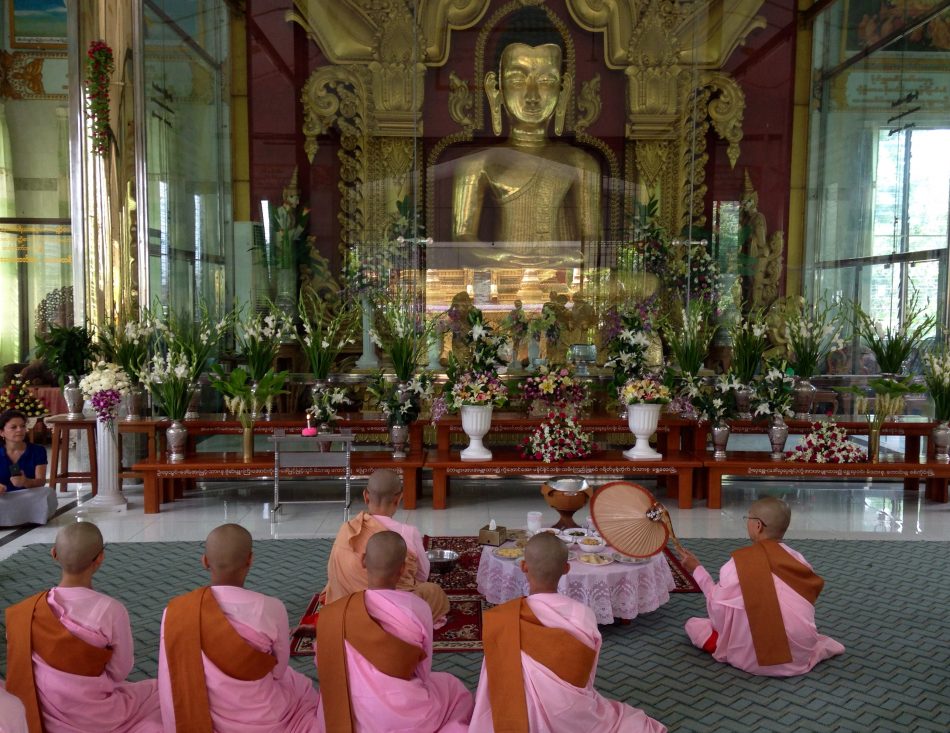 In Mandalay, I dined with nuns in a nunnery, partaking in their simple lunch. The nuns, with shaved heads and clad in cheerful pink robes, and me, with long hair and wearing modern threads, sat barefoot on the floor together and savored the plain rice and fragrant curries that sustain them through long hours of prayer.
In Inle Lake, an afternoon spent at the Inthar Heritage House was uplifting. This foundation trains local youth for careers in the blossoming tourist trade. My group participated in a cooking class and chatted with newly minted chefs as we prepared a delectable meal made with produce freshly foraged from their pesticide-free garden. It was inspirational to converse with these youths, brimming with enthusiasm about their future.

The visual stimulation in this country is breathtaking and I was saturated with spectacular sites on Trafalgar's itinerary. In the bustling city of Yangon, the highlight was the resplendent Shwedagon Pagoda. It is one of Buddhism's most sacred treasures, the exquisite details achingly beautiful. Adorned with 27 metric tons of shimmery gold leaf, its massive size makes it visible from nearly anywhere in Yangon. I went at dusk and witnessed the traditional oil lamp ceremony unfold as the sun set. Magical.
In alluring Mandalay, the exotic blend of urban sights and sounds was intoxicating. Stroll the U Bein Bridge, the longest teak bridge in the world. Visit the Kuthodaw Pagoda, where the Thravada Buddhist scriptures are individually inscribed on 729 marble slabs, nicknamed the world's largest book. Sip tea with locals at one of the city's many teahouses. Purchase artisanal souvenirs such as hand-woven tapestries, marionettes and gold leaf at one of the bustling markets.
The holy town of Bagan is home to thousands of pagodas and is known for its quality lacquerware. Just when Pagoda overload started to creep in, I was whisked to a lacquer workshop for a first hand look at the creative process.

Inle Lake is both mystical and mesmerizing. As I rode on a motorized long-tailed boat, I saw the Intha fishermen. With the balletic precision of Baryshnikov, they row standing up on one leg with the other leg wrapped around a single oar, leaving their hands free to manipulate their conical fishing nets. It's an unforgettable feat of balance and grace. Gliding through the fertile floating gardens, I had the perfect vantage point to glimpse this rural lake's still-untouched way of life.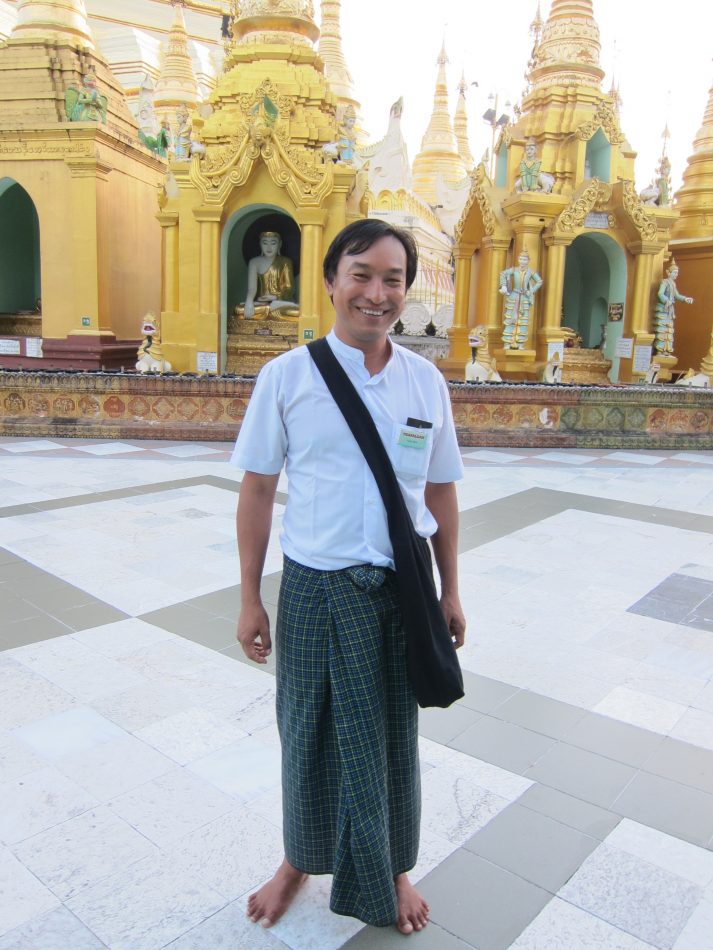 Indispensible travel director Nyein Moe guided our intimate group every step of the journey. He's an English-speaking Burmese who shed light on this fast-changing country. There was no third rail limiting our conversations; we discussed an uninhibited range of topics, from politics to dating rituals. Nyein Moe helped to interpret experiences and put them into a comprehensible context.
Country roads, take me home to the place I belong…I'm still pondering my host family's sing-a-long, but John Denver's familiar lyrics felt oddly appropriate in this faraway land.
I know that by slowing down and watching real life unfold, I caught a glimpse of Myanmar's heartbeat. By connecting with its people, my visit was transformed from merely a vacation to a window into this country's soul. I found a little piece of home so far away from my own.