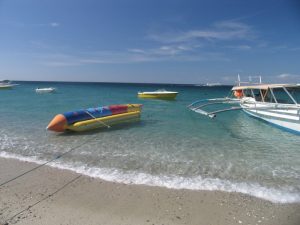 The Philippines holds the world's most diverse ocean life hidden underneath the sea. Surrounded by white sand protecting the mesmerizing turquoise waters, Philippines' amazing coastlines serve as a testimony to its divine nature, making it one of the most desired travel destinations all over the world.
There are over 7000 islands in the Philippines with approximately 2000 of the islands being inhabited. Each island offers rich biodiversities such as mangroves, tropical rainforests, and world-renowned beaches.  If you're planning to uncover the beauty of the Philippines' beaches, here are four beaches you must visit to fully enjoy the experience.
Siargao Island, Surigao del Norte
Siargao Island is a tear-shaped tropical island lying on the border of the Pacific Ocean, located in the north-easter part of Mindanao. Those who love to surf know that Siargao Island is not only the surf capital of the country, but also one of the best beaches to surf in Asia.
Further, those who are advanced or pro surfers can challenge Cloud 9, the significant barreling right-hand reef break. However, even though Cloud 9 is a world-renowned wave, the wave is actually relatively short. Although the wave is short, Cloud 9 will guarantee you satisfaction because it barrels almost all the time.
Beach bums can contact local tourist guides in order to maximize the fun and adventure in the nearby islands such as Guyam, Daku, and Naked Island. Keep in mind that Siargao Island hasn't been discovered by non-surfing or non-beach enthusiasts. Following this, you'll be needing to share the beaches with some locals, surfers, and plenty of hermit crabs.
El Nido, Palawan
El Nido is a cluster of the tip of Palawan Island, filled with beautiful out of the ordinary rock formations surrounded by bright turquoise waters. Further, there are a lot more things to do in El Nido than just looking at dramatic rock formations. In fact, El Nido consists of 45 small islands where people can go to, and swim in unique location of lagoons and beaches.
Travellers who book for El Nido tour online will be taken directly to the Secret Lagoon, Secret Beach, Bacuit Bay, Simizu Island, Las Cabanas Beach, and many more. There are countless beaches that you could go to that would take you a few days to complete. Thus, you have to make sure that you come prepared before going to El Nido.
Boracay, Aklan
Boracay is a four-kilometer stretch of White Beaches open to travellers and beach bums. It is famous for its soft, fine white sands and clear blue waters. Boracay is also known for its unforgettable nightlife experience, due to the candle-lit sand castles, bars, and restaurants that are open until dawn.
The best feature of Boracay is that everyone will have something to do, ranging from water sports such as kite-boarding and windsurfing, snorkeling, and scuba diving. Travellers are also fond of the island's iconic sunset views, and also because souvenirs and restaurants are accessible at the beachfront.
Samal Island, Davao del Norte
Garden City of Samal or Samal Island is an island that is two kilometers away from the most populous city in Mindanao, Davao City. Samal Island is a blooming tourist destination due its 118-kilometer coastline of white and pink sand beaches. Apart from beaches, Samal Island is also famous for great resorts such as Pearl Farm, Paradise Island, and Kaputian Beach Resort.
Apart from luxurious resorts, Samal Island also provides a wide variety of choices for backpackers and other visitors who have a set a limited amount of budget for their visit. Similar to the world-renowned beaches mentioned above, Samal Island's highlights include coconut palms, mangroves, lush greenery, rock formations, and clear waters.
Further, Samal Island is also famous for its Vanishing Island. Vanishing Island is said to be like a gem that appears only when the tide decreases. During high tides, travellers and tourists can walk around the island on foot, but only in the areas where the waters are in the same level with their ankles.
Takeaway
Travellers and beach enthusiasts who wish to replenish their dose of vitamin sea are always welcome to visit the beaches of the Philippines. Siargao Island, El Nido, Boracay, and Samal Island are just a few of the wonderful beaches that beauty of the Philippines has to offer.
You just have to make sure that before you travel to your desired location, you have planned and prepared well. Although, travellers and beach enthusiasts shouldn't worry about anything, because locals will always be there to offer you help.