When traveling to East Asia Western tourists often hawk to Tokyo or cities in China, not to mention Hong Kong, which attracts an astonishing 50 million visitors per year. Largely left off the itinerary is Seoul, acting often as a stopover point (which is appropriate, as Incheon Airport has been named the best airport in the world.)
But tourism in South Korea is gaining traction. It's repeatedly been voted the world's most wanted travel destination by Chinese, Japanese and Thai tourists, and Westerners are starting to pick up on the attraction as well. While there is so much more to Korea than Seoul, the city itself could sustain an entire vacation.
At 10 million people, Seoul is the largest city proper in the developed world and extends to cover the second largest metropolitan area, home to more than half of South Koreans. A rapidly rising global city and unequivocally the most network-connected, Seoul offers a dense dive into the Korean cuisine, history, and a culture that is evolving at an incredible rate (but retaining its core Korean identity.)
And the best part of all? It's still affordable. (All prices are in Korean won – an easy conversion rate is 1,000 KRW is about $1USD. The dollar is currently a little stronger, but that's a typically reliable conversion.)
A rapidly rising global city and unequivocally the most network-connected, Seoul offers a dense dive into the Korean cuisine, history, and a culture that is evolving at an incredible rate (but retaining its core Korean identity.)
1. History
Koreans have an incredibly long and tumultuous history, but it's one they're very proud of. The national pride here is unmatched, even as the country does begin to develop a greater sophistication and previously unfathomable amount of diversity. If you ask a Korean what to do in Seoul, they'll almost automatically send you to their many gorgeous cultural attractions.
Gyeongbokgung – this palace, the largest in Seoul, is one of the "Five Grand Palaces" of the Joseon Dynasty and has sat at the base of Mount Bugak for more than 600 years. It's a pristinely-kept compound of pavilions, gardens and courtyards, home to the set of many a Korean Drama. This palace also features a Hanbok experience during which you can try on traditional Korean clothing and a changing of the guard ceremony.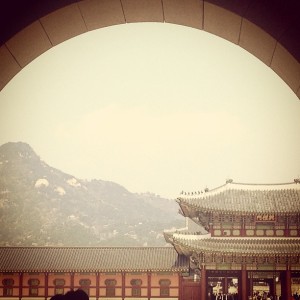 The entrance fee is 10,000 won but will also gain you access to Changdeokgung palaces (including Bison, the secret garden,) Changgyeonggung Palace, Deoksugung Palace, and the Jongmyo Shrine
Get there via Gyeongbokgung Station, Line 3, Exit 6.
Ganghwamum Square – directly across from Gyeongbokgung's entrance gate, featuring giant statues of Korean namesakes Admiral Yi and King Sejong.
Get there via Gwanghwamun station, Line 5, Exit 2.
Bukchon Hanok Village – Seoul's traditional folk village. It's nearby enough to Gyeongbokgung Palace, but it's a bit of a walk. (Taxis will know the area.) Very well preserved, the hilly neighborhood offers an authentic, traditional atmosphere of the Joseon period. Visitors can opt to experience a hanok homestay in the area in the village as well (try Tea Guesthouse – doubles start at 100,000 won.
Get there via Anguk Station, Line 3, Exit 2, walk for about 800m OR Gyeongbokgung Palace Station, Line 3, Exit 5, 10-15 minute walk.
Changdeokgung – Guenonbokgung's eastern counterpart, also of the Five Grand Palaces. A uniquely beautiful place, it has a twist of modernity to it, as it was used as a palace well into the 20th century. The palace grounds also boasts a glade among a dense, ancient woodland, concealing a Secret Garden known as Biwon.
The entrance fee is 5,000 won (but access to the Biwon was an additional 5,000 won.)
Tours are available for an additional 3,000 won.
Get there via Anguk Station, Line 3, Exit 3

2. Landmarks
Iconic to any city are its unique landmarks, and Seoul doesn't disappoint.
Namsan Tower – Perched on Mt. Namsan, this spire-topped symbol of Seoul offers panoramic views of the sprawling city and second largest metropolitan area in the world. There's a popular cable car that will take you up to the tower entrance and the top floor even has a revolving restaurant that makes a 360 degree revolution every 1 hour and 40 minutes.
Observatory Admission fee is 7,000 won, Cable car ride is 6,300 roundtrip. Bus access is also available or you can walk.
Get there via Myeongdong station, Line 4, Exit 3 – it is a short walk from there.
OR you can take a yellow bus from Chungmuro station (Line 3 or 4,) or at Dongguk University (Line 3)
Banpodaegyo (Banpo Rainbow Bridge) – A two-tiered bridge over the Han River features its Moonlight Rainbow Fountain, the world's longest bridge fountain. The lightshow is spectacular, but runs on a varying schedule from April to October.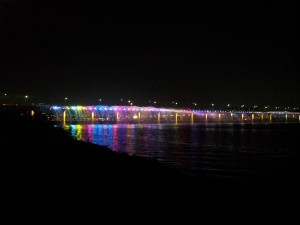 Get there via Dongjak Station, Line 4, Exit 1 or 2 OR Express Bus Terminal Station, Line 3/7/9, Exit 8-1. From there go straight for 250m then turn right at the intersection. Go straight for 400m then cross the street. You can also take Bus 205 or 8340 and get off at Banpo Hangang Park.

3. Shopping & Wandering
Korea itself is a 24-hour-a-day attraction with the number of shops and stalls lining each street, each one trying to overpower the other for your attention with lights, blaring music and displays. But some areas are better than others (while others are for the more sophisticated.)
Insadong-gil – a touristy neighborhood, but not lacking any charm, it's one of the cultural and artistic hubs of Seoul packed with tea houses, restaurants, street food, street performers, galleries and souvenir shops. Make sure to check out the side alleys. The only accessible Buddhist temple in the city, Jogyesa, is also near Insadong.
Get there via Anguk Station, Line 3, Exit 6, go 100m straight then turn left OR Jonggak Station, Line 1, Exit 3, go straight 300m and turn left at the intersection, straight 100m then left towards Insadong-gil Road. Any bus bound for Jongno2-ga or Jongno Police Station will also stop at Insadong.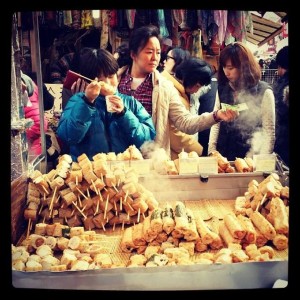 Myeongdong – one of the busier places in Seoul and known for its availability of thousands of brands from luxury to cosmetic to thrift. The open-air Namdaemun Market is also nearby and is an endless sprawl of street-vendor stalls and shops. Noodle Alley and Restaurant Alley are popular and exceedingly cheap. To escape the massive crowd, luxurious Shinsegae Department Store is also right around the corner.
Get to Myeongdong via Myeongdong Station, Line 4, Exit 5/6/7/8 OR Euljito Il-ga Station, Line 2, Exit 5.
Get to Namdaemun Market via Hoehyeon Station, Line 4, Exit 5 OR walk from Myeongdong
Get to Shinsegae Department Store via Hoehyeon Station, Line 4, Exit 7 OR walk from Myeongdong
Apgujeong – in the heart of Gangnam, Apgujeong is a very upscale neighborhood featuring the fashionable Rodeo Street. Korean celebrities are known to frequent the area and many of the city's most popular nightclubs are in the area too.
Get there via Apgujeon Station, Line 3, Exit 2

4. Culture
The National Museum of Korea – the largest museum in Korea, it houses galleries with a wide array of approximately 15,000 cultural assets and relics dating from ancient days to modern era. Tours and cultural programs are available. Admission is free.
Get there via Ichon Station, Line 4/Jungang line, Exit 2 OR Bus #501, #0018 to National Museum of Korea.
Leeum, Samsung Museum of Art – offers more of a contemporary focus than the National Museum of Korea. It is built in two parts, one housing collections of traditional Korean art and national treasures and the second features modern and contemporary art and exhibitions.
Get there via Hangangjin Station, Line 6, Exit 1
War Memorial – an absolutely massive structure, it's the largest memorial of its kind in the world. Exhibits feature large weaponry and equipment, pre-1950s vehicles and aircraft, lectures and presentations. Admission is free.
Get there via Samgaki Station, Line 4/6, Exit 12 OR Bus to the War Memorial of Korea (110B, 730, 421,) or Samgaki Station.
Tours to the DMZ/JSA – You can see the most heavily armed border in the world on a guided tour of the 2km Demilitarized Zone between North and South Korea, or DMZ. Most groups will take visitors to an observatory, one of North Korea's infiltration tunnels and a military base. Finding a tour group that will take you into Panmunjeom and the Joint Security Area is highly recommended as well. Panmunjeom is an abandoned village on the border where the 1953 Korean Armistice Agreement was signed and the JSA is the only area in the DMZ where North and South Korean forces stand face-to-face.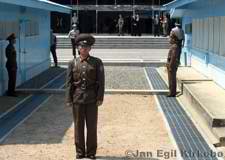 A 6-hour trip to the tunnel and observatory will cost you about $40-60 USD and runs every day except Mondays. The tour of Panmunjeom and the JSA is about $85 USD and lasts about 8 hours – runs every day except Sunday and Monday. A third tour is available that will cover the tunnels, Panmunjeom and the JSA that takes about 9 hours and costs about $130 USD. There are plenty of tour operators to choose from, so it's a matter of which one fits your schedule and preferences.
Trick-Eye Museum – A fun museum that is quintessentially cute-sy Korean is the Trick Eye Museum in Hongdae. It has 3D trick art specially designed for photographing and video, to make you look like you're interacting with the exhibit. There are eight thematic exhibits including historical, twists of familiar masterpieces, romantic, luxurious, domestic, traditional, style and a house of mirrors. There's also an Ice Museum and a contemporary art gallery on site. Entrance fee is 15,000 won.
Get there by going to Hongdae Station, Line 2, come out of exit 9. Go straight until you see VIPS on your left side, turn left and cross the road. You will see a Taco Bell. Turn right after you pass Taco Bell and come straight between TONYMOLY and Holika Holika about 100m. You'll see the sign for Homi-hwabang Building and the Museum is on the 2nd basement floor.
NANTA – NANTA is a popular performance in Korea, perfect for tourists because of its lack of dialogue. The show features rhythmic banging of knives, pots and pans, NANTA tells the story of four crazy chefs who have been set the impossible task of making a wedding banquet in an hour. With lots of slapstick humor, energy and the occasional food fight, NANTA will run you about 46,000 won a ticket and lasts 2 hours.
There are three NANTA theaters, Gangbuk, Myeongdong and Hongdae.
Get to Gangbuk Jeongdong Theater by exiting Seodaemun Station (Line 5, Exit 5,) and walk 150m in the direction of Sejongno Jct. until you see the Kyunghyang Newspaper Building.
Get to Myeongdong Theater by exiting Euljito 1-ga Station (Line 2, Exit 6,) and go straight for 220m. Turn left on Myeongdong gil and the theater in the UNESCO Building is 120 ahead on the right. OR go to Myeongdong Station (Line 4, Exit 6,) and turn left in front of the Woori Bank. The theater is 100m ahead on the left.
Get to Hongdae Theater by exiting Hongik University Station (Line 2, Exit 9,) and go straight for 250m. Turn left onto Yanghwa-ro 16-gil and continue for 120m until you see the Cultural Muliplex on the left.
5. Food & Drink
Itaewon – Itaewon is ultimately the foreigner's go-to in Seoul. Filled with hostels, homestays and cheap motels, Itaewon offers a huge assortment of Western food and bar options. Many of the bars host the city's Western comedic or musical talent and English is commonplace in every establishment. While you won't find the most authentically Korean experience here (though Itaewon certainly parties the Korean way – hard and late,) it's a great place to meet English-speaking Koreans and other foreigners. Itaewon can be a bit pricey, however, as Western food and imported booze always carries a premium in Korea.
Get there via Itaewon Station (Line 6.)
Hongdae – Hongdae is another good area in Seoul for dining and nightlife. It's less foreigner-packed than Itaewon by a long-shot, and offers much cheaper options as well. There is a big university in Hongdae, however, so the night scene can be quite young. In the summer there is a park that gets packed with foreigners and Koreans alike, stocking up on beer and soju at the nearby convenience store and drinking together outside until dawn. There are often small bands playing and the occasional silent rave.
Get there via Hongik University Station (line 2,) Hapjeon Station, (line 2 and line 6,) and Sangsu Station (line 6.)
Gangnam – While it is in no way budget-friendly, Gangnam is certainly worth mentioning for its nightlife. Home to most of the clubs in Seoul, Gangnam is glitzy, bright and delivers on its promise of a major night out. Many of the clubs feature multiple-levels and nearly always have a DJ putting on a show. But be warned: cover charge at a club will run you at least 30,000 won and drinks are pricey on top of that.
Get there via Gangnam Station (Line 2.)

6. Nature
Seoul is situated along the Han River among eight mountains, making for some stunning scenery. As the city is home to the world's second-largest metropolitan population of nearly 25 million, many take advantage of the access to nature right at the city's doorstep.
Cheonggyecheon – at almost 5 meters below street level, this restored underground stream is an inner-city haven for Seoulites and weary tourists alike. Featuring waterfalls, overhead bridges (including the Narae Bridge, which looks like a butterfly,) you can wander along yourself or take an organized walking tour.
Get there via City Hall, Jonggak, Jongno 3-a, Jongno 5-ga, Dongdaemun, Sinseol-dong, Line 1; City Hall, Euljiro 1-ga, Euljiro 3-ga, Euljiro 4-ga, Singdang, Dangwangsimni, Line 2; Jongno 3-ga, Line 1/3/5; Dongdaemun History & Culture Park, Line 4; Gwanghwamun, Line 5 OR any Plaza bound for Gwanghwamun or Jongno.
For access to the Plaza: Gwanghwamun Station, Line 5, Exit 5 OR City Hall Station, Line 1/2, Exit 4.  
Bukhansan – Seoul's highest peak, Mt. Bukhansan, is sometimes called the "lungs of Seoul," helping city-dwellers get a gasp of fresh air high above the world's 2nd most populous metropolitan area. At 836m, the hike will take about 3 hours and the trail begins from Bukhansanseong Hiking Support Center near Gupabal Station (Line 3,) which makes for easy access.
While Bukhansan is the most popular, Dobongsan, Suraksan are both also more than 600m high and offer trails for both the serious hiker and people looking for a bit more leisure
Get to Bukhansan by exiting Gupabal Station (Line 3,) and walking to the Bukhansanseong Hiking Support Center.
Get to Dobongsan via Dobongsan Mountain Station (Line 1 and 7, Exit 1.)
Get to Suraksan via Danggogae Station (Line 4, Exit 1 or 4,) Suraksan Station (Line 7, Exit 1-3,) or Uijeongbu Station, (Line 1, Exit 1.) The start of the hiking trails are about 10 minutes from the exits.
Cycling along the Han – kiosks dot the cycle paths which link a series of riverside parks, and renting a bike (single or even tandem,) is simple and cheap at 3,000 won.
But there is so much more to do in Seoul, especially based on your personal preferences. What have we missed?