The minute I stepped off the cruise ship, I knew I was somewhere special! I couldn't wait to explore the winding, colorful and cosmopolitan streets of George Town in the Grand Cayman Islands.  George Town is the capital of the Cayman Islands which are located in the British West Indies.  These islands have a population of over 55,000 making it the second-largest city of all the British Overseas Territories.  It definitely has a British vibe as well as lots to do and see, much more so than on many islands in the West Indies.
The beaches here are simply idyllic. One beach I had to check out was Seven Mile Beach, it's not only one of the most famous in the Caribbean, it is the most popular beach in George Town.  I could have spent the day on this beach that is lined with luxury resorts, restaurants and bars, water sports centers, and even a few small reefs for snorkeling.  But, I really wanted to get off the beaten path.
Deciding to get away from the crowds I headed to Rum Point which is about a 50-minute drive from Seven Mile Beach.  Another more exciting way to get to Rum Point (and cheaper) is to take a luxury catamaran ferry service from Safehaven Dock to Rum Point Club for only $5 per person! To book call 1-877-506-6368, or locally 1-345-623-5965.  Arriving at Rum Point, the first thing I did was book a trip to the Stingray Sandbar with Red Sail Sports located at Rum Point Club. It was an unforgettable experience to see and swim with these incredibly graceful sea creatures.  The sand is so white and the water is crystal clear making the stingrays easy to see as they glided beneath me in an underwater ballet!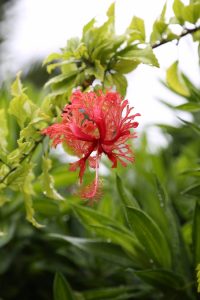 After my swim, I had worked up an appetite and decided to dine at the Rum Point Club Restaurant.  The views of the azure colored water is spectacular and so is the menu.  The waitress told me that Caybrew fish and chips, and traditional jerk pork are favorites with visitors, and, so was the seafood hot pot, the restaurant's signature dish.  It wasn't an easy decision but I went for the seafood hot pot! This dish, served with rice, is a scrumptious combination of lobster, shrimp, scallops, mussels, clams, and shitake mushrooms that float in a delicately aromatic coconut broth.
Before heading back to George Town, I  decided to check out one of the most famous bars in the Cayman Islands… called The Wreck. The bartender told me that the Wreck's claim to fame was the creation of a boozy milkshake called a frozen mudslide!  This drink was invented sometime in the 1970s because the bartender ran out of cream. When guests came to ask for a White Russian that is made with vodka, Kaluha, and cream, the bartender substituted Bailey's Irish Cream for cream and the mudslide was born!
Back in George Town, I decided to go shopping, it is such a fun thing to do when island hopping on a cruise. Downtown George Town is a shopper's paradise where you will find everything from imported trinkets to high-end apparel, beauty products, cameras, and jewelry shops.  I loved the waterfront craft market because I could watch local craftspeople at work. There were one of a kind woodcarvings and paintings, and an interesting assortment of local jams, jellies, pickles, and snacks.  A shop nearby called Artifacts caught my eye.  It has a treasure trove of antique jewelry, maps, prints, china, and shipwrecked treasures making these items unusual.  Most items in the store are more than 100 years old.
The Cayman Island National Museum Gift Shop was my last stop. This museum is located in the oldest public building in Grand Cayman and has four interesting galleries related to local culture, art, and natural history. Of special interest is the Ira Thompson Collection that dates back to the 1930s. The Gift Shop offers locally made products and souvenirs and is the official distributor for Cayman flags and Coat of Arms plaques.
Tours of Distinction's Bliss to the Beaches Cruise features a stop in George Town, Grand Cayman Island.