Amazing Moscow. A visit to Moscow only leaves you wanting to spend more time here. Moscow delivers beautiful architecture including incredible onion domed cathedrals, world class museums, shopping and nightlife. We recently spent a few days in this amazing city. We recommend at least 4-5 full days to experience the highlights of Moscow.
First things first; all visitors to Russia must acquire a visa before entering the country and the tourist visa is good for up to 30 days. We used one of the Russian Consulates in the USA (click here to view a list of Russian consulates in the USA). Processing time varies but our visa took about 1 week. You must have a sponsor in Russia who then needs to email you an official PDF "sponsorship Letter" which needs to include the dates of your visit.
Important note: when you request your letter be sure to request the full 30 days. I.e., if you request just the days of your visit to the hotel, the full 30 days will not show up on this letter and therefore you won't be issued the full 30 days for your visa.
Domodedovo Airport (DME) is one of several airports serving Moscow and is the primary most modern of these. This airport is clean, efficient and well organized. The Airport Express train leaves from exit number 4 (purchase your tickets near this exit). This train leaves every 30 minutes and connects directly to the Paveletsky stop on the metro. This stop is within 2 or 3 metro stops of the downtown part of Moscow. The non stop trip takes about 40 minutes.
Moscow is one of the world's most expensive cities. Nothing is cheap. In regards to food, supermarkets are relatively fairly inexpensive options. Italian and Ukrainian food seem to be extremely popular. Be sure to try Blini, a national favorite of crepe and caviar often consumed with another Russian delight, vodka (we recommend "Russian Standard). After a few rounds of this type of Vodka we ended up "floating" out of several restaurants. Also try borsch, a soup made of beets and other vegetables always combined with sour cream on the side.
There are a number of banks within the historical/central part of Moscow and many ATMS'. You can also easily find money exchangers in this area (not on the street, but rather with their own physical locations).
For drinks we recommend the low key, nice atmosphere Lilienthal bar located at Rozhdestvenka Street 12 near an architectural school. This bar is named after the famous German Aviator Otto von Lilienthal (slightly pre-dating the Wright Brothers) and in the spirit of the name, there are pictures of famous pilots on the walls. The bar itself is actually quite large but the inside is rather small and narrow. Lilienthal can become very crowded especially on weekend nights. They have a great selection of mixed drinks as well as various Vodkas.
Some of the higher end bars and night clubs practice what is called "face control" where they only let in people either with a lot of money, or are celebrities or perhaps satisfy their pre-conceived "look" filters.
Fashion is taken seriously in Moscow, especially among the women. The best place to see the "fashionistas" is in fancy shopping districts including the GUM building next to the Red Square and the Tverskaya Street district just behind the Kremlin.
For an interesting dining experience try Korchma Taras Bulba, an authentic Ukrainian restaurant with multiple locations throughout Moscow. During one visit we found ourselves eating Ukrainian food in Russia while ordering from a menu written entirely in Vietnamese. This restaurant seems to have menus in most of of the major languages of the world and the staff wanted to know what language we spoke as soon as we entered the restaurant so they could give us the appropriate menu. Like almost all restaurants we ate at during our time in Moscow, English was not spoken by the waiters. They have several locations in Moscow – we ate at the one located at 12/19 Smolensky Blvd
It is apparently extremely expensive to import certain fruits and veggies. We found 1 lone dragon fruit in one market priced at $18/kilo. Then to top this off were the lychees which are mid season in parts of SE Asia right now. These suckers were priced at get this… $45/kilo (US dollars). That's like $20/lb. Price of single apple, $1.75, bowl of small borsch meatless soup like $10. Keep in mind that prices drop dramatically once you leave Moscow.
English is definitely not widely spoken – most older people do not speak any English. Some of the younger people will speak a little English and some do not speak at all. Signage is almost exclusively in Russian with the exception of some of the main tourist attractions including a few museums. Small restaurants will typically only have menus in Russian. Larger more touristy restaurants will have menus in both English and Russian.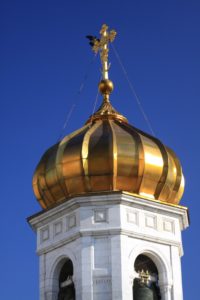 The Metro is a hit – we found nothing written in English except a few maps inside select metro cars listing the metro stops in both Russian and English. It is somewhat easy to get stuck in this underground maze and never re-surface for days. Heh! This metro is characterized by extremely long steep narrow escalators going through white painted half tunnels down into the ground, with grim faced elderly ladies sitting in small corrugated 2×4 "boxes" intently staring into security screens at the bottom of every escalator. You would think asking staff directions would be the best bet, but due to their average age, in our experience not one even spoke a word of English.
This metro is also one of the worlds busiest and most developed and during rush hour can be very crowded. Many of the stations are beautifully designed, some containing statues, ornate ceiling work and other artworks. If you are going to be underground, why not make it a more pleasant experience, right?!
Two things we highly recommend: 1. be sure you have a color map that shows information and names in both Russian and English – most of the maps we've found are fairly small and hard to read the names, so we recommend blowing them up on a copy machine before your trip. 2. Until you get the hang of this metro its absolutely important to go *slowly* and take your time as you work your way through the system. All signs are in Russian – the name of the actual metro stop will be listed on the wall next to where you get on the train. Any stops and or lines that can be accessed from a particular stop are listed on the wall next to where the train stops.
Small thin cardboard metro cards can be purchased at manned ticket counters at the entrance to each station. We did not see any automatic ticket machines. At the time of your purchase you will request the total number of stops be added to the card. Once you have your metro card and are ready to enter the station, hold it in front of the scanner on any entrance machine when you are actually ready to enter the metro and it will flash the number of stops you have left on your card. Rides are the same price regardless of the duration of your metro trip and number of rides you take before exiting. Also note there are small card readers located on the wall next to some of the metro entrances that will also show you how many stops you have left on your card.
Lodging
Presently lodging in Moscow is mostly restricted to a number of high end hotels and just a few budget hostels. Mid range accommodations are fairly limited. We list several options below that we visited or stayed in.
Budget
– The Comrade Hostel is located at Maroseyka Street 11 (3rd floor – ring the buzzer on the bottom floor and get the entry code after you have checked in). As with all the other hostels we checked out in Moscow, there are absolutely no signs anywhere to indicate the name and location of this hostel. The comrade is clean but a very small tightly packed hostel. This hostel is located about 5 minutes walking from the yellow Kitai-Gorod metro stop (note that their are 2 Kitai-Gorod metro stops near this hotel, each one a different color. Both are located within easy walking distance of the hostel – the yellow one is the closest. Internet access is included (both desktop and wireless), laundry machines are available on site as well as a kitchen. The dorm rooms are packed very tightly and contain tall bunk beds. The staff is very friendly and helpful.
– Trans-Siberian Hostel is about a 15-20 minute walk to the Kitai-Gorod metro stop. This is one of the more affordably priced hostels in Moscow (yes, Moscow is not known for its budget accommodation and overall the hostel selection is limited in this city). This hostel is located in an old unmarked building – the only note that this hostel is here is a 2 inch sticker stuck to the door. This hostel is otherwise, unsigned. Compared to the Comrade Hostel the rooms are larger and there is more space between the bunk beds. They also have one computer station as well as free wireless access, free laundry and free breakfast (bread, cereal, milk, yogurt etc). The Trans-Siberian hostel is conveniently located minutes walking from a supermarket. During our stay here the topic of conversation was about the crazy little cat that would attack everyone at all hours of the day. This hostel is a good way to meet backpackers – mostly from Europe. They also have one private room which should be reserved via email well in advance.
Luxury
– The MaMaison Hotel Pokrovka Suite Hotel is located in the Kitai Gorod district of historical Moscow and is about a 20-30 minute walk to the Red Square. Choose from 84 lavishly decorated suites. A restaurant is on site.
– The Park Hyatt is located mere minutes by walking from the Red Square, the Kremlin, the Bolshoi Theatre and a number of other area attractions. Take a walk to Moscow's oldest and best known Banya, Sanduny (Russian Bath) mere minutes away. The Park Hyatt is the perfect location for exploring old town Moscow and pampering yourself to a luxurious stay in one of Europe's most incredible cities.
Attractions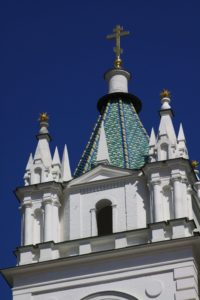 The Red Square and the Kremlin are super important attractions and we went back to this part of Moscow 3 days in a row. You need at least 2 days to hit the main museums and attractions in this area and or just sit down and people watch. The Kremlin is unbelievable – with its golden spired domes, many cathedrals and amazing murals inside the curved walls of the churches.
Red Square is one of the most impressive squares in the world anchored by the world famous fairy tale like St. Basils church on one end, the Kremlin walls on the other, the the huge red building on another end and the massive 19th century building on its other end now full of about a 1/4 mile in length, name brand shops (GUM building – pronounced like "goom"). St. Basils is definitely most impressive from the outside (be sure to walk all the way around – as most tourists just see it from the Red Square). It is open to the public on certain days, and although the security guard said "no photos" to us, many people were taking photos and videos inside. Sometimes you might find a quartet singing ancient hymns which only adds to the ambience of a visit here.
The Kremlin is huge and it can take 45 minutes to an hour to walk around its entire walls. The ticket counters for entry into the Kremlin are located about a 15 minute walk down from the Red Square. There are two small ticket buildings and while watching people get their tickets we noticed one of these always had shorter lines (both sell the same tickets). Typically you buy 2 tickets – one to the armory and one for the cathedrals. Cameras are allowed into the Kremlin and the armory but you cannot take pictures in the armory or inside the Kremlin cathedrals. All backpacks and large bags need to be checked into the baggage holding area, located down the stairs and to the right from the actual ticket counters. This service is free.
There are a number of restaurants just down from the ticket booths – all having limited outdoor seating (very popular on warm days in late spring and summer). There is a nice Italian restaurant here with a cafe buffet style setting (fairly reasonably priced for its location).
The Armory contains a large collection of incredible Russian art including ceramics, jewelry as well as various historical arms. The cathedrals are very impressive both inside and out. On a clear day the golden and silver domes shine extremely brightly. The highlight inside the cathedrals is clearly the hand painted murals. These are extensive, detailed and colorful.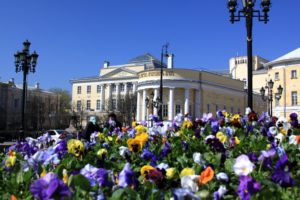 Tretyakov Gallery is one of the world's largest museums and you need at least a day just here. We spent half day and that wasn't even close to being enough – Russians are prolific artists and there are multiple galleries dedicated to single artists dating back several hundred years. Be sure to check out the paintings by AA Ivanov – these are amazing works of art. This museum and its Russian art rivals anything seen in the Orsi or Louvre in Paris.
Another part of town to visit is along the Moskva River in an area that contains the old Red Chocolate Factory building, the Peter the Great statue and the beautiful Christ the Savior Cathedral – both amazing inside and out.
We also had the chance to visit Moscow University on the hill above town; this is a very popular spot with tons of locals hanging out looking over the Moscow skyline which is NOT tall but spread out along the Moskva River. Despite it being early May there was still some snow on the sides of one part of this hill.
Arbat Street is a selection of shops and restaurants located on an "artsy" closed to traffic road. Artists usually setup their portable studios in the middle of this road and paint passerbys.
Sanduny is one of Moscow's oldest Banyas (and most expensive) located in the super wealthy section of town right behind the Kremlin. This was a very interesting experience for the only foreigner in the Banya (me). No one spoke any English of course and believe me I tried to speak English as most of the employees were young. Banya's are Russian bath houses and since I've already experienced the Turkish bath houses and Moroccan hammams, I decided to get another bath house under my belt. I entered the men only section and quickly realized I wasn't the typical bathhouse customer and found myself surrounded by sumo size naked Russian men with bellies bouncing up and down, almost wider than the length of their bodies. I quickly scanned the room with radar vision and found the sauna.
I entered sauna and was overwhelmed by the humidity and almost scalded by the heat. Fat man was in center of room running around swinging huge towel around his head as fast as he could. Other fat naked men were sitting in the sauna laughing and hitting each other with huge branches of birch leaves. Unbelievable. Some guy started hitting me with his loose assortment of birch leaves. When the door is shut and the sauna is working at its maximum efficiency the steam can be burning at times.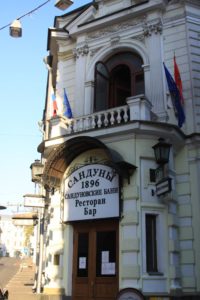 Leaving the sauna I found 4 options for quick cool downs. The one I choose happened to be the ice cold water bath – and after a few seconds of this I found myself screaming in pain due to the coldness of the water and I had to jump out quickly. I then found myself in the cold water bath where I could at least recover from the richness of the sauna experience in relatively calm. Not for long as a massive naked fat man with white hat decided to belly flop into this 10×10 pool causing extreme tidal wave action slamming me into one side of the concrete pool.
All this may sound like putting oneself through misery however after using the sauna several times and taking the plunge into the cold water afterwards we can attest that when we finished our time here we felt completely relaxed and rejuvenated. There is a method to this madness and is why many Russians use these baths on a weekly basis – often several times per week. We recommend 3-5 uses of the sauna per visit. Sanduny limits visits to 2 hours at the base price. If you stay longer you will be charged extra.
There are private rooms near the main changing area. These can be reserved for enjoying vodka, snacks and other drinks. You will need a bath towel which can be rented near the entrance to the sauna. Birch branches with dried leaves are available inside the sauna. You must undress once you enter the changing room and leave your clothes in this area. There are plenty of showers near the actual sauna.
A big thanks goes out to those people who helped with our Moscow trip including Anastasia, Natalya, Nick & Phil.