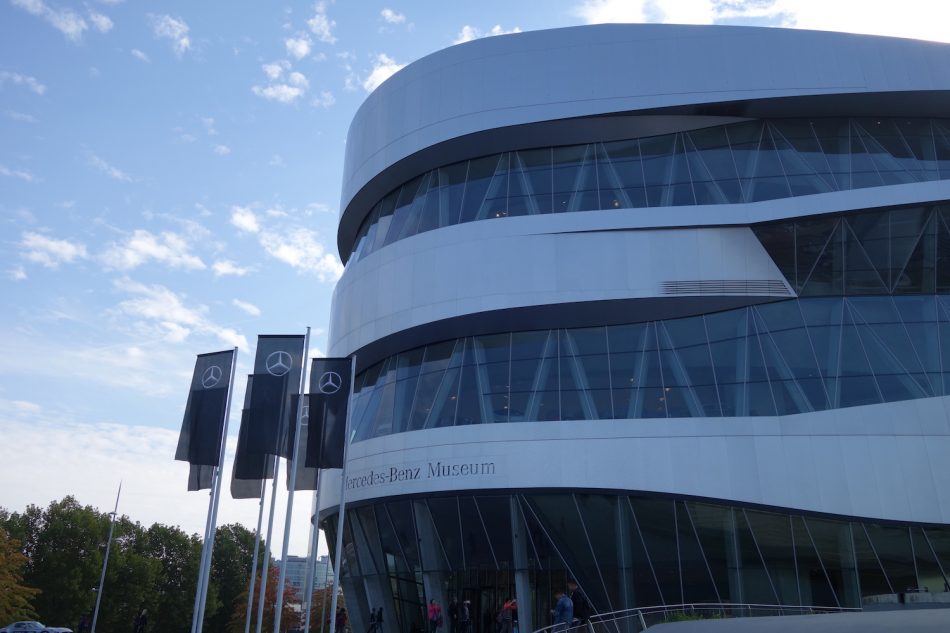 For a portion of the population, a car is just a utilitarian thing: go from Point A to Point B, hope you don't run out of gas, and wash it every six months or so. But for some people, myself included, cars are an exuberant expression of ingenuity, excitement and progress. The automotive industry and its dynamic productions are colorful parts of the pageant of world history. And if you want to see some remarkably varied, thoughtful and outright thrilling accounts of that history, you must visit the Mercedes and Porsche museums in Stuttgart, Germany.
Both museum buildings are architectural masterworks of their own, befitting the housing of examples of extravagant vehicle design and power. Let's start with the Mercedes-Benz museum, which is patterned after the double helix of a DNA spiral, though to me it looked like a massive, whimsical layer cake of aluminum and glass. The surrounding grounds are appropriately stately, with the iconic Mercedes star presiding over all—seeing the building from a distance pulls your eyes like a magnet.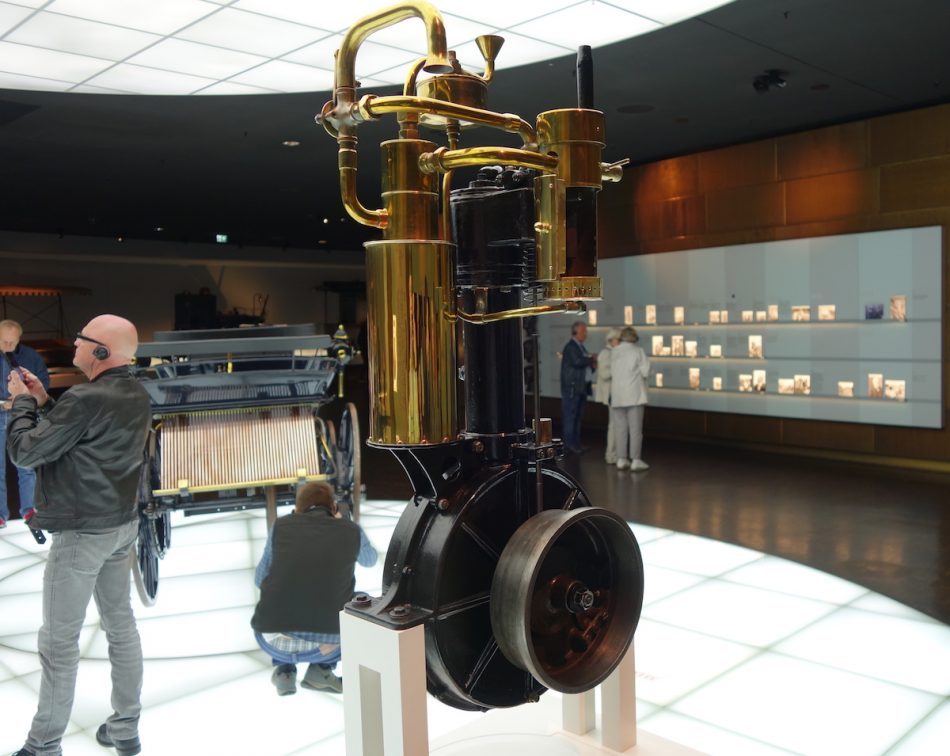 But it's inside where your heart begins to accelerate. But it will accelerate slowly, in parallel with Gottlieb Daimler's first efforts in developing the internal combustion engine and Carl Benz's work in putting that infernal thing on (three) wheels. The historical pathways of that development are part of the genius of the museum's design: There are seven Legend rooms, moving chronologically through Mercedes-Benz history, which dates back 130 years—and zooms through all its gears to the electric Mercedes-Benzes of today.
A Walk Through Automotive Time
Visitors walk down the seven Legend levels on a wide, circular ramp: cars of the period on the right, and images and exhibits of company history on the left. Very impressive to me were the interspersed world history exhibits, text and images, that were also part of the ramp wall art, and that correlated in time with the automotive materials. Thus you might see an image of the Beatles on one wall and some gleaming 60s Mercedes cars on the other side.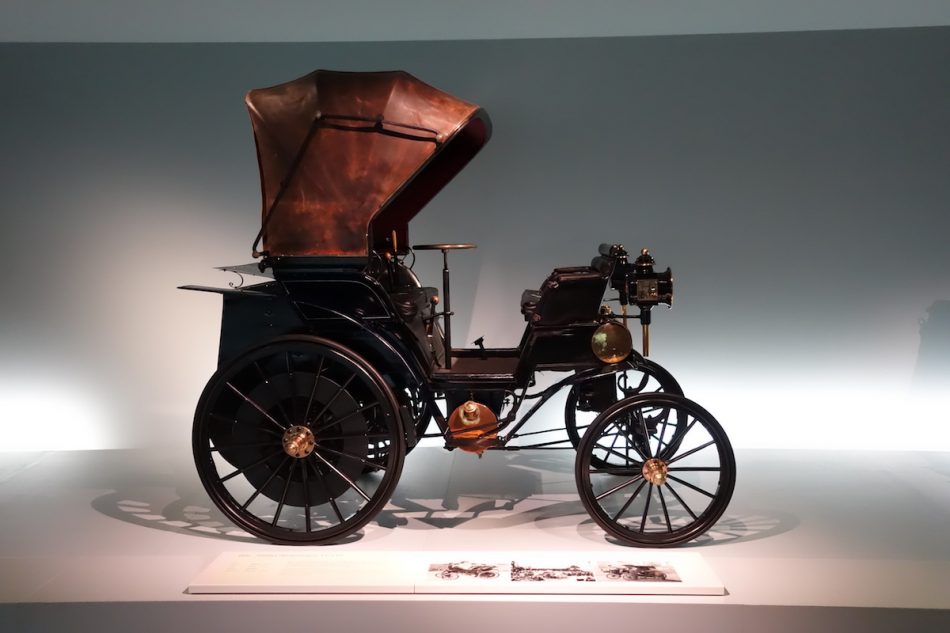 In concert with the Legend sections are Collection rooms of thematically-aligned vehicles, including buses, taxis, ambulances and celebrity cars. A well-designed audio tour (several languages) lets you pause at many of the gleaming machines and get a capsule history of their production and highlights. There's also a gallery set aside for temporary special collections.
There was something tremendously satisfying from seeing the first examples of the engines and rudimentary vehicles on the exhibit's top floor and then descending into the future, noting the captivations of the contours, sweeps and flourishes of luxury and style in succeeding years. I love the fluidity of the 1930s and 40s vehicles, and of course the legendary 1954 300SL Gull Wing, but admit to some affection for the humble 1980s 380SLs, since I had an '81 that I admired for its sturdy vigor.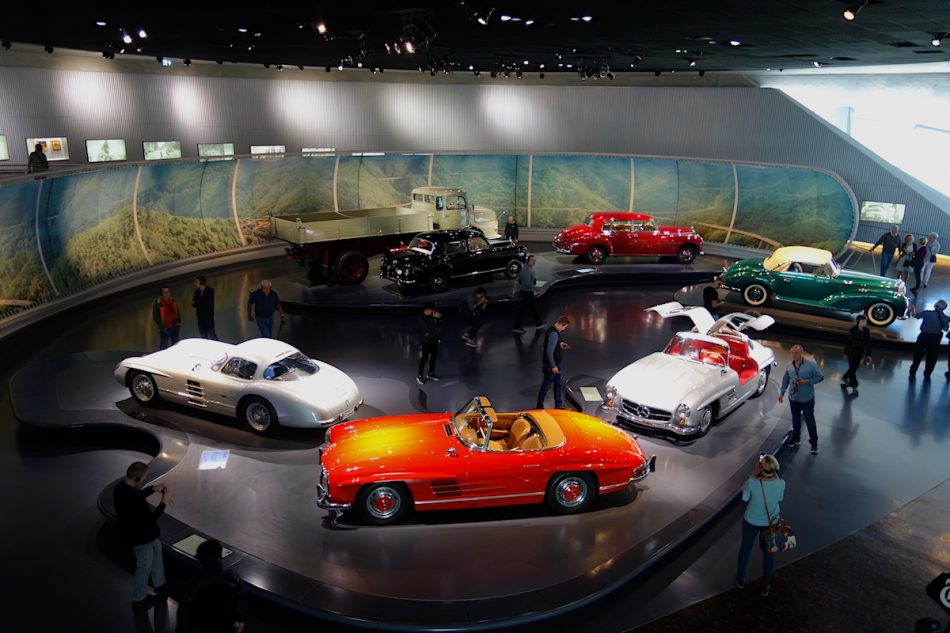 Going Vertical with the Vehicles
However, my 380 would have been like a chained rock when compared to the rocket ships alleged to be cars in the lower level. Mercedes picked up more than a few racing trophies in its time, and there are some sleek, dangerous looking rides in this zone, which is highlighted by a vertical wall mounted by these snarling beasts of horsepower. Spectacular stuff. (And by the way, there were many people there when I visited, but it never seemed crowded. The exhibit spaces are well designed, and allow for lots of stopping and gawking room.)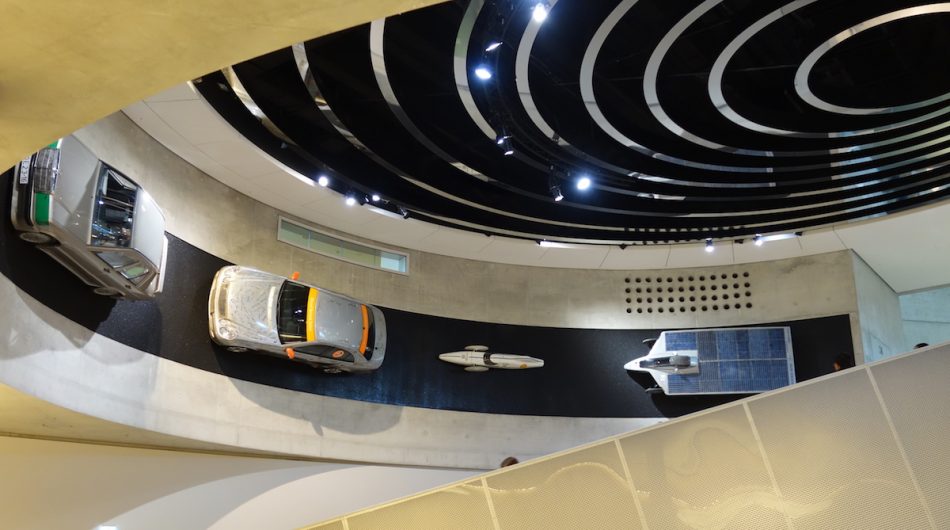 Visitors can look into the working environment of Mercedes designers in the Fascination of Technology section, which shows research vehicles and exhibits on the design process. Nearby are some examples of experimental vehicles, and goodness, you will wonder what the designers had for breakfast. The nine-level building includes a beautiful atrium, a restaurant and a gift shop. It's an easy place to stay a long while—you can see why more than 800,000 people come to this museum every year. But even if you ask politely, they won't let you drive the Gull Wing.
Let Those Horses Run!
I loved many of the giant chariots at Mercedes, the big, dignified touring cars, so beautiful and stately. But when I went to the Porsche museum, another word came to mind: sexy. These low-slung, sleek, rounded rockets are sensual, and carried that sensuality even from the early days. As with the Mercedes museum, all that sexy is housed very nicely: the main building is a sculpted monolithic plane that half-floats in the air, hoisted on V-shaped columns. A strikingly nice touch is the three-columned, 80-foot-tall sculpture that boasts a version of the legendary 911 on each of its stelae. Bravo!
But it's inside where you'll really start to salivate, because that's where those low-slung beasts await you. Just to prime the thought carburetor, you should know that Ferdinand Porsche, the clever engineer behind the classic designs, designed the first gasoline-electric hybrid, way back in 1901, and electric cars as far back as 1896.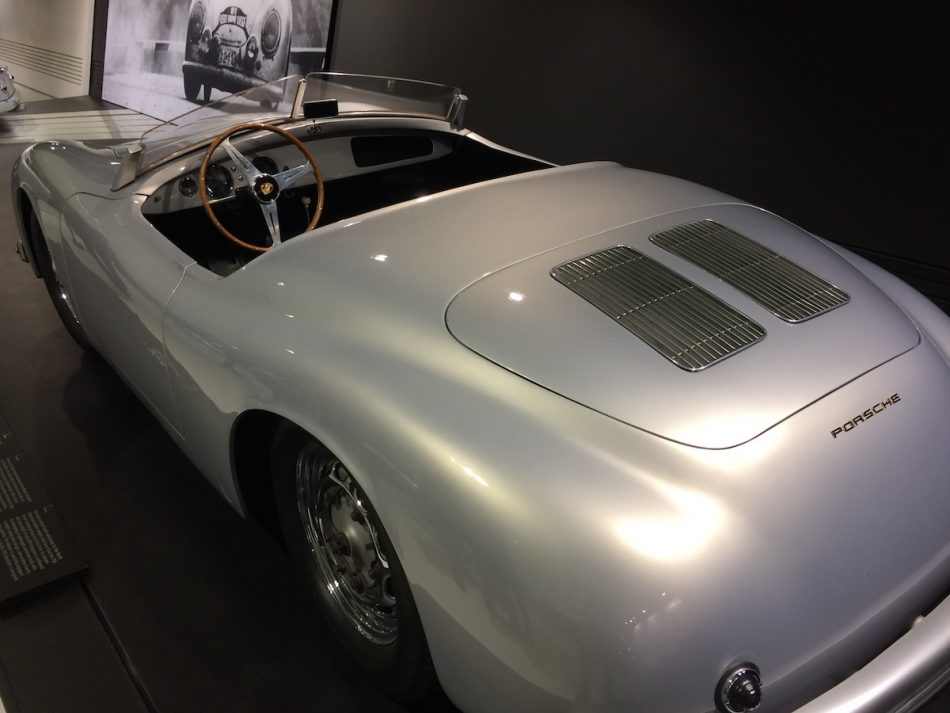 One pleasure of the Porsche museum is seeing some examples of these breakthrough engines and early vehicles, which stamp in your mind some of the shapes of more contemporary Porsches to come. You can see so much in the first prototype of the Porsche 356, from 1948, that graces the showroom. (My ideal Porsche in my youth was the beguiling 356 Speedster, though I later hankered after a more fire-breathing modern version. But I'm back to wanting a Speedster again.)
Fasten Your Seat Belt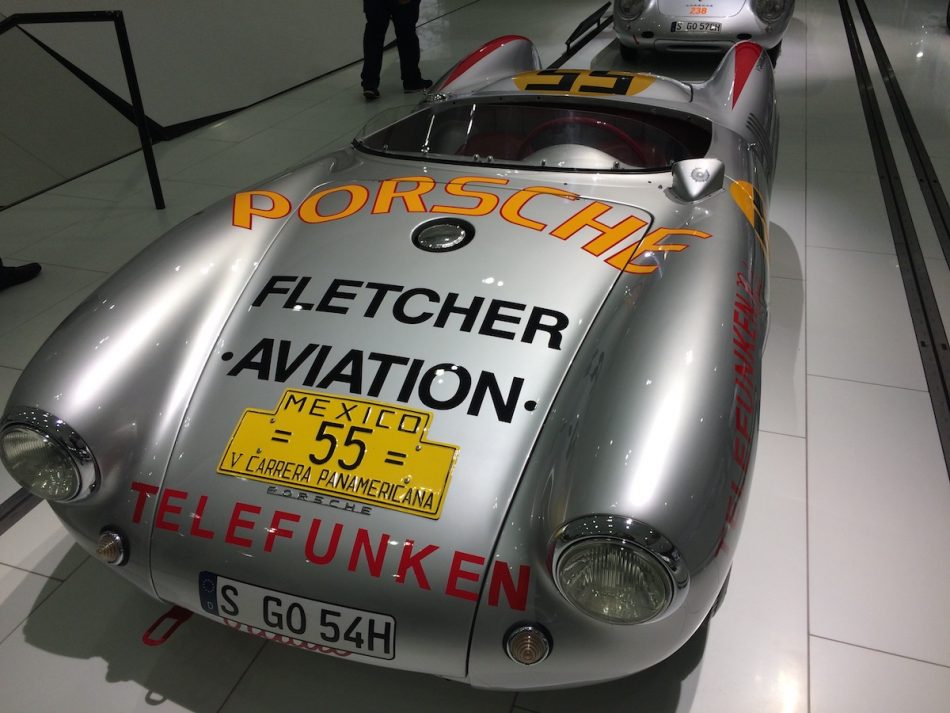 Like with the Mercedes hosts, you'll be offered a digital audio device to get your facts straight about many of the cars you'll see on the tour. I even liked seeing the exhibits of the gears and camshafts and other engine parts, though working on engines was never my thing. But admiring the sweetly sloping bodies of the 60s and 70s vehicles is my thing—as well as being shocked out of my nostalgic reverie by the aggressive noses and flared fenders of the racing machines. Porsche has a sterling history of thrashing their opponents on the raceways, and there are some cars here that look like they wish someone would get in and stomp on the accelerator.
Speaking of accelerators, there's a fun exhibit where you can stand at a little platform and punch the accelerator pedal on the floor, and you'll hear the sound of a specific Porsche zooming off. Naturally, I had to floor it to see how it purred. There's also a big, sit-down video game where you can drive Porsches along the track, and I watched a kid wrack his car against the wall multiple times. Teenagers—no restraint, those creatures.
And if it's more video you're after, the museum has an interactive touchwall that lets you cruise the history of the marque and see a lot of images, history and technical data. You can even compose a musical track that integrates engine sounds (and even things like car door closings) into the mix—and then send the blended track to yourself by email. Too bad that won't include a key.
Don't Forget That Ferdinand Invented the Volkswagen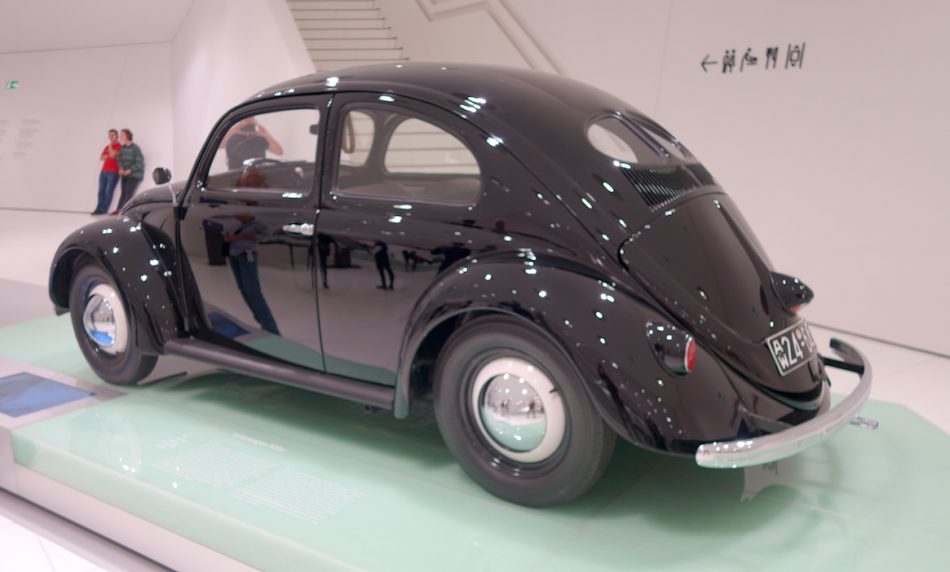 One of the other intriguing aspects is that the museum dubs itself a "Museum on Wheels"—many of the vehicles are actively driven at events, even the real classics. I'm not sure if they take that 1950 Volkswagen out to race though. There's also a dedicated museum workshop where mechanics regularly service the cars, as well as detail them for your admiration—and you can watch them do it.
The closest I've ever gotten to owning a Porsche is owning four Volkswagens; I suppose if all four of my 1950s and 1960s engines were combined, they might have produced a vehicle that could go 85mph—about what some of the museum cars could do in first gear.
Both museums have restaurants, and I sampled both and approved of both, but that's not good enough—the cars are so delicious looking, you will want to eat them.
[Note: my hosts for these tours were the nice folks at
Stuttgart-Marketing GmbH,
but all opinions are my own.]