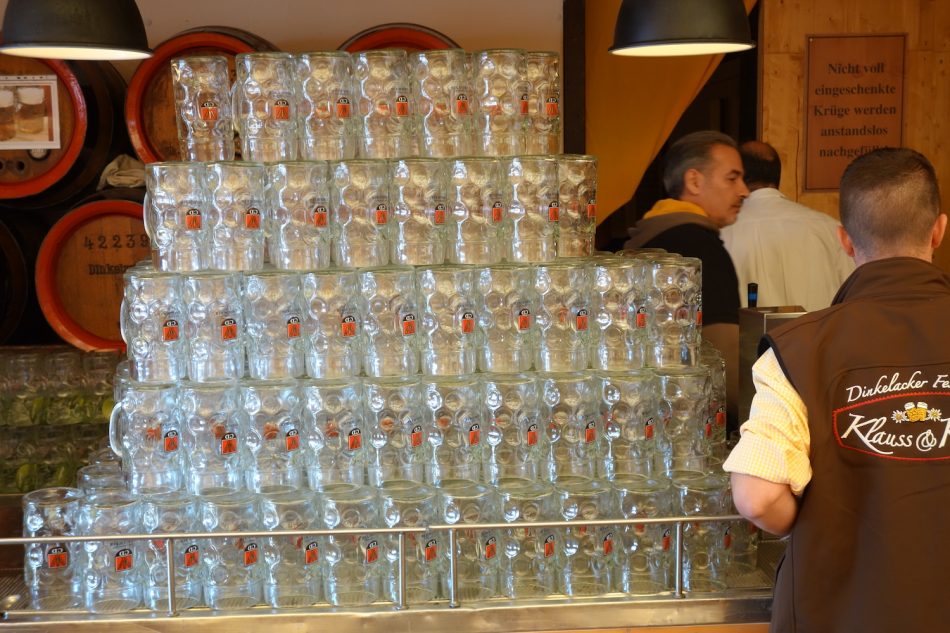 It's a fine feeling to be a stranger at a big party and feel fully welcome. It's an even better feeling when everybody at the party seems like they are having the time of their lives. And if the party goes on for 17 days straight, well, I guess that's 17 days of good feelings—though you might want to nap now and then.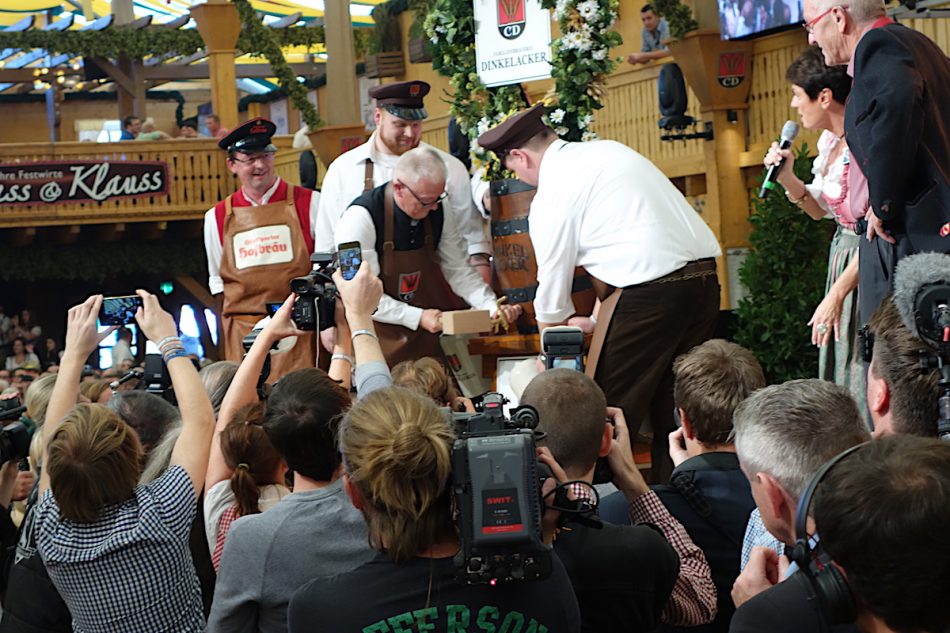 In Stuttgart, Germany, they've been having a whale of a party for a mere 200 years or so. I was just at the 199th year, and if the 200th is any more festive, they'll have to hospitalize the participants. This little event is the Cannstatter Volksfest, something that began in 1818 (remember?) as a harvest festival. Now, wars and the like have interrupted the hoopla for some years, but indeed this coming September will mark the 200th year of harvest happiness. And there will be beer.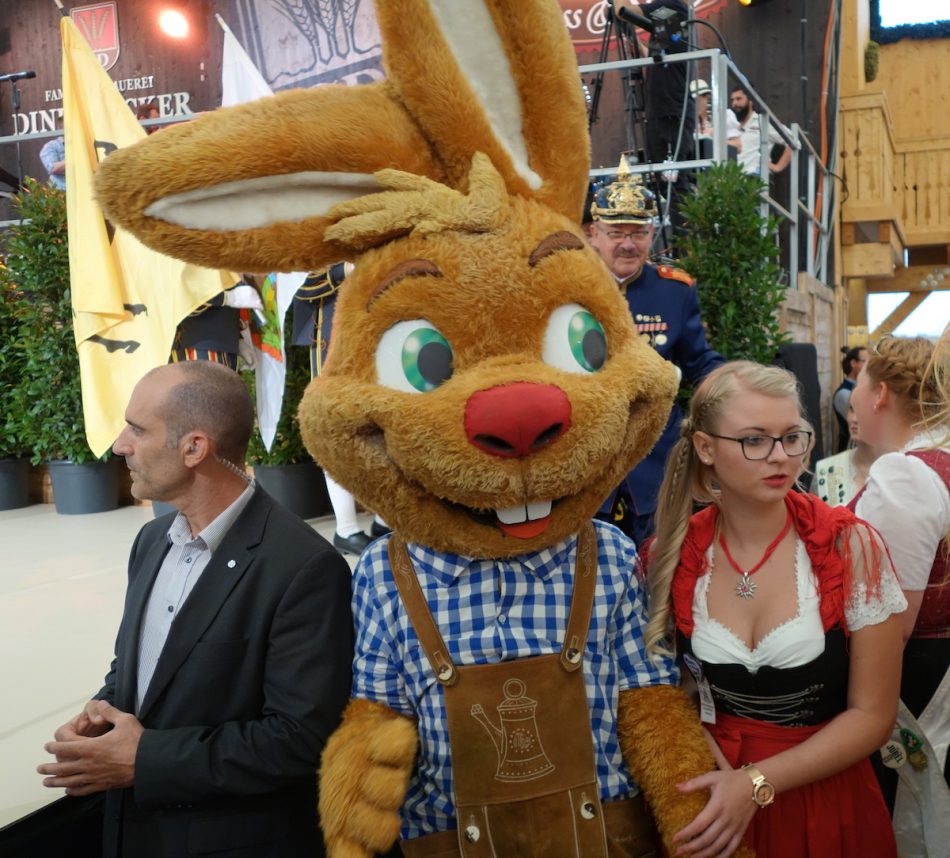 When I say beer, I don't mean a six-pack. I mean rivers of the stuff, cold and golden, served in substantial 1-liter mugs that proved no challenge for many of the dirndl-clad maidens hoisting them merrily about their heads. (And their partners, scads of hearty lederhosen-wearing lads, hoisted with equal fervor.) And where did all this hoisting take place? In something the various participating breweries amusingly call "tents," which don't quite describe the 5,000-person beer halls full of singing Germans standing on the table benches belting out rousing versions of Que Sera, Sera and Country Roads, while I smiled in beery amazement.
Keep Your Eyes Closed on Those Rides
The festival began on a fine note on a center stage, when the mayor of Stuttgart—surrounded by costumed confederates holding things like hops and other grains—taps the first keg to many shouts of praise. Then came marching bands, lederhosen-wearing acrobats doing a lunatic form of break-dancing, a Swabian comedian who made fun of a Bavarian guy (I think—my German is useless), yodeling, and several heavy-boom-bass bands (all of whom can sing and play Que Sera, Sera).
Oh, and then lots of beer. And good—and plentiful—food too.
Now you could wander from tent to tent, and put away liters until your mind turned into succotash, but there's much more than beer at the Cannstatter. The festival is held at huge, open-air fairgrounds, and what better to populate fairgrounds than rides? And they do rides in a big—meaning impossibly tall—way here in Germany. There were all kinds of towering rides that flung crazed people up, down, sideways and inside-out, and the riders pretended to like it. Me being the steady heartbeat type, I rode the giant Ferris wheel, and sighed in contentment to peacefully see the contours of Stuttgart, with its famed Television Tower, Neckar River, complex train system and historic buildings.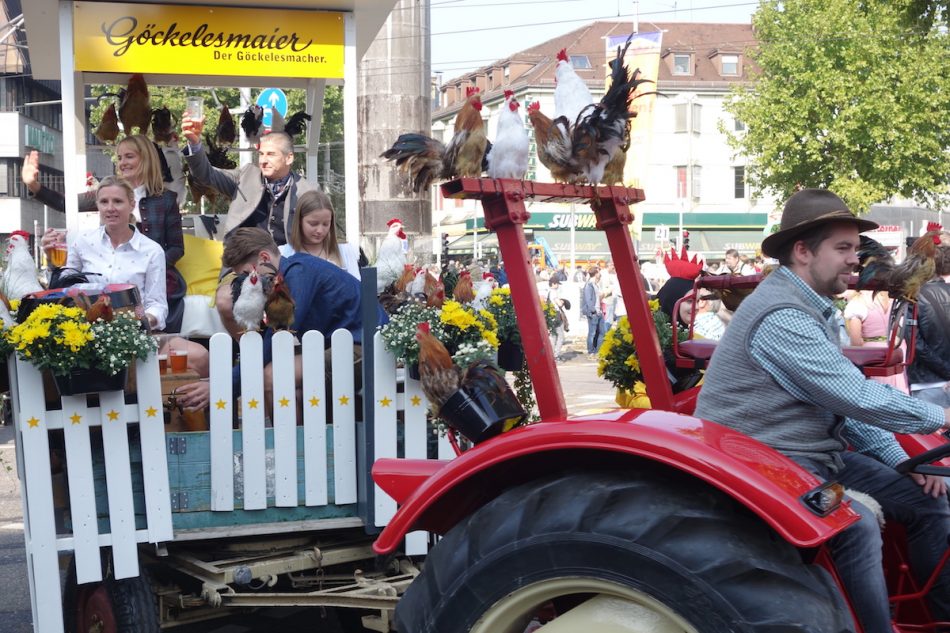 Since I was around for several days, I returned to the festival grounds on a later day to see the parade, which winds its way through town with horse-drawn carriages (many representing local breweries and associated businesses), marching bands and people in traditional costumes. The part I liked best about the parade is that there were costumed people pulling little carts filled with beer and wine, which they liberally poured out to people in the crowd who had glasses. My mistake in not bringing one, but I did successfully renegotiate the beer tents.
Wine Shares the Stage
One can't go on and on about beer all day, can one? So let's talk about wine. Stuttgart is settled in a fertile valley, and part of that fertility is expressed in the many hillside vineyards that green up the surroundings. Many of the vineyard owners are part of a wine collective, and draw on the extensive vineyards of the Wurttemberg region outside of Stuttgart. I took a good long hike up through grape-laden vineyards to the beautiful Wurttemberg Chapel, a tribute from King William the First to his young Russian bride Katharina, who died at an early age.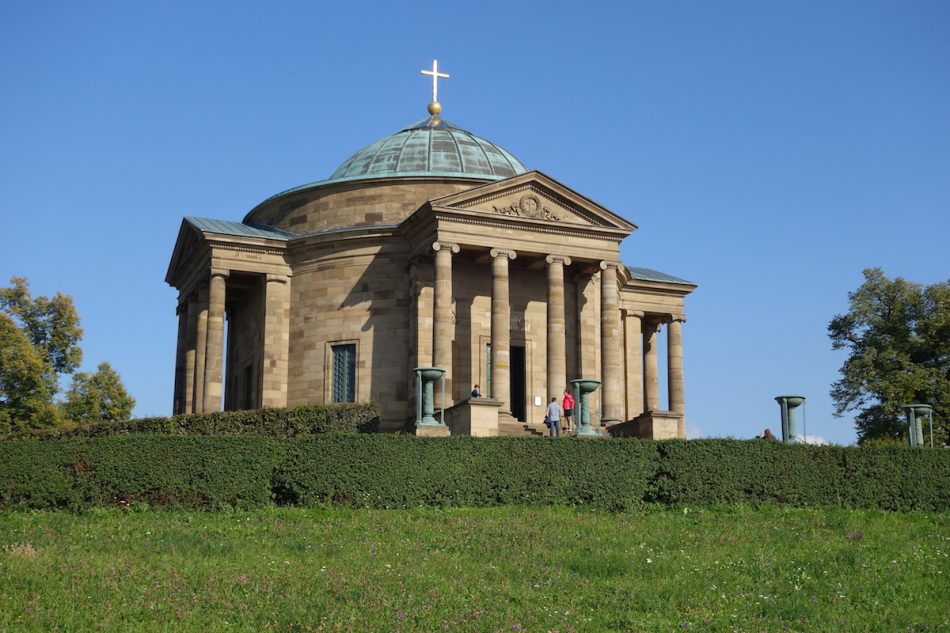 My guide told me that most of the wines produced in the region are consumed locally, claiming that in Germany, people drank 20 liters of wine a year, but in the Stuttgart area, they drank 40. That sounded good to me, though I had a hard time understanding how they had the time, when there was so much beer to drink.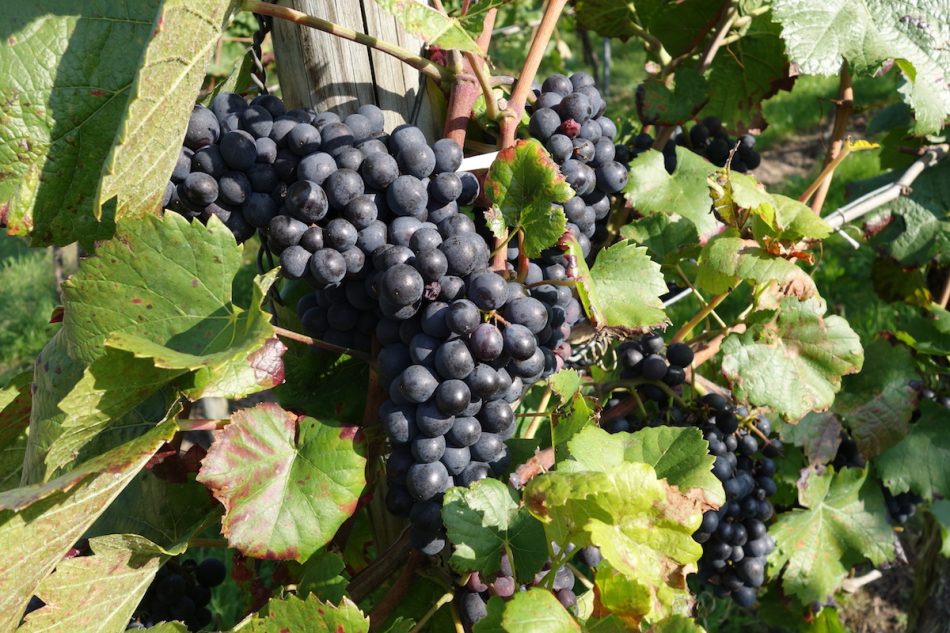 Naturally, the region hosts large wine festivals as well: there's one outside of Stuttgart called the Fellbach Herbst Fall Festival, and one called the Stuttgart Wine Village that lasts a mere 12 days (500 wines!), but I wasn't there at the right time. I did have a glass of the exceedingly popular Trollinger though, and that was festive enough. We also peeked in the Stuttgart Museum of Viniculture east of town, housed in a historic building with a giant wine press. They have been making wine in the region for 2,000 years, so there's a lot to talk about.
Esslingen Will Shiver Your Timbers
I have to defend myself: you probably think I spent this whole trip drinking beer and wine. No—I had champagne too. The oldest champagne maker in Germany, Kessler, is located in the fantastic city of Esslingen, which is less than a half-hour away from Stuttgart using the city's extensive train system. Kessler has been producing champagne—well, they call it sekt, because of licensing issues—since 1826. I had a fine tour of their old, bottle-gleaming cellars and a festive glass of the bubbly after.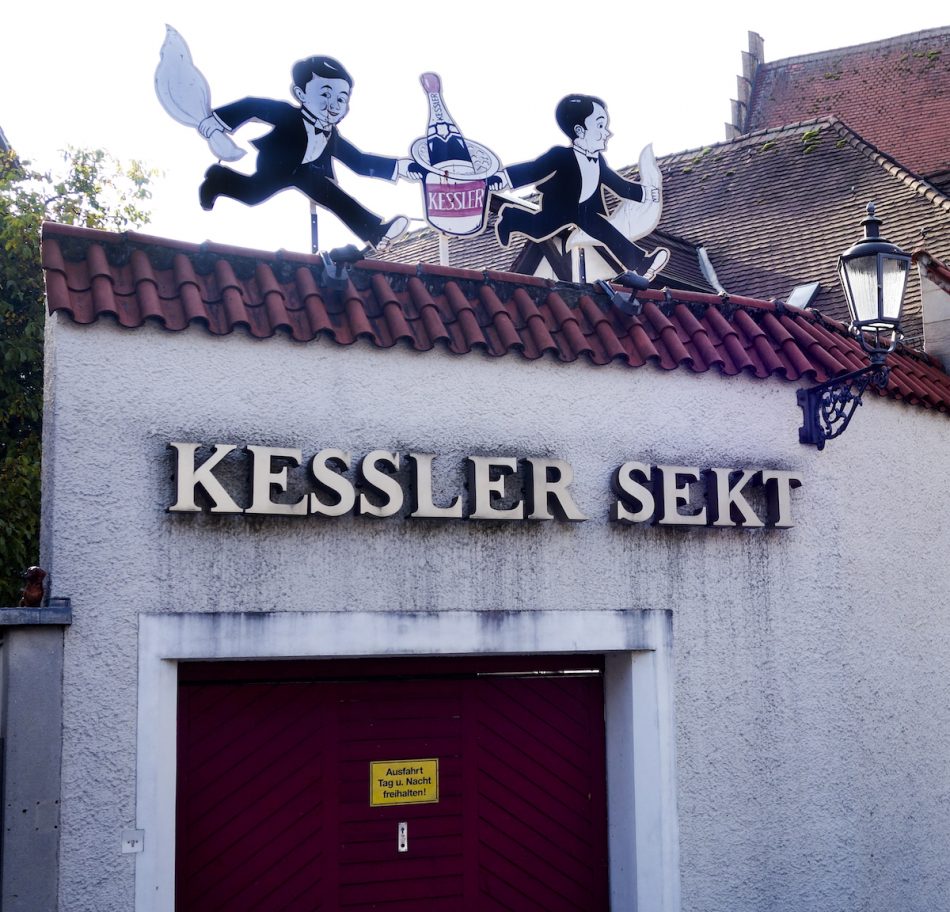 But 1826 is a mere baby for things in Esslingen. It has a storied history, once being an imperial city and a rival of Stuttgart's. The entire city was walled hundreds of years ago, though only 3 of its 30 towers are still intact. At one point there were 13 monasteries there, until they tossed all those Catholics prelates out. But some of the impressively ornate churches remain, as well as many of the striking half-timbered houses, built in the 1300s.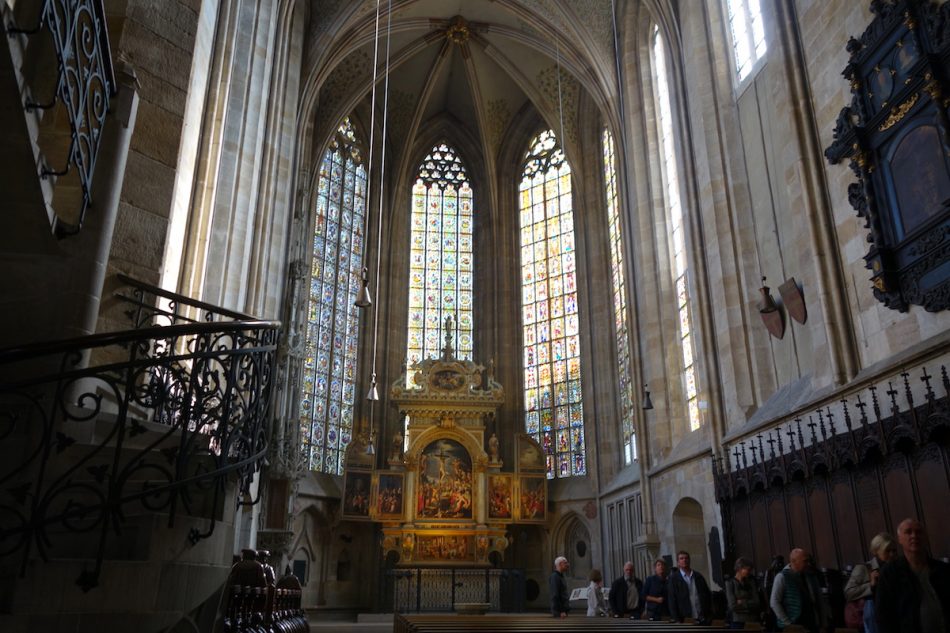 There's a nice meld of the new and the old in the city: I spent a day there walking amidst the lively sidewalk cafés and boutique businesses, some clustered over the Neckar River. There was also a bustling farmer's market happening outside of Kessler. Stuttgart's no slouch when it comes to beautiful old buildings—check out the Palace Square area—But Esslingen's are a rich delight on the eyes.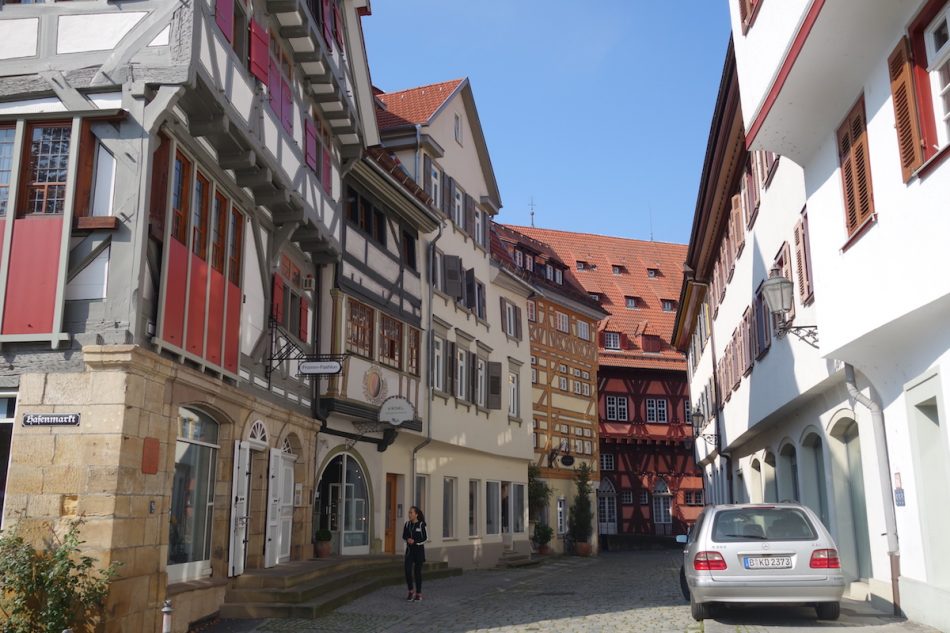 All this walking and wining had me pretty beat in the evenings, so I was always glad to return to my respite at the Wald Hotel, part of which is a historic YMCA building from 1910. But the Wald is sharply modern, and set in a beautiful forested greenbelt area. And if you don't have the energy to hike the nearby trails, you can always just watch Tim and Tom, the grass-cutting robots, wandering hungrily around the large lawn area in back.
My 5 days in Stuttgart weren't enough to see all there is to see, but everything I saw had me wanting to go back and have a little more. Except when I saw that there was a booth serving only Jagermeister on the Cannstatter fairgrounds. Lucky for me, I could rush into a tent and drown that awful thought with more beer. And when I heard them singing, I Will Survive, I knew I would.
[Note: my hosts for all these excursions were the nice folks at
Stuttgart-Marketing GmbH
, but all opinions are my own.]