I have been fortunate to have visited France a number of times – but by far the trip that has stood out in my mind over the years was a trip to Chamonix in the summer with my brother as part of a longer trip backpacking through parts of Europe.
Traveling on train from near Geneva to Chamonix is anywhere from 2 to 4 hours – we felt good because we had a Eurorail pass which covered most train travel within Europe for 30 days. But at the time we were still fairly new to train travel and train stations – and as I recall we missed a connection or two. But once we arrived we were immediately humbled by the raw natural beauty of the mountains and glaciers that surrounded us.
Chamonix lies in the bottom of a prominent glacier carved valley – simply glancing upwards reveals towering vistas. It feels like the quintessential French Alps – it is very European with charming buildings, a river running through the center of town and small cafes and shops in the center of town. Oh and plenty of mountaineering shops which I spent far to much time inside rather then outside exploring.
And wondering where to stay? There are a number of premium boutique properties in both Chamonix and the French Alps.
Chamonix was also the site of the first Winter Olympics held in 1924.
Looking up at the surrounding beauty, I remember being full of energy and inspiration and ready to go as high as I possibly could into the surrounding mountains.
Fortunately this is rather easy if one takes the cable car to the towering Aiguille du Midi – one is whisked from the valley floor at an elevation of 3,396′ all the way to the top of Aiguille du Midi with an elevation of 12,605′. Due to the rapid increase in elevation I immediately became light headed upon reaching the summit platform – but this was soon disappeared, replaced by the stunning views of the surrounding mountains, valleys, glaciers and even of Mt. Blanc, Europe's tallest mountain. It was cold up here, even in the middle of summer.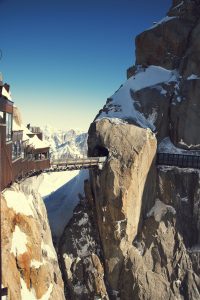 And those who have no fear of heights or perhaps want confront a fear of heights should head to the glass-bottom viewing platform on the top terrace of Aiguille du Midi. Look straight down and you will be gazing into a several thousand foot 'void' over a sheer cliff!
The outdoor adventures are endless in the surroundings. On your way down from the cable car get off at the Plan de l'Aiguille stop (about 1/2 way down the mountain). The Grand Balcon Nord trail leads to a small restaurant (about a 10 or 15 minute hike). The trail continues on and is about a 1.5 hour hike to great views overlooking the Mer de Glace (glacier).
And like thousands of other visitor's to Chamonix we had to visit the Sea of Ice cave (Mer de Glace) – this isn't natural but rather is tunneled out every year in the Sea of Ice glacier. But at the time we didn't know it wasn't natural – it was just cool to be able to walk on a glacier for the first time and see it's inner icy walls up close. We also saw holes from tunnels drilled out in previous years – the glacier is constantly moving and the caves only last for one season.
For those who want to see the Sea of Ice Cave but would rather not hike there, another must visit attraction is the 100+ year old Montenvers Railway (it's own station is next to the main train station in Chamonix). Riding this funicular is quite the adventure – it is extremely steep at times riding over a narrow gauge railway. From the top station at Montenvers one can walk down to the entrance to the ice cave.
I wish I had the budget at the time to try paragliding – Chamonix and the surroundings are highly popular for a variety of wind sports in the summer time or as they call it locally "mountain flying". From town, one can often see colorful chutes high above circling while riding the thermals. In fact paragliding was invented not far from Chamonix. And for those who are ever seeking a greater adrenaline rush, check out Speed Riding – a combination of paragliding and skiing that allows you to ski in otherwise unattainable terrain and race in the air through the mountains. Several schools teach this in the area.
And when were done traipsing around the mountains nothing was better (and affordable I might add) then stopping at one of the local super markets for ingredients and cooking something up quickly on our own. And if you still have energy there are a number of small places/pubs where you can go for a late night drink.
We spent several days in Chamonix and it wasn't nearly enough time to see more of the region. Put Chamonix and the French Alps on your bucket list!