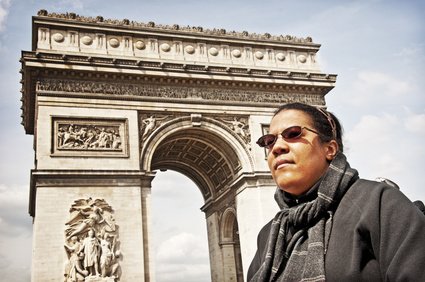 I. INTRODUCTION
A passerelle is a pedestrian bridge, of which central Paris has two (see II. Wheeling Around, below). It seems appropriate for an article about being a pedestrian in a city bisected by a vibrant river, centered on a beautiful riverfront and connected by grand, functional and varied bridges. We hope this article will bridge any gaps in access information and inspire disabled travelers to establish connections with this magnificent city. This article is the fruit of our September 2003 trip to Paris with Howard's mother, Joyce Chabner. It is subjective, selective and impressionistic, not comprehensive or systematic. This article is intended as an introduction, a starting point for your research and a way to convey realistic expectations. We hope it will help you plan an access strategy based on your interests, budget and mobility capabilities and limitations. This article covers only access and assumes a basic familiarity with Paris.
We also visited Paris in 2000. On our recent trip we found excellent, and vastly improved, bus access and some significant bridge access improvements. Accurate access information is easy to find on the Internet. Access to the major museums is very good. However, and despite our finding an excellent hotel with very good access, barriers in hotels and public bathrooms are still widespread. We strolled extensively through the 1st, 4th, 5th, 6th, 7th, 8th and 15th Arrondissements and, as in 2000, saw few people in wheelchairs or blind people. Most wheelchair users we saw were at the major museums, so it was impossible to determine whether they use wheelchairs all the time or are slow walkers who use them only in large spaces such as museums. We were in Rome and Florence earlier this year and saw many more people in wheelchairs there than in Paris. This article includes rough spots along with smooth ones, but Paris is magnificent and irresistible. We eagerly hope to return.
In planning our trip we used the Internet and other information sources but not a travel agent. We traveled on our own, not with a group.
We have tried to be as accurate as possible, but of course accuracy is not guaranteed. The reader should confirm all information, especially access details, directly with hotels, museums, transportation providers and other facilities. As in all research, primary sources are much better than secondary ones. Also, things change. It is essential to re-confirm information shortly before acting on it.
Because one's physical capabilities, limitations and equipment affect the access achievable under a given set of environmental and design conditions, and one's point of reference colors one's perception of access, we'll tell you about ourselves. Howard has muscular dystrophy and uses an electric wheelchair. On this trip Howard used a Quickie P110 folding electric wheelchair that is 25′ (63.5 cm) wide, weighs approximately 100 pounds and has gel cell batteries. Howard is six feet tall, cannot walk and can transfer to an inaccessible automobile only with great difficulty. Michele is able-bodied. We are fortunate to live in San Francisco, where access is generally excellent.
In planning our trip we sent questionnaires to approximately 60 hotels inquiring about access. A form of hotel access questionnaire is Appendix A. You are welcome to adapt it for your own use. A metric conversion guide is Appendix B. The results of the access survey and of our visits to several hotels are attached as Appendix C. This article (including the appendices) may not be reproduced or used for profit without our written permission, but readers are welcome to reproduce or use it for any other purpose.
Phone numbers are given with the single digit '1' area code used for calling Paris from outside France. To call within France, dial '01'.
II. WHEELING AROUND
Bridges
Passerelle des Arts, a pedestrian-only bridge immediately west of the Pont Neuf, was renovated in 2000 and a moderately sloped ramp added at each end. This wide, wooden planked structure is a popular gathering place for chatting with friends, picnicking and listening to street musicians. Passerelle Solferino, a new pedestrian-only bridge farther west linking the Musee d'Orsay with the Jardin des Tuileries, also is wheelchair accessible.
The built-in semicircular balcony seats on the Pont Neuf that cantilever over the Seine have been rebuilt since 2000, the high step has been eliminated and you can roll your wheelchair into the cantilevered areas for an even closer view of the grand riverfront.
Stores and Restaurants
Stores and restaurants typically are up one stair. The proprietors are very willing to lift your wheelchair into the store or restaurant. Cafes, of course, have small outdoor tables. The major department stores have level access.
ATM's
Michele used ATM's at a variety of banks in various locations. All were too high for a wheelchair.
III. GROUND TRANSPORTATION
Buses
In 2000 there were almost no accessible bus lines. We were very pleasantly surprised to find many accessible buses this time. (Because we researched the buses in planning the trip, actually we weren't surprised that accessible buses exist, but at how well they work.) Not all lines are accessible, perhaps 50%. Our impression is that the number is increasing quickly. The most important lines – those that traverse the city from train station to train station – are being made accessible first. There are four accessible lines – 92, 94, 95 and 96 – within two blocks of our hotel. All buses on an accessible line are accessible, which isn't the case in some other European cities. The buses have large windows, no graffiti and minimal advertisements. The buses are lower than the typical American bus and, consequently, the ride is smooth.
The accessible buses have a retractable ramp on the side, midway between the front and the rear. The ramps always worked, except for two buses in a row on one line one day. The ramps are wide – almost as wide as the double door, which reduces the chances of falling, and, because they are deployed with the bottom edge on the sidewalk, are not too steep. We never waited more than 10 minutes for a bus. Every driver we encountered was courteous, skilled and well trained in dealing with wheelchair passengers, always deploying the ramp safely at our desired stop. There is a call button in the wheelchair seating area. The passengers were almost always polite and helpful. They were patient with Howard's broken French and many were eager to speak English. The wheelchair area of the bus is narrow and it was difficult to maneuver to face the correct direction, so Howard generally remained perpendicular to the length of the bus, with the wheelchair protruding into the aisle, but passengers were not upset and were careful to go around. The wheelchair area lacks any securement devices, but because the drivers drove so well and the routes were mostly flat, the ride was smooth and the absence of tie-downs wasn't as dangerous as it might seem.
RATP, the public transit operator, has an excellent website that includes an English language section. Before our trip Howard asked RATP detailed questions by email in broken French and received prompt, accurate responses.
English language information center: (0)8-92-68-41-14
Metro; RER
We didn't use the Metro or RER.
Van Services
Several organizations provide accessible van transportation upon advance reservation. GIHP (Groupement pour L'Insertion des Handicapes Physiques) is affiliated with or funded by the government. On this trip and in 2000 GIHP transported us from and to the airport at a bit less than the cost of a regular taxi. We also got rides one evening from ATPAP (Association pour le Transport de Porte a Porte), a for-profit service. ATPAP was fairly expensive, but gave us a ride at 11 p.m. on a Friday night. The drivers for GIHP and ATPAP were all on time, skilled, safe and very friendly. The vehicles were well maintained, clean and spacious.
ATPAP. Phone/Fax 1-45-60-01-96. atpap.transport@wanadoo.fr
27 avenue Georges Brassens, 94550 Chevilly Larue
Taxis
We didn't see any accessible taxis or learn of any from our research.
Boats
In 2000 we took an enjoyable boat ride with Vedettes de Pont Neuf, Square du Vert Galant; phone 1-46-33-98-38; www.pontneuf.net The square is down a long, bumpy, stone ramp. Boat access was good. Other accessible boat operators are listed on the Paris Tourism Office website www.paris-touristoffice.com in the section "Disabled/Croisiere Accessibles Aux Handicapes."
IV. HOTELS
Although bus access is quite good, we still believe that for hotels, as for real estate, the three most important factors are location, location and location (assuming the hotel has good wheelchair access). Strolling through a beautiful, interesting neighborhood is what Paris is all about, and it's best not to depend entirely on transportation to get to museums, monuments, stores and restaurants.
Where We Stayed
Victoria Palace Hotel
6, rue Blaise Desgoffe
Phone 1-45-49-70-00
Fax 1-45-49-23-75
victoriapalace@vphparis.com
www.victoriapalace.com
In 2003 we stayed at this charming, immaculately maintained 62-room four-star hotel in the 6th Arrondissement north of Boulevard Montparnasse, not far from Place St-Sulpice and Jardin du Luxembourg. It's a pleasant one-mile stroll to the Seine, and accessible bus lines 92, 94, 95 and 96 all stop within two blocks of the hotel. The hotel staff was extremely welcoming, professional and skilled. Breakfast was abundant, delicious and graciously served.
Wheelchair access is very good by Parisian standards. There is a portable wooden ramp for traversing the one and a half steps at the front entrance. The elevator is large enough for a wheelchair user and two able-bodied people. The call buttons are reachable. We stayed in Room 601, the adapted room. The room is completely quiet. The bedroom and bathroom are large, the toilet is high, the sink is excellent, the bed height is very good for transfer, the bed is firm but not too firm, the doorways are wide, and the mirrors are large and well-placed. There is a large bathtub but, as seems to be universal in Paris hotels, no roll-in-shower. The handheld shower has a long cord.
Transfer to the toilet is not ideal but not bad. There is sufficient transfer space at one side of the toilet. The grab bar adjacent to the toilet is removable and attaches to the side of the bathtub. It is not as sturdy and stable as a wall-mounted, fold down-bar. A toilet paper holder protrudes from the rear wall and prevents some wheelchairs from being positioned completely against the rear wall. This toilet, like the typical French toilet, isn't long, so a complete side-to side transfer isn't possible for many wheelchairs, but a side transfer at a moderate angle is; the angle between toilet and wheelchair is much closer to parallel than to a right angle.
There are some barriers that are minor for someone traveling with a companion but potentially significant for a solo wheelchair traveler. The door closer on the room door is set too tight and is extremely difficult or impossible for many wheelchair users to open and close. The closet pole and safe are at normal height and therefore inaccessible. Howard has written the hotel asking it to fix these items.
Overall, the Victoria Palace is excellent for wheelchair travelers with a companion and for slow walkers. It might pose difficulties for a solo wheelchair traveler, depending on one's abilities and reach. Considering the age of the building and the typical Parisian constraints, the proprietors have done a very good job providing access. Although not inexpensive, the price is reasonable considering the room size, elegance, location, condition, quiet, and high quality of service and of breakfast.
Novotel les Halles
6, place Marguerite de Navarre
Phone 1-42-21-31-31
Fax 1-42-21-92-72
HO785-RE@accor-hotels.com
In 2000 we stayed at this three-star hotel in the 1st Arrondissement between the Louvre and the Pompidou Center. Access was very good, except the bathroom had no roll-in shower. In response to our inquiries in 2003, we were told that several adapted room types are available, although none has a roll-in shower. The front entrance is level. The elevator is easily large enough for a wheelchair. All doorways are wide. The toilet height is 53 cm (21 inches). The sink is large and there are well-situated grab bars near the toilet. There is plenty of space on one side of the toilet to transfer. The handheld shower on the bathtub wall has a cord long enough to reach the sink, so one can wash one's hair in the sink. The staff was gracious.
Access Survey Results
In late June and early July 2003 we emailed and faxed access questionnaires to approximately 60 hotels, mostly three- and four-star hotels in the 1st, 5th, 6th and 7th Arrondissements. Questions and responses are in English. The results of the survey and of our visits to several hotels are attached as Appendix C. We visited several hotels (indicated by **), but most entries are based solely on the written responses we received; therefore, we cannot vouch for the accuracy of the information. Accuracy depends entirely on the respondent, typically a reservationist; we did not specifically ask the hotels' general managers to respond. We asked follow-up questions when a response was ambiguous but did not send a second round of surveys to ascertain whether the answers would be the same both times.
The questionnaire, with minor improvements and turned into a form, is Appendix A. You are welcome to adapt it for your own use. A metric conversion guide is Appendix B.
We did not initially intend to publish this information. But accurate, current information in English about more than a handful of hotels in the central neighborhoods is scarce; having spent so much time doing the research in the first place, we decided to publish the results. We hope the reader will use them as a starting point. It is clear that there are serious, widespread access barriers in Paris hotels, and we hope this article will be a spur to action to improve access. In order to give a more complete picture of the poor state of access, we included hotels that are completely inaccessible and those that didn't even respond to our inquiries.
In France accessible in describing a hotel room means merely that there are no barriers such as stairs and there is sufficient doorway width and other space for a wheelchair to travel to, enter and move around the room – that there is, in effect, what Americans would call an accessible path of travel to and within the hotel room. Hence, an "accessible" room may have a completely unusable bathroom. Moreover, there doesn't seem to be a uniform, generally accepted standard for "accessible" – it appears that many hotels consider a room accessible if it is literally, but just barely, physically accessible. "Adapted" means that the room has been modified to allow a wheelchair user to use the bathroom, although, unfortunately, almost all adapted rooms reported lack roll-in showers. "Adapted" and "accessible" are terms used in guides such as Paris-Ile de France for Everyone (in English; published by CNFLRH) and a list of accessible hotels in French we obtained from the French disability organization APF Paris (22, rue du Pere Guerrin, 75013 Paris; apfparis@infonie.fr; phone 01-44-16-83-83). In many websites, the presence of the wheelchair symbol means only that the hotel is "accessible," not necessarily that there are any "adapted" rooms.
In organizing and reporting the results, we included rooms that are merely "accessible" although not "adapted." We indicate whether the room is "adapted" or merely "accessible" when this information was provided, but in many cases it wasn't. So, be aware that many hotels listed in the Accessible and/or Adapted category below are not truly accessible by American standards. We believe that widespread use of the French accessible concept promotes too low a standard of accessibility, but we decided to conform to the French terminology in reporting the specific results. (In the general discussion, "accessible" has the stricter, but more generic, American meaning.) In many cases the response was unclear whether the room was adapted or merely accessible and follow-up inquiries didn't elicit clarification; hopefully, for a reader to know that a hotel she is interested in may at least be "accessible" would be a helpful starting point for her research. Some readers may be able to use a room that is "accessible" although not "adapted." Also, because so few hotels have adapted rooms, if hotels that are accessible but not adapted were excluded, the results would include far fewer hotels. As our purpose is also to provide a general picture of the state of access and to indicate which hotels have the potential for greatly improved access, we included hotels that are only "accessible."
In the questionnaire we mentioned the width of Howard's wheelchair and asked whether all the doorways were at least 75 centimeters (29 ' inches) wide, because it would be exceedingly difficult to maneuver in any hotel room with narrower doorways. It is possible that some of the hotels reported as inaccessible may have doorways narrower than 75 centimeters but may be "accessible" to people who use very narrow wheelchairs.
Almost needless to say, it's imperative to contact the hotel directly to verify access, as one would in the United States. Don't rely on the central reservation systems of hotel chains or, even worse, third party reservation websites. The information provided by the hotel sometimes contradicted those websites, some of which display the wheelchair symbol irresponsibly and misleadingly.
It appears from the published guides mentioned above that there are a larger number of accessible hotels in the outer arrondissements than in the central neighborhoods where the hotels we surveyed are located, but the guide entries for many hotels lack meaningful detail and for others indicate only a minimal level of access. It's clear that hotel access must be improved everywhere. There are virtually no roll-in showers. Many bathrooms lack grab bars. Many hotels that were renovated in the past few years still have these barriers. Although we didn't specifically ask how many rooms are adapted, it's clear from some of the responses and hotel websites that those hotels that have adapted rooms typically have only a few, certainly fewer than the Americans with Disabilities Act would require in the United States for comparably sized hotels.
We realize that many hotels in central Paris, especially in the 5th and 6th Arrondissements, are ancient, small and narrow, with few guest rooms and significant architectural barriers. But we've been to hotels or apartments in ancient buildings in Rome, Florence and Toulouse that have excellent access, including roll-in showers, without sacrificing architectural integrity or historical character. Barriers can often be overcome if the owners are sincerely committed to good access. Unfortunately, the fact that several recently renovated hotels lack truly accessible rooms indicates that many owners are not. The survey results indicate either that there are no uniform, generally accepted standards, French disability rights law is weak as applied to hotels, enforcement is spotty, awareness of disability rights is poor, technical expertise is scarce, design is unimaginative, or a combination of these factors.
V. PUBLIC BATHROOMS
Parisian public bathrooms, whether accessible or not, generally are small and poorly designed and have lower standards of cleanliness than those in California, many other American cities, Rome and Florence. (For a description of the excellent public bathrooms in Rome, see our article -Rolling in Rome: Wheelchair Accessible Travel in Rome – 2003.) Only a few that we saw are staffed by attendants. We found almost no progress in bathroom access since 2000, both in terms of the availability of accessible bathrooms and the design elements in those that are accessible.
Wheelchair accessible public bathrooms are extremely difficult to find in Paris except at the major museums. All museums we visited that are accessible have accessible bathrooms. The best one is at the Rodin Museum; not only is the configuration excellent, but there is an attendant and the bathroom is spotless. (It's in the garden, not the mansion. The side of the garden nearest the bathroom has a moderately steep dirt path to reach the bathroom; the side of the garden further from the bathroom is level and the bathroom can be reached from there by cutting across the middle of the garden.) We didn't find any accessible bathrooms at restaurants or cafes. Samaritaine department store, just across the Pont Neuf on the Right Bank, has accessible bathrooms. The public assistance hospital, located in the Hotel Dieu (a large building facing the north side of Place Notre Dame (to the left as one faces Notre Dame)), has an accessible bathroom near the main entrance. It's only open until 6:00. Turn left after entering and be persistent with the desk clerk. There is an accessible bathroom in the main courtyard of the Palais de Justice (immediately north of Sainte-Chapelle), but it's only open during business hours and one must pass through the security checkpoint for the Palais de Justice/Sainte-Chapelle complex.
Many of the bathrooms that are accessible are poorly designed and have problems including insufficient turning space, small toilets, inaccessible sinks, inaccessible toilet flush buttons or buttons that require too much pressure, toilet paper dispensers that are too high and poorly designed so the paper is difficult to reach or gets stuck inside the dispenser, a lack of paper towels, inaccessible door locks, inaccessible hand dryers and poorly positioned mirrors. Don't be too discouraged, though. No accessible bathroom has all these barriers, and it's possible to work around most of these barriers.
Because museum bathrooms are accessible and museum entrance is free for disabled people at many museums, it's a good idea to use the bathroom at museums when you are nearby even if you don't want to view the collection.
VI. MONUMENTS; MUSEUMS
Access at most major museums is quite good. Disabled people and one companion are entitled to free admission at all government-operated museums. We encourage you to try to tour all major museums that interest you – they are likely to be at least partially accessible.
Eiffel Tower. The first two levels are accessible. The second has an even better view than the first – it's high enough for a broad sweeping view but still low enough that people and things on the ground can be identified.
Brancusi Atelier. Access to this fascinating re-creation of Brancusi's studios, located near the Pompidou Center, is via a large platform lift.
Carnavalet Museum. During our trip in 2000, this fascinating museum of the history of Paris, located in an ancient hotel particular, was accessible via an old lift down a steep flight of stairs. Most but not all the galleries were accessible. Among the highlights for us was an 18th century wheelchair, which is essentially a large plushly upholstered wooden armchair on a wooden platform with large, geared metal wheels. The person sitting in the chair could propel it by turning a crank mounted on each arm. We didn't visit this museum in 2003.
Cluny Museum. Understandably, this medieval castle is inaccessible.
Louvre. I. M. Pei is a genius. Access is A or A+. Pei has connected three ancient palaces in as seamless, understandable, efficient, user-friendly and elegant a manner as is humanly possible. Wheelchair access to the pyramid is via an open, round, space-age lift that retracts into the floor when at the lower level and is surrounded by a spiral staircase. It's delightful just to ride up and down it. The Louvre's superb access proves either that "where there's a will, there's a way" when it comes to retrofitting ancient buildings for access, or that if a world-class architect is hired to renovate a national treasure and allocated an almost unlimited budget, great access can be achieved.
Museum of Jewish Art and History. Access to this relatively new museum in a beautifully restored hotel particular is excellent. The front entrance is accessible via a long portable ramp and a large, modern elevator serves all gallery floors. The superb collection of ritual objects, paintings and historical artifacts is broad, deep and well displayed, with informative, detailed explanations in French and English; it's of interest to Jews and non-Jews alike.
Musee d'Orsay. Gae Aulenti is no I. M. Pei. Wheelchair access is confusing, as are the museum's gallery plan and traffic pattern in general. Be careful – the numerous elevators are in small vestibules with dangerous automatic doors that can trap you if you don't react quickly and position yourself in exactly the right spot. But all, or almost all, the galleries are accessible.
Pompidou Center. Access is good, though the building in general is a bit difficult to figure out. Don't miss the panoramic view of the rooftops of Paris from the cafe and restaurant on the upper floor.
Rodin Museum. There is excellent access to the garden and the ground floor of the mansion (the latter via a wooden ramp). The upper floor isn't accessible, but most of the masterpieces are in the garden and on the ground floor. The garden, a lush, serene oasis from the urban intensity of the surrounding area, is especially delightful on a sunny day.
VII. CHURCHES
Notre Dame. There is a level entrance in front. The nave is accessible but beyond the crossing there are two or three stairs up to the apse.
Pantheon. There are many stairs at the front, no lift or ramp, and no accessible side entrance. However, it is currently undergoing a major renovation that may include wheelchair access.
Sainte-Chapelle. There is access to the magnificent upper chapel of Louis IX via the first floor of the adjacent Palais de Justice during business hours, when the latter is open. The doorway was actually the king's private entrance from the palace to the chapel. Ask the employees at the main church entrance at the ground floor to accompany you and unlock the door, then take the tiny elevator in the Palais de Justice one flight up to the first floor. Howard's wheelchair just barely fit in the elevator. It's well worth the trouble to reach the light-filled upper chapel, with its exquisite rose window and side walls comprised almost entirely of stained-glass windows.
St-Germain-des-Pres. There are many stairs at the front, no lift or ramp, and no accessible side entrance.
St-Sulpice. An excellent, moderately sloped ramp with a good railing has been installed on the south side since 2000.
VIII. WHEELCHAIR MATTERS
Electricity and Charging Your Wheelchair
France uses 220-volt AC power. The standard plug has two prongs and a hole for the ground pin (the ground pin protrudes from the wall outlet). Plug adapters are available at any travel store.
If you use an electric wheelchair, we recommend obtaining a wheelchair battery charger with settings for 110 and 220 volts. It eliminates the need for a separate converter. A surprisingly small, lightweight and inexpensive charger with dual settings is available from MK Battery. www.mkbattery.com.
We highly recommend gel cell batteries, which are non-spillable, safer and more acceptable to airlines than wet batteries.
We experienced no problems charging Howard's wheelchair in our hotel room.
Wheelchair Repair
Sunrise Medical – France. Phone 2-47-88-58-10 or 2-47-88-58-36 or
ZI route de Meslay 37210 Parcay-Meslay
Chanceaux sur Choisille 37390
Phone 2-47-55-44-00; Fax 2-47-88-58-03
On the website www.ican.com the section "Travel/Destinations/Paris Resources" has good information about repair and rental of wheelchairs and other medical equipment.
Fortunately, we didn't need wheelchair repair, so we have no experience with these resources.
Airport Security
At Charles de Gaulle Airport on our flight home, the head of airport security was unwilling to permit Howard to remain in his wheelchair until the boarding gate, insisting that he transfer to an (extremely uncomfortable, unpadded, narrow) airport wheelchair at the check-in area in the front of the airport, pass through the security checkpoint in it and remain in it at the boarding gate. Although the batteries are gel cells, the head of security didn't want to allow an electric wheelchair to pass through the security checkpoint, even with the batteries disconnected. After extensive negotiations, he agreed that Howard could remain in his wheelchair if the batteries were removed and checked as baggage. This required getting someone to push Howard through the airport. This problem didn't arise in 2000, in the pre-9-11 world.
IX. ACCESS FOR BLIND AND VISUALLY IMPAIRED PEOPLE
As in 2000, we saw very few blind or visually impaired people and almost no Braille signs or textured markings.
X. ADDITIONAL INFORMATION
Access Information
The Paris Tourism Office website www.paris-touristoffice.com has a superb, comprehensive section in the English language version entitled "Practical Information/Disabled."
The website of the Society for Accessible Travel & Hospitality (SATH) contains articles, links and resources about accessible travel in general and traveling with a disability. www.sath.org sathtravel@aol.com Phone 212-447-7284.
A Few Good Books About Paris
Paris to the Moon. By Adam Gopnik. An insightful, witty account of the New Yorker writer's life in Paris with his family for five years in the 1990's.
Paris in Mind. Edited by Jennifer Lee. An excellent new anthology of American writing about Paris, it includes short excerpts from James Baldwin, Saul Bellow, Benjamin Franklin, Ernest Hemingway, Thomas Jefferson, Gertrude Stein, Mark Twain and contemporary writers.
Paris: An Architectural History. By Anthony Sutcliffe. It isn't a guide to particular buildings, but a chronological discussion of the development of Paris architecture, including factors such as rational, well-designed building codes that remained remarkably uniform over time and the influence of the Beaux-Arts school on Paris architects. This large paperback is serious but not too technical and has good pictures.
The Food Lover's Guide to Paris. By Patricia Wells. This well-written guide by the American maven of French cuisine includes restaurants, bakeries, food stores, wine bars, tea salons, cooking stores and even recipes. We followed many of her restaurant recommendations and were almost always delighted, and never disappointed. Her website, www.patriciawells.com, is more current than the book, although less comprehensive.
The Guide to the Architecture of Paris. By Norval White. This comprehensive, meticulously researched, opinionated and dry guide describes hundreds of buildings, block by block.
– Howard L. Chabner and Michele E. DeSha 2005