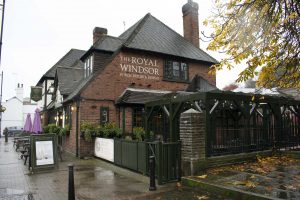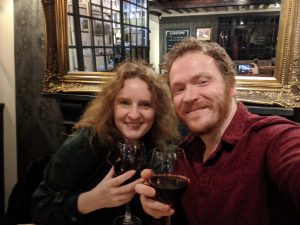 We recently took a short wintry getaway in Windsor, home of the stunning 11th century Windsor Castle and famous for all things royal. But as we passed the large looming castle and the imposing statue of Queen Victoria, we decided to do Windsor differently.
The fact is most tourists do visit for the castle, but if you've already taken a tour inside its fortress walls, it's a bit beyond your budget, or the queues are just too much for you, there's a lot more to be discovered in Windsor.
We stayed at the Stirrups Hotel, which is a ten minute drive away in beautiful Bracknell countryside. Our room was in The Stables, which is a newer part of the hotel at the back. First impressions were positive, with a modern spacious room and super king sized bed. But we had an appointment to keep, a mission to see through, and we soon headed into Windsor to the escape rooms.
Myself and Wil had never done an escape rooms before and we were a little nervous about what to expect, but the staff at Escape Experience soon put us at our ease. We chose the Crown Jewels Heist experience, might as well go with the theme of the town, but you could also go for the Cave experience or Area 51. Considering we'd never done anything like this before, it was way more fun than I expected and we completed the heist and stole the crown jewels with only two minutes to spare! It was tense, but loads of fun. The escape rooms takes an hour to complete, and you are never actually locked in, plus you can ask for clues and help whenever you like.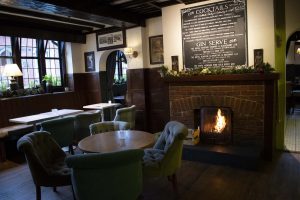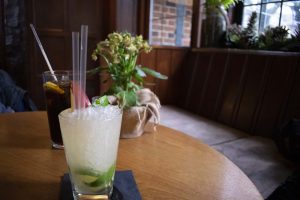 Satisfied with our success and feeling pleased with ourselves for solving all those puzzles, we headed to The Royal Windsor for dinner. The Royal Windsor is a pub and restaurant that sits at the bottom of the main street which curls around the castle. It's the perfect place for a quiet drink by the roaring open fire, or a delicious meal in the restaurant. We had a three course meal with a bottle of wine and then followed this with the pub's signature infusion shots, one apple and rum and one passion fruit and vodka.
Full, and warmed by the delicate infusions, we headed back to The Stirrups for a good sleep.
Breakfast at The Stirrups was an impressive spread of continental, including blueberry muffins, and full English. We ordered the veggie breakfast which included particularly good veggie sausages (hard to come by!). A real fire warmed the bar area of The Stirrups as we were leaving and it felt like everywhere we went was fully prepared for the cold winter days approaching.
Back in Windsor we took a stroll around one of the most beautiful train stations I've yet been in. The train station, which was opened in 1894, does still contain working railway platforms and the Victorian architecture is magnificent, but most of it is now used as a shopping centre, which also makes this this the most beautiful shopping centre I've ever been in!
In need of a good cup of tea we walked back down the curve of the main street and found Dr Choc's Chocolate factory, a café, chocolate shop, and chocolate making experience all rolled into one. The café is upstairs and on the ground floor is the shop, with the chocolate factory at the back, where you can have a go at making your own chocolate creations.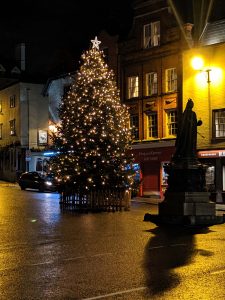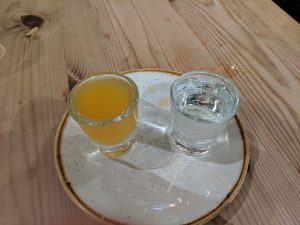 Soon enough hunger pangs rose and we headed back to The Royal Windsor for lunch. The menu at The Royal Windsor has something for everyone and the chef is currently rolling out and trialling a new vegan menu. Manager, Armani (yes, he told us, just like the brand!), is fun and friendly and nothing is too much trouble. I had a refreshing virgin mojito and me and Wil both ordered the flatbreads, which arrived on their own little wooden tables and were much bigger than we expected. As the real fire roared on in the grate, we were sad to leave The Royal Windsor, but like the town itself, we'll definitely be back!
Things we didn't have time to do, but are on our list for next time –
The Duck Tour, a river and open top bus tour which was cancelled on the dates we were there due to rising river levels.
The Theatre Royal, a lovely little Edwardian theatre, which we would have loved to experience, but it was panto season while we were there, so perhaps another time!
The river walk, anyone who regularly reads my blogs will know me and Wil love to do a good walk wherever we go. The weather wasn't great for this while we were there, so next time, next time!