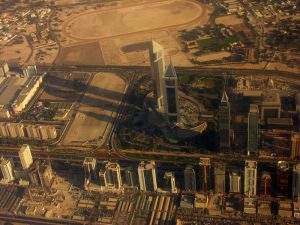 Is Dubai the new Jerusalem, this millennia's Babylon, or a middle-eastern Las Vegas? The Emirate city is certainly a new kind of something, that's for sure. But with the light glinting off the gold cylinders of the Al-Attar tower like it does, it's hard to think of what exactly. Let's just say that most of what's happening here is currently unprecedented, both in terms of scale and – if you consider the devastating combination of sunshine and shiny surfaces – brightness.
But despite the dazzling new developments such as the world's tallest tower, the world's largest fountain, and the world's most luxurious hotel, the Arab emirate's traditional culture hasn't been wiped from the streets. For all the talk of its new projects, lest we forget that Dubai is as rich in traditional culture as it is in five-star luxury. Old and new rub alongside one another, exemplified by views of the world's largest building, the Burj Khalifa tower, looming over beautiful old-world minarets. It's a place where rickety old backstreets share grid references with some of the world's most dazzling new shopping malls. So if you're going on a, here are five things to do which hark back to its rich traditions and culture:
The Palace< in downtown Dubai is a five-star luxury resort nestled in a traditional Arabian village which overlooks the world's largest manmade lake and the vast Dubai fountain. The perfect mix of old and new worlds. For food, check out 2nd of December Street, which recently changed its name from Al-Dhiyafa Road to mark the 40th anniversary of the UAE. It's a traditional shopping street popular with Dubai residents, and you can see why. Dubbed the 'cheap eat street', it features authentic Arab and Asian food you'd be mad to miss, as well as noodle bars and pizza parlours. In particular, check out Ravi restaurant on Al Satwa Road which runs off 2nd December Street. Ravi has earned its place in local legend, as you can get a superb Pakistani feast for under $10. Even better, it's open until the early hours and has a terrific atmosphere.
The Gold Souk is the place to haggle for cheap gold in the Deira business district. Expect lots of bustling, plenty of bartering and the chance to snap up some precious-metal bargains.
The Bastakia quarter is an old fishing village, and the best preserved neighbourhood in Dubai. Ancient and modern culture come together in its impressive Arabian buildings, from the Majilis gallery of middle eastern art to the XVA modern art gallery, as well as the Dubai Museum.
The best way to travel in Dubai is to slide down the Dubai Creek on a water taxi. It affords a stunning cross section of the city and the region, and also means you avoid the gnarly traffic jams which clog up the city's roads.