We all have those moments in life, myself more frequently during the winter months, during which we just want to leave everything behind and run away or hide to clear our heads.
Last week I did just that…
Cabin in Tulum to which I have frequently run away to

I have never been one of those people who can run a hot bath, soak and be magically refreshed and focused for the following week of my life – simply not me. I was always a shower person first off…but I always knew during the winter months I suffered a serious case of the blues mostly from a lack of sunshine and vitamin D.
It has never been seasonally affected depression for me but rather most winter months I tend to travel less and hence it is more of a case of GDS (Geographical Displacement Sickness – basically my body fighting against my current GPS coordinates). Knowing I had no adventure planned until April 29th when I take off to volunteer in Ghana for a couple of weeks, I did what I do best – booked a last minute flight through the team at Flight Centre to sunnier skies. This was to one of my favorite places in the world – Mexico. Yes – no better way to get over my winter blues than to spend 4 days parked on a beach with no cares or responsibilities other than to apply sunscreen – yes a 96 hour injection of vitamin D into the skin to wake my body up and turn my hair lighter, skin darker and gain the confidence to take over the world, in other words, become a little bit bolder.
Now Mexico, sadly, gets a lot of bad press; yes there have been many unfortunate situations in the country the last few years which have been highly publicised but for the most part I find the country very safe (mind you I haven't visited the Mexico/Texas border – nor do I plan to).
The main beach coasts, like most other parts of the world are very safe to tourists if you're respectful to the fact that you are in a new country and a certain cultural sensitivity must be adhered to because different customs do exist.
First of all, I normally sleep during the entire duration of my flights, ANYWHERE and EVERYWHERE in the world but here. The descent into Cancun Airport is amazing – the water which connects with hundreds of miles of white sandy coast line offers magnificent tones of blue similar to tropical ocean screen savers – just magical!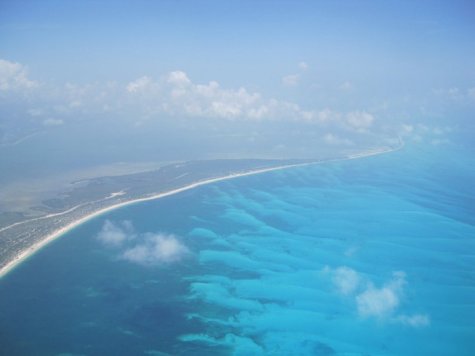 Flying into Cancun: the camera doesn't even do the color of the water justice. This trip was probably my 8th or 9th trip to Mexico. I have visited a few parts, Los Cabos, Cancun, Merida, the Yucatan province for a few weeks and Quintana Roo – but I always seem to come back for one place – Tulum. Now I have yet to visit Australia (which I am being told may be the only place that may win) but from the beaches I have seen in Zanzibar, Mombasa, Egypt, Thailand, North America and South America, Tulum is hands down my favorite. I have been here about 6 times and and it is white sand beaches with a backdrop of turquoise waters that is just stunning, secluded and therapeutic to anybody trying to clear their head.
To clarify, the Tulum I know and love is the town of Tulum, not the resort area – don't get me wrong the beach outside of the Bahia Principe complex is amazing and the hotel stunning, but I prefer the wooden beach huts outside of town that you can rent for $40 USD a night in Papaya Playa where you have a completely different holiday experience than at the resorts.
Beautiful Beach Cabins on the Left – Beautiful Ocean on the Right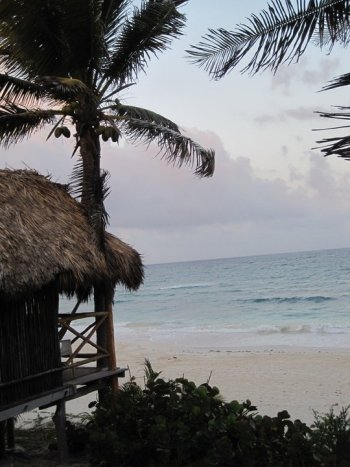 After landing into the Cancun airport, taking a shuttle to the bus terminal, followed by two minibuses (there is a connection in Playa Del Carmen) for a total transfer cost of $7.50 I arrived into paradise. With the exception of one couple, the bartender/cook and the receptionist there was nobody else on this resort.
I quickly rented a cabin over looking the water (as pictured above) with a hammock on my front deck, basic mattress and mosquito net and after changing into my bathing suit ran into the inviting waves to wash off some of my GDS. Amazing – everything I thought it would be and more – the water was warm, the sun was shining and there were no handlers trying to sell me jet ski rides, silver bracelets, sarongs or hair braids.
Just myself, the ocean and the sun on my skin
This for me is paradise- you have the sun, sand, and water that you need minus the chaos of the swim up bars, poolside stereos and buffet line ups. I woke up every morning with the sun and fell asleep to the sound of the waves.
My breakfasts were fresh cut fruit, in completely peaceful settings overlooking the ocean, while my days were spent lounging on the resort's beach beds reading and writing. There is nothing better for me in life than to smell the scent of salt water in the air, feel the sand between your toes and be silenced by the sounds of waves crashing in the ocean. Fresh fruit breakfast with Big Blue – it doesn't get better than this.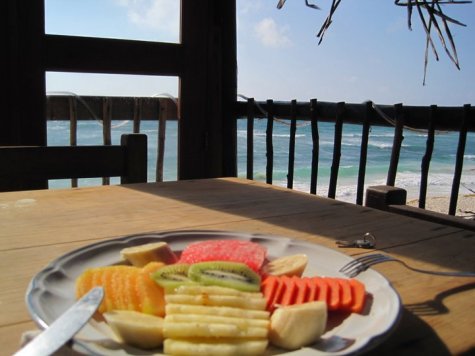 I did spend my final night in Cancun before I flew back home. Cancun is equally beautiful and holds a stunning contrast between some of the bluest water with some of the whitest sand I have ever seen – it seriously can be so bright sometimes you need sunglasses just to look at the sand; it's amazing. I was fortunate enough to be hosted by the 5 star Riu Caribe property in the Hotel Zone and while it wouldn't have been my first choice of holiday it far exceeded any expectations I may have had. The hotel itself is exquisite offering very high end amenities and facilities at very competitive prices. They have a 24 hour all inclusive service available that satisfies both the insomniac and those trying to quench their thirst amongst some beautiful scenery. The pool area is fairly large and despite being there towards the end of spring break, I was pleasantly surprised that after my 2pm arrival I was still able to have my choice of lounge chairs by the pool or the beach.
Very Happy and Very Surprised
Clear Blue water with some Bright White sandy Beaches

Luckily the resort wasn't too busy and I finished three days of solitude and perfect beaches with perfect weather, a stunning sunset and a resort which though so closely located to the madness that is Cancun nightlife gave you a sense of being away at a hotel in some secluded part of the beautiful crystal clear watered Caribbean.
Sydney J. Harris once said that "Happiness is a direction, not a place" for me I can pretty much say that my happiness can be directly influenced by my presence in Mexico.
…tanned again, and very happy again… gracias Mexico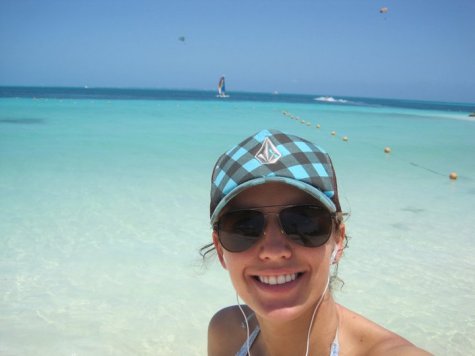 Ivona maintains her own blog, Lil Miss Planet. Please visit: www.lilmissplanet.com