The Lost Coast is located in Northern California along the Pacific Ocean.  It is nestled in the remote King Mountain Range.  Route 1 runs north along the California coast but had to be diverted back to Hwy 101 south of here due to the rugged terrain in this area.  The only roads in this area are 2 lane, twisting, winding steep, blind mountain roads.  They are easily navigable by a car very slow going.  The Lost Coast is broken into 2 sections, the Northern Section along the ocean itself and the southern section that follows the coast but climbs in the mountains themselves.
The small town if Shelter Cove is located in the middle of both sections.  Most people, like us, hike the Northern section going from North to South to take advantage of the southeastern winds.  The terrain is hard enough to hike in you don't want a 20 mph head wind holding you back as well.
Unlike most backpacking trips you need to get a tide table to plan this one.  The north Section is about 25 miles in length and has 2 areas, each of 4 miles in length, that are only passable at low tide!  This is not a suggestion but fact.  Watch the video and you will see for yourself.
The shuttle for this trip is rough.  It's 45 miles one way and takes between 90 to 120 minutes.  You can however get a shuttle to pick you up at one end and take you to the other.
The Classic Trip is as follows:
1. Leave a car at the Shelter Cove parking lot.  (restrooms there)
2. Have shuttle pick you up at parking lot and drop you off at Mattole Trail head at north end
3. Spend 3 days hiking south to your car
4. Drive home
Our first day covered about 11 miles and we crossed one high tide zone.  This day was filled with excitement, things like an old Lighthouse to sea lions on the beach, a rattlesnake in camp and almost getting battered against the cliffs from the high tide!  Just your typical day on the Lost Coast.
Bear canisters are required and can be rented at the local ranger station if needed.  Yes there are bears along the coast. I also found it odd that there were rattlesnakes but I saw two the first day and have never seen one before in my life. The rattlesnakes hide in the driftwood along the beach which is unfortunate because you need the driftwood in order to survive in a lot of places.  Survive?  This is the open beach and it is very windy here.  We pitched our tents in an open area.  Our had some of our gear in it and our friends had some gear and their 2 small dogs weighing 16 and 8 lbs.  Right at sunset a larger gust of wind came and ripped both tents from the ground.  Theirs blew about 15′ tumbling a few times, both dogs were fine, while ours went about 80′ ripping the tent fly in 3 places and puncturing one of our sleeping pads!
The driftwood I speak of are large logs or piles that people have built lean-tos out of to make wind breaks.  There are several of these found along the beach, some are so extensive they look like small forts.  Take your trekking poles and beat the grass around them, listen, then beat on the logs some.  Be careful and make sure your not setting up on top of a snake nest!
The second night we did pitch our tent directly on the beach close to a wall without the fly and were just fine.  It was very windy still but the wind was able to flow through the tent without the fly on it. The next day we hiked the 2 miles on the black beach sand out to our cars. We were happily exhausted.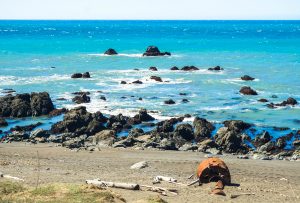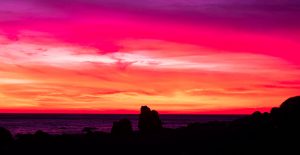 Here are Some Tips for Backpacking the Trail
 Get an "accurate & up-to-date" Tide table
You must clear the high tide zone 2-3 hours before high tide (5′ tide = 2 hours 7′ tide = 3 hours)
Use logs / lean-tos as wind breaks for tents (ours ripped in 3 places and was carried 80′ by a gust)
Rattlesnakes hide in driftwood (lean-tos). Check them thoroughly.
Bear Canister a must
No small dogs
Get booties for your dogs paws
Rough Terrain – Hiking is much slower than usual
Don't turn back on Ocean – Rogue of waves 
Swimming – Riptides and Under tows deadly
Camp at Mattole Trailhead the night before you start
Hiking poles a MUST
Use a shuttle service if possible.  It's a 45 mile – 2 hour drive each direction
Fuel up before you start.  You're in the middle of nowhere out here.  Gas is hard to find and not cheap when you do.