Chicago is a big city, but there's no need to spend big bucks to have a great vacation. This vibrant Midwestern city is a cultural center with over 60 museums, towering buildings, innovative parks brimming with public art and a 26-mile lakefront filled with recreational possibilities. Some attractions won't cost you a single cent but for those that do charge admission, CityPASS offers a money-saving, time saving booklet that visitors on a budget won't want to pass up.

BEST FREE ATTRACTIONS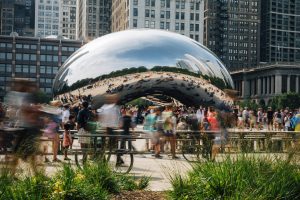 Millennium Park may well be America's finest city park. Part of its allure lies in its architectural gems. Anchored by a Frank Gehry-designed band shell, the park includes works by Renzo Piano and Anish Kapoor. Rich in public art, you won't want to miss a photo-op under The Bean, the iconic stainless-steel structure that reflects the city's famed skyline in its shiny surface. Hundreds of events are held annually in this year-round gathering place. In winter, ice skate at McCormick Tribune Plaza. In summer, splash in the Crown Fountain as you watch real-time images flashed on giant video screens.
Navy Pier
An old-fashioned carousel, 15-story Ferris wheel with birds-eye Lake Michigan views, carnival games and summer fireworks are on tap at Navy Pier, an inner city amusement pier. Browsing and soaking in the festive energy won't cost you a dime.
Riverwalk
Modeled after San Antonio's famed esplanade, Chicago's car-free Riverwalk promenade offers a breezy respite from city life. There's free entertainment during warmer months.
National Museum of Mexican Art
Chicago has the second largest Mexican community in the U.S. after Los Angeles and the Pilsen neighborhood is the place to experience these cultural influences. The National Museum of Mexican Art's colorful murals and paintings are bold and admission is free. Explore this neighborhood and hit one of the many family owned eateries for a culinary immersion.
Lincoln Park Zoo
At Lincoln Park Zoo, no admission is charged. As you stroll the lush grounds, you will see some of the 1,200 animals, including polar bears, monkeys and an assortment of reptiles. The Farm-in-the Zoo replicates a working farm with domestic animals that kids can feed, plus a giant John Deere tractor that that they can sit on. The staff demonstrates daily farm chores such as butter churning and cow milking.
Lake Michigan
Join locals for a swim in Lake Michigan's chilly waters or sunbathe on a sandy stretch.

BEST ATTRACTIONS
Art Institute Chicago

Right up there with museums such as the Louvre in Paris, Metropolitan Museum of Art in NYC and Madrid's Prado, the Art Institute Chicago's Impressionist collection is one of the biggest and best in the world. After you've soaked in the dreamlike color palette of Monet and Renoir, make a beeline for the light-flooded Modern Wing, where modern and contemporary works of art are housed in an architecturally stunning setting.
The Museum of Science and Industry
At the Museum of Science and Industry, a full-scale coalmine replica has visitors descending into the depths of the earth. A restored U-505 German submarine that was captured in 1944 and brought here a decade later gives you a real-life sense of the claustrophobic conditions that underwater servicemen endured. Colleen Moore's Fairy Castle, a miniature palace filled with tiny treasures, is a showstopper.
Adler Planetarium
What makes the Adler standout is how it places astronomy in a historical perspective. Exhibits shine a light on how ancient cultures had the same thirst to understand their place in the universe as we do today. Don't miss the Grainger Sky Theater, boasting images eight times sharper than standard digital cinema.
The Field Museum
The Field is a natural history museum that is cavernous and comprehensive. 9 acres of floor space include highlights like Sue, the largest and best preserved Tyrannosaurus Rex fossil ever discovered. Inside Ancient Egypt includes a whooping 23 mummies. The Field is a must if you're traveling with curious kids.
Shedd Aquarium
Immerse yourself in a coastal environment of sea otters, seals, penguins, Beluga whales, dolphins and more at the world-class Shedd Aquarium. The 3-million-gallon saltwater Oceanarium is the largest indoor marine mammal habitat in the world. Interactive possibilities include opportunities to touch sea creatures such as stingrays. The Shedd's very entertaining dolphin show has a prominent animal conservation message.
Skydeck Chicago, Willis Tower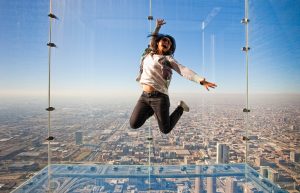 Chicago's urban landscape is crowded with skyscrapers and ascending to the top of one is a standard part of most vacation itineraries. Skydeck Chicago offers sweeping views and a fright-inducing step onto The Ledge, a glass box that extends a dizzying 4 feet outside of the 103rd floor.
360 Chicago
Ascend 1,000 feet to the 360 Chicago observation deck and be rewarded with an awesome view of Chicago's skyline. The brave will enjoy TILT, an enclosed platform that literally tilts you out over Michigan Avenue from the 94th floor.
CityPASS Is The Best Way To Save
Save 53% off admission to Chicago's must-see attractions plus skip the ticket line. The Chicago CityPASS ticket booklet costs $99.75 for adults (value $212) and $84.75 for kids 3-11.
Attractions included in CityPASS are the Shedd Aquarium, Skydeck Chicago and The Field Museum. In addition, pass holders may choose between admission to the Museum of Science and Industry and 360 CHICAGO as well as choose between admission to the Adler Planetarium or the Art Institute of Chicago. Booklets are valid for nine consecutive days, starting with the first day of use. Once activated, CityPASS booklets are valid for nine consecutive days, starting with the first day of use, so you won't need to rush from attraction to attraction. Purchase online at CityPASS.com or at any of the participating CityPASS attractions.

STAY
Loews Chicago Downtown Hotel sits along the Chicago River, offering easy access to Chicago's best attractions. The 400 guest rooms, many with awesome city views, are loaded with creature comforts and the public spaces include a lovely lap pool and a large fitness center.
The lobby's fireplace and video wall present a great space for a relaxing drink after a day of sightseeing. The onsite ETA Restaurant + Bar serves three meals daily with a locavore spin, so plan on eating in. Check the website for seasonal specials.

EAT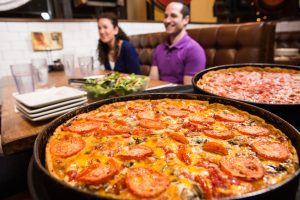 Chicago is famous for its deep-dish pizza. This is great news for budget-minded travelers, as few foods are more fortifying. Gino's East, Giordano's, Lou Malnati's and Uno's are hometown favorites that won't drain your wallet.
For additional trip planning information, go to www.ChooseChicago.com.
Photo credits: Clayton Hauck for Choose Chicago, Art Institute of Chicago, Skyjack Chicago, Loews Hotel, A. Alexander for Choose Chicago, 360 Chicago.