Welcome to the Angels Landing Trail.
In this blog post, we'll cover EVERYTHING you need to know to hike the Angel Landing trail.
This includes the directions, a downloadable map of the trail, statistics of the hike, and so much more!
Location of the Angels Landing Trail
First thing you NEED TO KNOW
Angels Landing Trail is located in Zion National Park Utah, USA.
You can DOWNLOAD THE MAP of the trail via AllTrails so you can use your phone to navigate!
The trailhead for Angels Landing is located at The Grotto picnic area in Zion's main canyon.
Fees: There is a $35 fee per vehicle to enter Zion National Park, valid for seven days. Additionally, a permit is required to hike Angels Landing, which costs $6 to apply and an additional $3 per person if the application is successful
Camping is available in Zion National Park at the South and Watchman Campgrounds. Reservations are recommended for Watchman Campground and can be made online. South Campground operates on a first-come, first-served basis. Camping overnight along the Angels Landing trail is not permitted
Trail Statistics
– Distance: 5.4 miles round-trip
– Elevation Gain: hikers will gain about 1,488 feet in elevation over the course of the hike
– Time to complete: 2-4 hours
– Difficulty: challenging due to its steep climbs and narrow pathways. It is not recommended for small children or those with a fear of heights
Hike Type: Angels Landing is an out-and-back trail.
– Dogs are not allowed on the Angels Landing trail for safety reasons
– Parking: Parking is available at the Zion National Park Visitor Center. From there, you can take the park's free shuttle bus to the – – Grotto trailhead. The shuttles run frequently throughout the day, but it can get quite busy during peak times, so it's recommended to arrive early.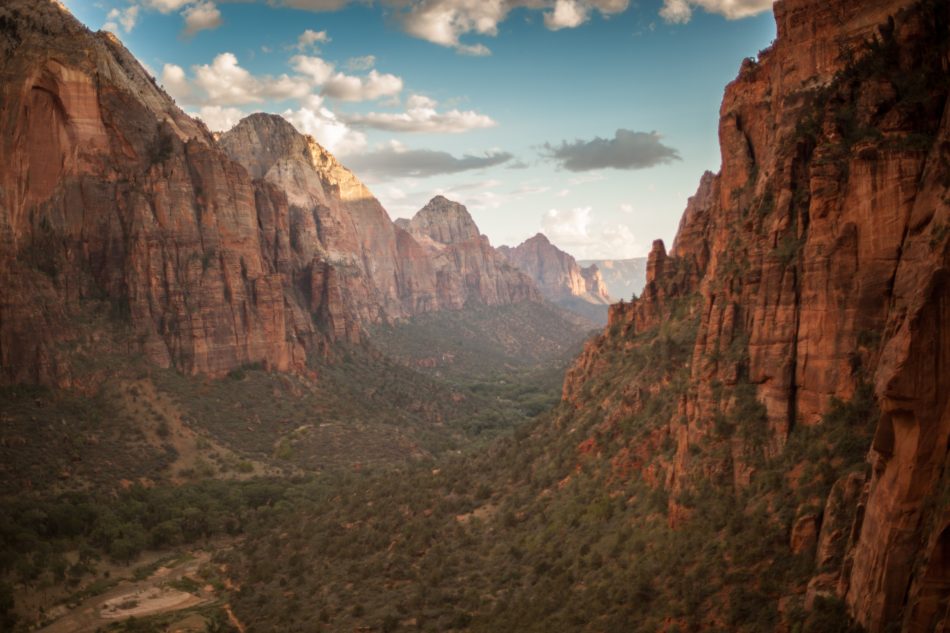 Permits
To hike Angels Landing in Zion National Park, Utah, you will need a permit. Here's how to obtain it:
– Application Fee: It costs $6 to apply for the permit. This fee covers an application for up to six people. It's important to note that this fee is not refundable.
– Permit Fee: If your application is successful and you're issued a permit, you'll automatically pay an additional $3 per person. This fee helps fund services provided by National Park Service rangers on the trail.
Where to Apply: You can apply for the permit on the National Park Service's website or on the recreation.gov website.
Lotteries: There are two different types of lotteries that you can enter when applying for your Angels Landing permit. The details of these lotteries can be found on the National Park Service's website.
Carrying the Permit: Once you have your permit, make sure to bring a copy of it with you to the park. If you're caught hiking the Angels Landing chain section without a permit, there could be penalties.
Let's get to the GOOD part now: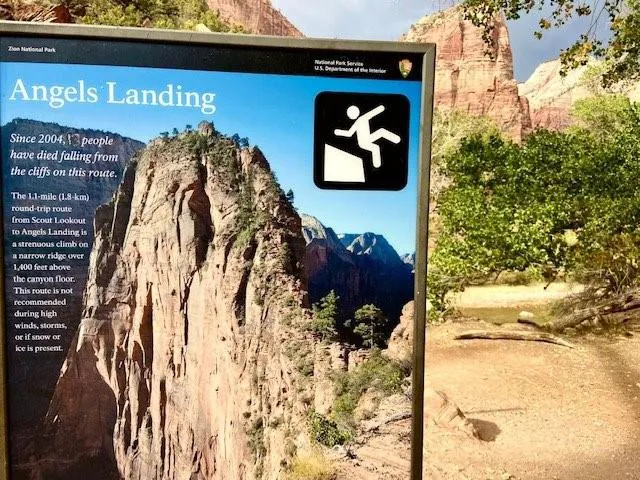 Features of the Angels Landing Trail
The Angels Landing Trail in Zion National Park has several unique features that make it a challenging and rewarding hike:
Strenuous Switchbacks: The trail is known for its strenuous switchbacks, which test the endurance of hikers.
Impressive Views: Throughout the hike, you'll be treated to impressive views of Zion National Park's unique landscape.
Steep Drop-offs: The final section of the trail, often referred to as "THE SPINE," features steep drop-offs of 800 to 1,000 feet on either side. This section can be quite challenging and should be approached with caution.
Chains for Support: Along some parts of the trail, especially the more challenging sections, there are chains anchored into the rock to provide support for hikers.
360-degree Views at the Summit: Once you reach the summit of Angels Landing, you'll be rewarded with stunning 360-degree views of Zion National Park.
Scout's Lookout: On the way to the summit, you'll pass Scout's Lookout, a notable feature on the trail that provides breathtaking views.
Best time to visit
The best time to visit the Angels Landing trail in Zion National Park is typically in Spring and Fall when the weather is more moderate. However, the trail can be accessed year-round
If you choose to hike during the summer, which is the hottest and most popular season for the park, it's recommended to start EARLY in the morning to avoid the heat and the crowds.
Regardless of when you visit, avoid hiking in the middle of the day when the trail is busiest. Also, keep in mind that a hiking permit is required.
Where To Stay
Luxury
LaFave is recognized as the top luxury lodging choice for visiting Zion National Park. It offers a high-quality guest experience and luxurious amenities.
Mid Budget
Cliffrose Springdale, part of the Curio Collection by Hilton, offers comfortable accommodations with beautiful views.
Budget
Montclair Inn & Suites offers affordable accommodations without compromising comfort and quality.
Restaurants
Are you also hungry after a long hike?
We got you COVERED!
Below is a list of restaurants near the Angels Landing Trail
Rawtopia Living Cuisine and Beyond: This restaurant offers an array of organic, gluten-free, and vegan options for health-conscious diners.
Zion Canyon Brew Pub: Known for its craft beers and hearty pub fare, this is a great place to relax after a day on the trails.
Spur Restaurant & Saloon: A popular eatery known for its contemporary Mexican and Southwestern cuisine.
Switchback Grille Steakhouse: Offers a variety of steak and seafood options.
Oscar's Cafe: Famous for its generous portions and a wide variety of menu options, including burgers, Mexican food, and breakfast items.
Nearby Attractions
If you have some time left after the Angel landing hike, visit the ATTRACTIONS below!
Hidden Canyon Trail: This is another adventurous hike in Zion National Park that offers stunning views.
Emerald Pool Trails: A series of short hikes to several small pools and waterfalls.
The Narrows: This unique hike takes you through a canyon that, in places, is only 20-30 feet wide and 2000 feet deep.
Zion Observation Point: Offers one of the most panoramic views of Zion National Park.
Zion's Main Canyon and Virgin River: These natural features are great for sightseeing and photography.
Court of the Patriarchs: A set of sandstone cliffs named after biblical figures.
St. George Dinosaur Discovery Site at Johnson Farm: A great place for families with kids interested in paleontology.
Rock Odysseys: Offers guided rock climbing and canyoneering adventures.
Canyon Trail Rides: Offers guided horseback tours of the park.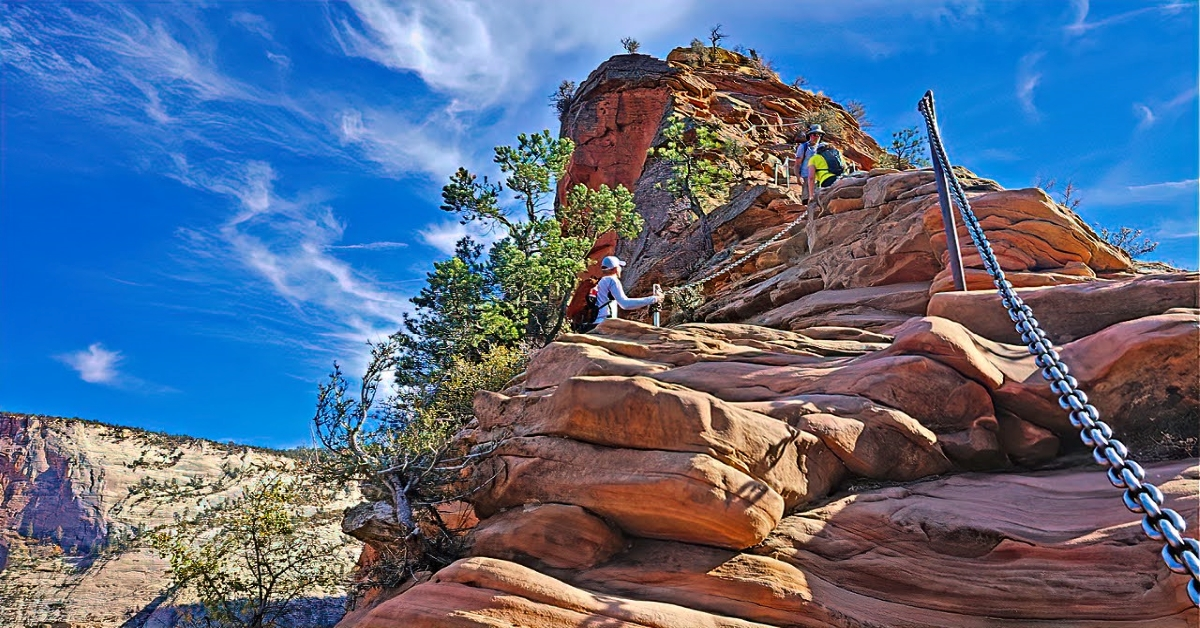 Final Tips and Tricks
With this list, we want to FULLY prepare you for the hike
– Pace Yourself: Don't rush. Take your time and take breaks when needed
– Turn Around If Needed: Don't be afraid to turn back if you feel uncomfortable with the heights or the crowds.
– Clothing: Wear thin layers to adjust to changing temperatures. Make sure to wear sturdy hiking shoes with good grip.
– Stay Hydrated: Bring plenty of water, especially during summer months when temperatures can soar. We recommend at least 2 liters per person.
– Have a hearty breakfast before the hike and bring snacks for energy.
– Travel Accessories: A small backpack can carry water, snacks, and wet wipes (which can be useful for cleaning hands or refreshing faces).
Be Patient and Respectful: Be diplomatic and patient with other hikers, especially in narrow areas. Allow others to pass when it's safe to do so.
Use Safety Measures: Use the chains for support and balance where provided, but do not shake them.
Conclusion
In conclusion, the Angels Landing Trail in Zion National Park is an AMAZING adventure offering stunning views and a memorable experience.
With options for dining nearby and numerous attractions to explore, it's a destination that promises a fulfilling day. However, it's essential to prepare adequately for the hike.
Start early to avoid the crowds, dress appropriately, stay hydrated, and always respect the trail and other hikers.
Whether you're a seasoned hiker or a beginner looking for a challenge, Angels Landing is a journey worth undertaking.
For more amazing hikes in the US, you should hike the Lower Calf Creek Falls in Utah or take a look at the Breckenridge Troll hike.