In my humble opinion, Dream Lake Trail is the best winter hike in the Rocky Mountain National Park. Granted, we've only done two winter hikes in this park, so our opinion may or may not have any value. But that's neither here nor there.
The fact of the matter is that this hike is unbelievable from start to finish. Sure, there are plenty of higher elevation hikes in the park, but in mid-January, those 14,000+ hikes might as well require a Sherpa and extreme mountaineering experience. We'll save those for the warmer months. When we planned our trip to the park, this was the one hike we knew we must do, and it exceeded all expectations.
The Bear Lake trailhead is easily reached via Bear Lake Road. We'd recommend getting there as early as possible. We started the hike around 7AM and the parking lot was mostly empty. When we returned to our car a few hours later, it was an absolute zoo and many people were "throwing in the towel" since they couldn't find a parking spot.
The round-trip hike is only 3.6 miles and the highest elevation on the trail is 10,090 ft. The total elevation gain is 616 ft. so it's not terribly steep.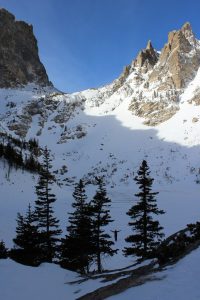 Bear Lake
The first thing you see before even getting on the trail is Bear Lake. It's a nice view but it's a lightweight compared to the other three lakes on the trail.
Nymph Lake
Everyone told us we wouldn't need snowshoes on the trail and that our ice stabilizers would do the job. For the first half mile before reaching Nymph Lake, the advice held true since the trail was so well packed. After this point, we wished we had snowshoes. It wasn't a big deal since the snow never got much deeper than our ankles, but if we hiked it again this time of year we would bring snowshoes.
Once we passed Nymph Lake, the trail started getting really scenic…
Dream Lake
After another 0.6 miles we arrived at the main attraction on the trail: Dream Lake  It's the picture on the front of 'all' lake postcards; the fact that there were a handful of very legitimate-looking photographers scattered across the lake was confirmation of this. The wind really started to pick up once we arrived at Dream Lake so we didn't stay here to long.
Emerald Lake is the last stop on the hike. While Dream Lake seems to get the most attention, Emerald is certainly no slouch. Like Dream, it was extremely windy.
One of the benefits of a hike that's scenic on the way up is that it's scenic on the way down. We took some time to hang out and take in the scenery on the descent…