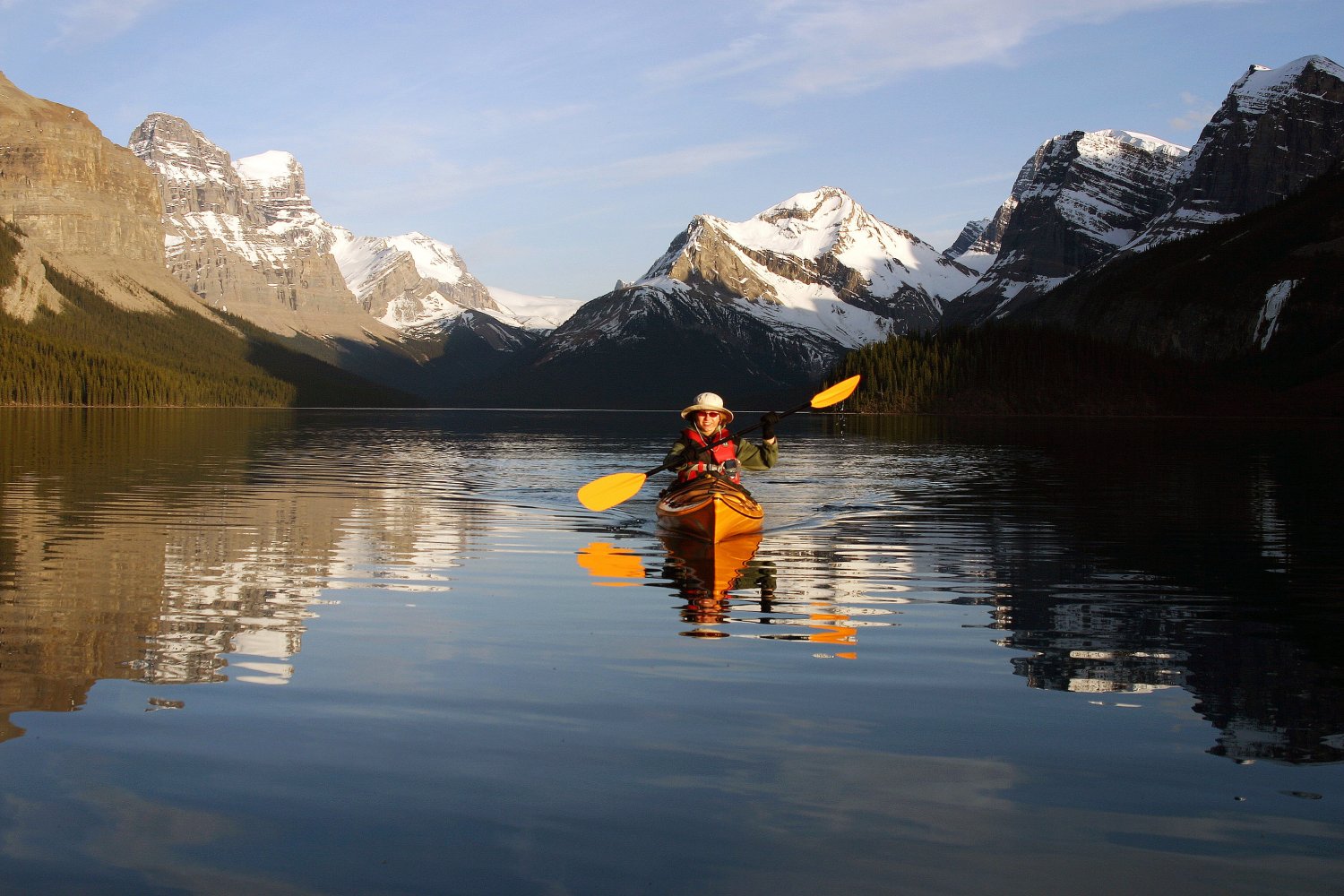 Packing up the van as we loaded up the children and luggage from our hotel in Edmonton, we embarked on the Jasper area of the Canadian Rockies adventure hoping to find snow-capped mountains, turquoise lakes, raging waterfalls and animals of the area. My daughter Muna and I were travelling with my eldest grandson Laith, Maria his wife and their two inquisitive sons, Bilal and Tamer. As we left the city anxious to visit Alberta's natural wonders in Jasper and Banff National Park discussing our itinerary, suddenly the voice of my 4-year-old great grandson broke through my thoughts. "When are we going to see the bison? You know, Jiddy (great-grandfather), they're my favourite animal. I've loved them all my life!" His 5-year-old brother Bilal interrupted the conversation with: " Wasn't that bison that we just passed?" My daughter laughed explaining, "Those were cows, not bison!" So much for city folk I thought to myself but for these precious little lads, I considered this only an honest mistake. "Don't worry, boys, we'll be seeing a lot of animals in the parks. By the end of our tour in a week's time, you'll be animal experts."
Continuing on our trip amid the towering mountains and forested foothills of Jasper National Park, we drove to Maligne Lake, the second largest glacier-fed lake in the world, stunning in its beauty.
Set in the imposing Maligne Valley, the lake, the largest in Jasper National Park, is surrounded by glacier-studded mountain peaks. The lake, which freezes in winter, boasts sparkling deep-blue waters and for beauty, has no equal in the region. Gazing at this postcard of scenic delight my daughter Muna mused, "It's a scene made by the hand of nature for the camera."
We stopped by the Maligne Lake Day Lodge & View Restaurant from where there is a fine vista of the lake and its surrounding white capped mountains – said to be the most famous view in the Canadian Rockies. Bilal and Tamer were more excited about the donuts and chocolate chip cookies that they were about to devour than the boat tour upon which they were soon to embark.
The docks edging the restaurant which is the best eating place on the shores of Maligne Lake, had a series of boats standing by, overflowing with customers. After enjoying lunch, like the 40,000 annual tourists who visit the lake, we joined in a 90-minute scenic boat cruise to Spirit Island. Muna, proud and loving great-aunt of these two precocious boys, urged them to go sit at the front of the boat. In response to Laith and Maria asking why, Muna winked and said, "They will have an experience that they won't forget".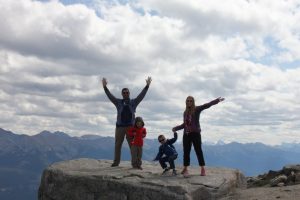 Known as the icon of the Canadian Rockies, Spirit Island, located on the southern end of the lake, is a small islet that is wrapped in legends and can only be reached by private boats or cruise vessels. The stop allows passengers to walk the island and stop at a viewpoint that offers a spectacular panorama of the lake and mountains.
Our guide seemed to love his job as he entertained us with his historic and geographical stories about the lake intertwined with anecdotes and jokes. The scenery around us was eye-bulging and I continued to be entranced with the aura of lake waters caressing the feet of the majestic mountains until we docked on Spirit Island for a short stroll.
With the departure from Spirit Island our exploration of Maligne Lake ended. We had come to see why within the Jasper area, there is no competition in the beauty of its setting. After our tour, the saying that 'once you have seen it, Maligne Lake will forever hold a place in your mind', was more than appropriate.
As we were heading back to shore, the captain of the boat turned to Bilal and Tamer and asked which one of them would like to steer it. Tamer, without hesitation, jumped up volunteering. Just as Muna predicted, sitting at the front was advantageous and Tamer nailed it. He steered for about 10 minutes with the captain by his side. Very happy with his accomplishment, Tamer excitedly told me that this was the best-ever trip he had made because this was the first time in his life that he commanded a boat.
Leaving the lake, we stopped by to watch an elk both feeding and gazing at us along the road. Apparently he had no fear of humans, especially tourists. "Wow, isn't' that Rudolph? Does Santa live here?" "No, boys", I explained, "Santa lives further north and only appears at Christmas". They seemed a little disappointed.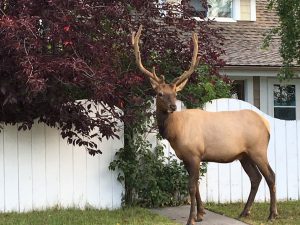 Registering in a hotel in the mountain-resort town of Jasper nestled in the bosom of the Rockies, a tourist town of 5,000 in winter and 10,000 in summer, Laith and Muna went in search of food for the evening meal. What they found instead, were two elk bucks strolling lazily along a sidewalk near the centre of town munching on tree leaves to their hearts' content as they moved along. Laith excitedly took scores of pictures while Muna sat back in fear that there may be an attack. Returning back to the hotel, Laith was thrilled to show his sons the pictures. Tamer, in his quest for bison, blurted out, "Were they bison?" After learning they weren't', he sat down uninterested in the elk encounter.
Leaving the town of Jasper behind with its well-kept buildings, cuddled by towering mountains, and an idyllic vacation spot, we made our way southward on Highway 93, known as the 'Icefields Parkway' and as one of the most scenic routes in the world, to stop at Athabasca Falls, the most powerful of the numerous falls in the Canadian Rockies. A place of wonder, we gazed at and listened to its roaring waters within a setting of white-tipped mountains and tree-filled valleys.
Back on the highway, a short distance away, the boys cried out "Look, there's animals!" Laith stopped our van and we all got out, gazing at herds of black and white mountain goats, munching on greenery by the side of the road. The boys stood in awe as they realized that part of the herd included families with mother, father, and children. Bilal took me tight by the hand and breathlessly said, "See! There's a father, mother, and two babies, just like me and Tamer". Maria quickly responded, "Yes, and the children eat all their food without their mother running after them". No comment, of course, from the two toddlers to their mom's remark.
We were still discussing our encounter with the goats when a flock of Canada geese suddenly appeared wobbling along the highway. Both boys piped up, "Oh look! Canada geese! They're so funny-looking. You know they go south in the winter. Do they need passports because they're Canadian?" Muna looked at the boys with pride as they already seemed to know the rules of travelling.
With the geese encounter we went back to our hotel to reminisce about Jasper and its scenic beauty and plan the next leg of our Canadian Rockies tour while in the background Tamer was repeating "I want to see bison!"
If You Go
Top Place to Stay In Jasper:
The Fairmont Jasper Park Lodge – the hotel, spreading along the curve of Lac Beauvert, a short distance from town, incorporates a golf course and combines the ultimate in luxury with tranquillity and natural beauty. A village unto itself, it consists of lavish log cabins and cedar chalets. 1 Old Lodge Road, Jasper, Alberta, Canada T0E 1E0. Tel: TOLL FREE: 1(866) 540-4454 or (780) 852-3301. Fax: (780) 852-5107. E-mail: jasperparklodge@fairmont.com
Website: www.fairmont.com/jasper
For Further Information, Contact:
Tourism Jasper, P.O. Box 568, Jasper, Alberta, Canada TOE 1EO. Tel: (780) 852-6236 Website: www.jasper.travel
By Habeeb Salloum and Muna Salloum, Top photo credit: Jasper-Tourism