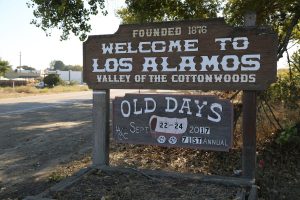 For our first field trip, we headed to Los Alamos, about an hour south of San Luis Obispo and an hour north of Santa Barbara. Rolling the dice for a sunny weekend with dry pavement after a solid week of gray rain, we scored with great weather on Sunday and a pleasant loop road ride through the hills east of town along Cat, Foxen, and Alisos Canyons.
But before the sunshine, the rain had a few more things to say. Gloomy Saturdays are made for wine tasting. Following up on some exceptional flavors from World of Pinot Noir, we stopped to visit with Paul Lato in Santa Maria and enjoyed tasting through several of his excellent wines. More about Paul and his wonderful wines in future but, needless to say, tasting these wines helped set our gastronomic expectations high for future flavors.
As we drove south to Los Alamos, we observed many shades of green covering the hills, fields, and vineyards as this rainy winter comes to a close. In what was predicted to be a dry winter, we've already experienced more than 150% of our annual rainfall, which is recorded from July to June: 150% in late March with a couple more months to go in the cycle. Crazy. Purple and yellow wildflowers paint the hills, accented by the blazing orange of California poppies. Springtime really wows with that young green color and short-lived wildflowers, although I also like the golden phases of summer and fall. The midwestern brain takes some time to adjust a rainy season followed by months of no rain. Unless experiencing a drought, the Midwest could experience rain any and all months of the year.
Los Alamos was a stagecoach stop and then a railroad station and now a pretty quiet place that hosts lots of cyclists, foodies, and others who appreciate the quiet and the peaceful beauty of the surrounding landscape and optimal weather. After checking in to the bike-friendly Skyview Motel perched on the knoll above town, we made our way to the Full of Life Flatbread Restaurant right around 5pm to ensure we secured a seat for that night's dinner. Full of Life Flatbread doesn't take reservations and is only open for dinner on the Friday and Saturday (5-9pm) and Sunday supper (4-8pm) so if you like to eat earlier in the evening, arrive early and get your name on the list.
The wood-fired oven radiated energy and warmth to help chase any chill one may have developed from the rainy weather. As pizzas were inserted and retrieved, cast iron pans warmed their contents at the entrance to the fiery oven. The miserable souls who opted to complete the Solvang Double Century ride on this very wet, cold Saturday could have warmed right up by standing for just a few moments before the open door. But there was no room for anyone in front of that roasting, crackling oven except the guy wielding various long-handled pizza peels in and out of the powerful heat.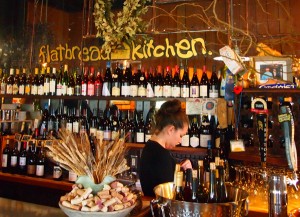 Unable (or unwilling?) to decide on one type from all the options
– Fire-Roasted Tomato Salsa Pizza: wood-roasted organic tomatoes with caramelized garlic, onions, jalapeño peppers, roasted organic corn and black beans, cheeses and fresh cilantro
– Local Chanterelle Flatbread with Nettles, Bacon & a Farm Egg: Joeb's locally foraged chanterelle mushrooms, Henry's cured + smoked pork belly bacon & stinging nettles
Outside, loving the rain much more than the double centurions, newly installed veggies and established herbs share space with a composting system and some prayer flags. It almost doesn't make sense for a Central Coast restaurant to *not* have their own garden patch. Why pay for greens that can be easily grown mere feet from the kitchen door?
_________________
Check out Ghost Town Farm and Farm City by Novella Carpenter for inspiration and directions for starting with a garden of any size. If a farm can happen in the most blighted of neighborhoods, it can happen in your backyard.
_________________
After dinner, we stopped at Bedford Winery: we had heard through the Skyview grapevine that they planned to celebrate their Tempranillo this evening with Spanish food and music. We couldn't eat another bite but somehow made room for some wine with winemaker Stephan Bedford and some of his team. Good times.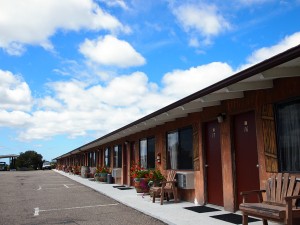 For sure, after all that great food and wine, we sincerely enjoyed driving a few short minutes to our lodging rather than driving with full bellies for a sleepy hour back home. The Skyview Motel provides convenient lodging for foodie cyclists who want to eat, ride, and sleep locally.
Bike Touring Santa Ynez
We did the Cat Canyon loop and were moving for three hours. It took us closer to four to complete the loop because we stopped frequently to take photos, taste some wine, and resolve mechanical difficulties.