Situated off the Caribbean Sea in the Yucatan Peninsula in Mexico, Cancun is a popular destination. It traces its roots back to the Mayan civilization and you can still find some of the sites at El Meco and El Rey. In fact, along the Riviera Maya and in the Yucatan interior, you will find many archaeological sites like Tulum and Coba. These are fascinating journeys into an almost forgotten life and time so get your cheap tickets to Cancun and go exploring! You could go on jet-ski jungle tours and excursions by boat, in the Nichupte Lagoon too. Here, you can snorkel and explore coral and fish or jet off through the mangroves for some spectacular sights.
Flights to Cancun bear special colors in February as the patriotic fervor of Mexicans hits fever pitch on Flag Day. This is a day all about Mexico. Locals and visitors wave the flag, eat traditional food, color their faces in the red, green and white and celebrate in traditional Mexican costumes. If you enjoy the food, make sure you are here for the Mexican Caribbean Food Festival that showcases the creations of the finest restaurants in the region. You will find specialty dishes, both local and international and you will enjoy every bite of it.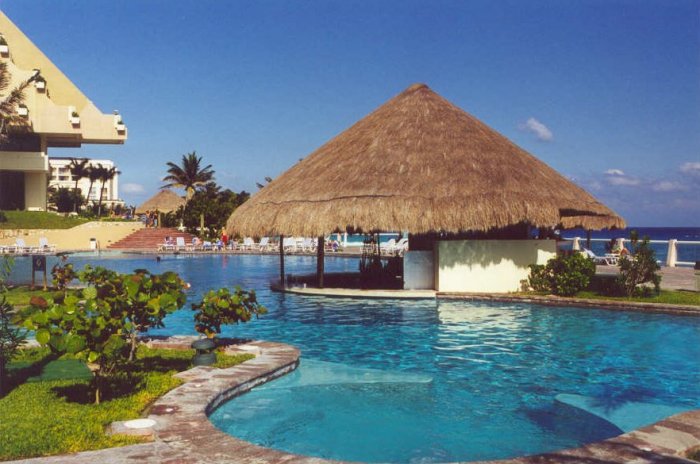 If you visit in mid August you will be right in the middle of the La Fiesta de Playa, a beach festival that has music concerts and competitions, food and other events. But nothing beats the energy of Viva Mexico, a festival specific to this particular place. Celebrated all through September, the event showcases dance, street entertainment, music, art and culture of Mexico.
The Cancun Latin Jazz Festival is an event on every music lover's map. This three day event focuses on jazz in all its glory – Flamenco, Cuban, traditional and contemporary, Afro-Latin beats.
If you like movies, you will love the Cancun International Film Festival, which shows both international and Latin American films. Considered to be a filmmaker's festival, this is five day event that brings some amazing talent together.
You can also catch some sights of a different kind with the Cancun Underwater Museum. Once you snorkel your way down, you can gaze with delight at the 400-life size sculptures! Staying with the water, you can even explore the underwater world of the largest underground cavern system in the world, a short distance from Cancun.
Once you arrive in Cancun continue your flying experience with some parasailing. You can literally get a bird's eye view of some spectacular vistas like the beaches and the jungles.
If you like parties on a larger scale, try a VIP Nightclub Tour – a six hour extravagant party at three of the best clubs the destination has to offer, Dady'O, The City, and Coco Bongo. Enjoy music, drinks and fun in a luxurious way.