Magical Maui. While Maui is a fairly small island (two peninsulas separated by a flat section) there is a rich diversity of attractions and activities to easily fill up a week. Maui is touristy yet Maui is not touristy – the contrasts between the different parts of the island are great. For those who enjoy the manufactured life on vacation including resorts, condos and or beach life with all the amenities and development should look immediately to the town of Kihei as a first choice with the more charming Lahaina as a second choice.
Those who enjoy the outdoors, rainforest and hiking should consider a trip to Hana and vicinity and make the drives around the two parts of the island. Mountain lovers craving some cold weather and elevation need look no further than the 10,000 foot Haleakala with its diverse climatic zones.
The main airport on the island is located in the city of Kahului which is one of the more developed spots on the island (home of Maui's only Walmart, Costco, Home Depot etc).
The easiest way to get around the island is to rent a car. The car rental companies available at the airport typically much more expensive then the smaller privately owned rental companies. If you do a bit of research you can easily save yourself money on car rentals. In addition, the private companies often are more flexible in their prices as well as drop off times. You also have more of a chance of finding a "local" looking car with the smaller rental companies rather than the ubiquitous same type of "tourists" cars that you see everywhere on the island. For reference, we used www.mauicarrentals.net

Swimming Beaches
The most scenic and popular swimming beaches (and sometimes the most crowded) are in the upscale Wailea as well as Makena areas.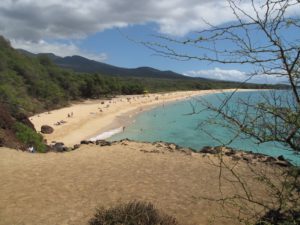 – Wailea Beach or simply, Big Beach is located near the town of Makena; this is an extremely popular beach due to its size, soft sand and blue green waters. It is popular with locals and tourists alike. As you face Big Beach – to the right over the rocks and small hill is a much smaller nude beach.
– Ulua – there are a series of small beaches in this area, all set in front of fancy resorts and private homes. There are several parking lots for accessing these beaches including for Ulua at the Marriott entrance. The sand is soft and fine in this area with beautiful emerald waters with decent (not spectacular snorkeling). This is a fairly small beach and parking is limited, on warm days the parking lot tends to fill up by 9:30 or 10am. There is lots of corral, sea life and some tropical fish under the fairly clear water. This beach tends to be popular with families with small children however some of the nearby beaches are just as nice but often less crowded. There are good outdoor showers and bathrooms here. Having a lawn nearby is a nice addition in case lying in sand is not your thing.

Hana

We spent the majority of our time in and around Hana on our most recent trip to Maui – as a result most of this article is about this area. Hana is located on the Eastern side of Maui. The "Drive to Hana" is popularized on t-shirts and is often discussed among tourists. This "drive" usually takes about 2.5 to 3 hours although it can certainly be done in a shorter time if there is little or no traffic. Many tourists make this drive out and back in one day and as a result the morning can see quite a bit of traffic out and in the afternoon much of this traffic returns. If you can swing it, leave for Hana in the afternoon. We highly recommend taking at least 2 nights and 2 days to drive a circle around this part of the island, especially if you are an outdoor enthusiast. Tourists facilities are not found along this very windy road – this is a remote part of Maui.
Many people either short on time or misinformed regarding the road conditions turn around at Hana. This is a major mistake as there are quite a few natural attractions to see beyond Hana. The entire Hana Highway from near Kailui to Hana and well to the south side of the Island is very windy, often one lane and narrow. Speeds are slow due to the type of road. There is a short section of road several miles past Kipahulu that is semi paved, semi gravel but easily accessible by car. Be sure to pull over when someone comes up behind you as locals often drive this road much faster than tourists.
Guidebooks usually mention that Hana does not have food. In our experience it is the contrary. There are 2 restaurants within Hana and a number of small roadside restaurants both in the town limits and nearby including three Thai roadside restaurants and several BBQ places. Locals also sell tropical fruit near Hana next to the side of the road. One of the best road side fruit vendors is the family owned and operated Ono Farms. Their road side stand is located in Hana but their actual farm is located in Kipahulu (5 minutes from the Oheao Gulch/7 Pools). With 50 acres planted, ONO has such a diversity of tropical fruit that during a recent visit in the middle of the "low fruit season" they still had many different types of fruit. They offer guided tours of their farm by reservation. For more information visit: www.onofarms.com
Charles Lindbergh is buried at the Palapalo Ho'omau Church Cemetery, in Kipahulu (about 10 miles from Hana). There is absolutely no marking for his grave – once you pass the church by the side of the road continue until you reach a small road on the ocean side with a sign that says, "Maui Stables". Turn here, and then soon make a left until you reach the church parking lot. As with the solitary life that often came with private pilots from this era (and certainly with Charles Lindbergh), his grave is alone in the field under a tree, completely separate from the other graves in the cemetery. This is a very tranquil spot, with the cemetery and small park located above the steep cliffs that drop down to the ocean.
Hana Lava Tube is located at Mile Marker 31, several miles north of the main part of Hana. Part of this extensive tube cave (estimated to run for 4 miles) is on the property of Chuck Thorne. He is open for self guided tours daily and he provides some of the best flashlights on the market. The actual tour is 4/10th of a mile along the gently sloping cavern floor, allow about 35 minutes. The inside is well signed. Also check out the living maze planted on top of the cave (made from Red Ti plants). Visit www.mauicave.com for more information.
Hamoa Beach is one of the nicer beaches in Hana. Its a fairly decent sized beach – it is popular with boarders, surfers and swimmers alike although if you are swimming be aware of any strong surf. A public non gender specific bathroom is on site.
Kahanu Garden is one of the few "National Tropical Botanical" gardens in the USA (all located in Hawaii other than one in Florida). This garden also has the world's largest concentration of breadfruit trees in one location. Self guided tours are available during the weekdays and guided tours are offered on the weekends. Visit: www.ntbg.org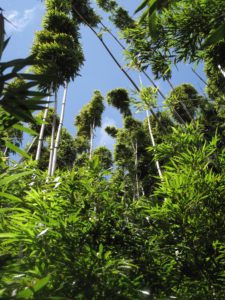 Kipahulu National Park (Oheo/7 Pools) is one of those "must visits" and is located about 10 miles past Hana. Enter through the ticket booth and park in the parking lot on the ocean side of the road. For those in shape who want to explore the jungle and see some amazing waterfalls take the 1.8 mile one way Pipiwai Trail through the Olheo Gulch. There are a number of pools and small waterfalls along parts of this hike which culminates at the beautiful 400 foot towering Waimoku waterfall. One of the additional highlights of a hike here is through the huge bamboo forest which makes for an otherworldly walk especially if its raining. This is one of the more extensive bamboo forests we have ever hiked through. Of note – one of Hawaii's last intact native rainforests is preserved (closed to the public) above the Waimoku Waterfall.
The 7 Pools are below the parking lot accessed from a short paved circular path. Swimming is possible here when there is enough water and conditions permit however be careful as sometimes the water rushes quite quickly.
A ticket here is good for three days and allows you to also visit Haleakala. For more information about Kipahulu visit www.nps.gov/hale/planyourvisit/kipahulu.htm
Laulima Farms is an organic farm located in the small rural outpost of Kipahulu about 10 miles south of Hana right on the main highway (about 1 mile past the Oheo Gulch National Park entrance). This is a fantastic find – everything is either freshly picked or freshly made. Their smoothies are a popular choice especially considering you can make them yourself just by pedaling a bicycle! The property has 13.5 planted acres and a plethora of tropical fruit trees from around the world are grown here. They have tropical fruit throughout the year with the most diversity of ripe fruit available in the months of June through November.
A true highlight of a stop here is their salad. Their small salad is so labeled but is actually quite large. Their large salad is enormous! When restaurants speak of fresh they would do well to look to Laulima Farms. When you order a salad they immediately go out to their gardens and pick the lettuce while you wait. They use a variety of interesting vegetables and even some unique flower petals. Combine this with their fantastic balsamic vinegar based dressing, rock salt and freshly ground pepper and you have an amazing dining experience.
A number of coffees and freshly baked items are also for sale. The owners Laulima also own the mainland based Cafe Gratitude.
Venice Pool is located on the outskirts of Hana just past mile marker 48 on the ocean side of the road. Parking is extremely limited to several dirt areas next to the road. If the river is not flowing much you can hike towards the ocean on the river bed, or there is a small dirt trail just above the river bed that leads to this pool. Venice Pool is an picturesque huge and extremely deep pool that is separated from the ocean by a sizeable gravel bar. The water in the pool is brackish (salty) as both fresh and salt water mix in this location. There are a number of jumping in spots, with the highest being about 35-40 feet up for the most adventurous and experienced pool jumpers.
Waianapanapa State Park is located near Hana close to mile marker 32. A visit here is free and includes several short hiking trails near the ocean. One highlight is a small pool that seasonally turns red from tiny shrimp. This pool makes a very refreshing dip – underwater alleys lead to several other cave pools. The beaches here are made of black sand surrounded by plants that throw a vivid shade of green, especially when the sun is shining. Look for the several small blowholes spouting. This is one of the few places in Maui that you can camp legally. Primitive cabins are also available.

Hana Eats
Bruddah Huts BBQ is the last food as you head out of town towards Kipahulu. This stand has been in business since the late 1990's and is family owned. They specialize in tasty BBQ chicken and steaks. Bruddah Huts is located right next to the main road in front of the owners home. Seating is available on site.
Hana Ranch Restaurant is the most popular dining spot in town. They are mostly known for their hamburgers. Table and bar seating is available. Very friendly hostesses.
Pranees Thai Food is located about 1/2 mile from the main road across from the Hana Ball Park in next to the entrance to Luana Spa ( www.luanaspa.com )- follow the signs. This is just a small food stand with plenty of covered seating serving excellent Thai food. Prawnee is Thai and she makes use of the tropical growing climate offering freshly prepared dishes often with local ingredients. Internet access in Hana is a premium and there is great wireless here!
The most upscale lunch or dinner is at the Ka'uiki Restaurant at the luxurious Hotel Hana in the center of town.

Hana Stays
Tradewinds Cottage – www.hanamauirentals.com

Haleakala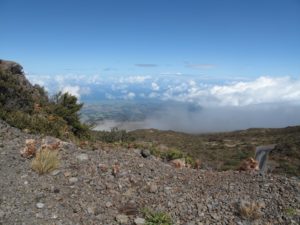 Haleakala is one of the tallest mountains in the world (when you consider the height from its base to its summit – as nearly 20,000 feet of this mountain is currently under the ocean). Its peak is 10,023 feet above sea level and a drive up this mountain quickly brings one from the tropical lowlands near the ocean to sub alpine and alpine terrain in a matter of an hour. In fact this is one of the quickest drives from sea level to this height anywhere in the world.
The alpine zone is unique in that it contains most of what's left of Maui's endemic plants and shrubs. Nearly all of what you see growing on Maui are introduced species, from the thick jungle and rainforest around Hana, the grasses and vegetation in the islands' drier zones, the eucalyptus groves, the sugarcane and all the tropical fruit trees.
A small structure with informative displays sits right on top of the true summit. Be sure to visit the ranger station for more information as well as often led short ranger hikes. Hosmer Grove (about 300 vertical feet below the summit off of the main highway is one of only several places you can legally camp on Maui. However you have to be prepared for winter like conditions and cold and need to have the necessary winter camping gear. Its not uncommon for it to freeze at and near the summit and sometimes even a bit of snow falls here. Several outfits offer guided bicycle descents from the summit and with much of the road having little shoulders you have to use caution on your way down.
The summit is a very popular place to watch the sun rise – this is a rather dry climate here and you are usually above the clouds. Visit: www.nps.gov/HALE/index.htm

Lahaina

Lahaina is a charming somewhat touristy town that unlike the touristy Kihei is anchored by a rich history. This is a great town if you like shopping, a number of very boutique stores including art galleries are located along Front Street as well as many restaurants. The Old Lahaina Courthouse is open to the public (admission free) and includes several historical exhibits upstairs. The museum looks out on the largest Banyan tree we have every seen. Yes this is one tree! Its branches and supports extend out amazing distances for 360 degrees in all directions.
The picturesque harbor is home to many boats available for hire for fishing or sightseeing trips.
Aloha Mixed Plate is a great place to have an inexpensive Hawaiian meal. This restaurant is located close to the beach and right next door to the Old Lahaina Luau which is held nightly and seating closest to the beach has the best partial view of this Luau. Aloha Mixed Plate is most known for their Hawaiian Plate lunch (also can be ordered at dinner). There is a great vibe and outdoor atmosphere to this restaurant. Visit: www.alohamixedplate.com
One of the three camping spots on the island is located about 6 miles south of Lahaina – Camp Olowalu. This is certainly one of the more affordable places to stay on Maui. Its a very clean tent camp with plenty of parking. Wireless Internet at the main office, running water, bathrooms, a washing machine and dryer and a shower are part of a stay here. This camp is located right next to the ocean. Cabins are also available as are kayaks (for rent). A number of International visitors seem to stay here – during a recent visit we met people from several countries. Visit: www.campolowalu.com
The drive around this part of the Island from Lahaina especially past the small town of Kapalua is extremely windy and narrow – in and around the village of Kahakuloa the road is only a single lane and for a mile or two there are parts of the road where you have to back up for some distance to let oncoming cards through.
The Nakalele Blowhole is well worth the hike if there is strong wave and surf action. This is a major blowhole that really delivers the spray and noise when the waves surge in. It is about a 20 minute hike to the blowhole part of which is over very rocky lava. You can stop at the main dirt parking lot near mile marker 38 and look out to the coastline to gauge the power of the waves.

Iao Valley State Park
This park is one of the closest most visited natural attractions near the airport and the town of Kahului. The Iao Needle is the highlight of a visit here. It is a natural sharp spired mountain that rises over 2200 feet. With the forested slopes this is a very scenic area. An easy paved circular trail leads from and back to the parking lot. Clouds tend to cover these slopes so visiting in the morning is recommended. Note there are sometimes fruit stands on the side of the road leading to the park.

Shave Ice
The best Shave Ice we found on the island was Ululani's in the small traditional rural village of Kahakuloa (quite a drive from Lahaina. Ululani, the owner is the wife of Richard Ho'opi'i a 2x Emmy award winning musician. If you don't make this drive you are in luck as they have a second branch in Lahaina. The shave ice in Kahakuloa is quite a treat. This is how shave ice should be – the ice is so finely shaved that its like eating cotton candy. Contrast this with the crap the truck vendors serve tourists. Ululanis in Kahakuloa is located just before the main part of this village, right next to the side of the road. Look for their pink building – a table is located across the street for sit down.
Da Local Boy Snack Shop in Kihei offers a plethora of Shave Ice flavors and three huge different sized shave ice options. They are very generous with the flavoring and will put ice cream at the bottom if you like. They are located in Kihei right next to the main highway

Wine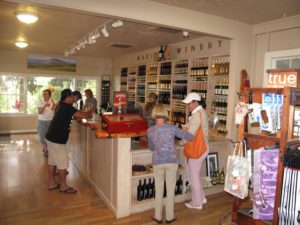 Tedeschi Vineyards (Maui Winery) – yes there is one winery on Maui and it was started by Napa vintner Emil Tedeschi in 1974. This winery is on the tour van circuit and can get very crowded at times. Sometimes the busier the winery the less hospitable the pourers are – we found that was the case at this winery and they basically pushed us out of the way to make way for more people. The tasting room is in a historic building that dates back to 1874. Their specialty is pineapple wine and their best seller is the Maui Splash!, a sweet combination of Pineapple and Passion fruit. With reasonable pricing and sweet flavors their wines move out the door at a rapid rate. Tours are given of the winery and spacious grounds at select times throughout the day.
They also produce grape wines including a Chardonnay completely imported from California vineyards and a red wine blend using both grapes grown near the property as well as from California vineyards. The Ulupalakua Ranch Store across the street is a great place to stop in for souvenirs and other snacks. Tedeschi Vineyards is the last "civilization" stop before heading East through the remote south part of the island. Visit: www.mauiwine.com

More Information
www.gohawaii.com/maui – Hawaii's visitors bureau, Maui
www.visitlahaina.com – Lahaina's visitors bureau
Thanks to Kenneth McNickle for his help and advice regarding Hana and local attractions. He is also helping out the local schools in Hana.