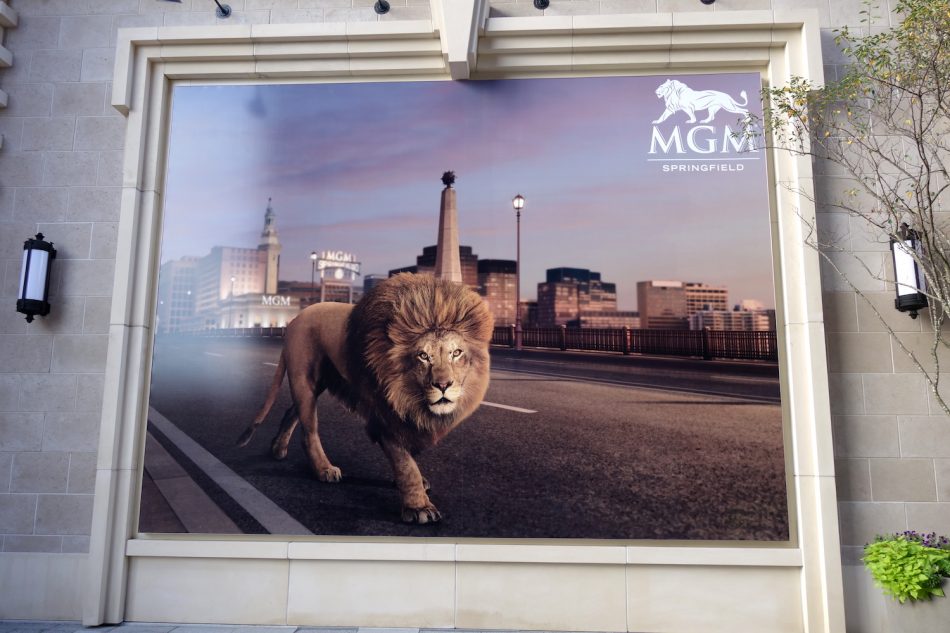 Ahh, NOW I see why those Old Fashioneds were appearing on our table like multiplying rabbits. Those canny mixmasters at the MGM Springfield's Commonwealth bar were thinking if I had a snootful, I'd likely order their $25,000 "Indian Sidecar" drink, which is made with a 1901 Croizet cognac. Oh, I guess I should mention: if you do buy the drink, it also comes with a new Indian motorcycle.
Why a 1901 cognac and why an Indian bike to go along with it? There's an MGM method to this madness: Springfield was the home of the Indian motorcycle company, founded in 1901. And that nod to the past is just one of a zillion tributes to Springfield's rich history that have been cleverly and artistically woven into the MGM's newest property. Spend any time in the hotel's bars, restaurants, casino—why, even see MA local Emily Dickinson's quotes on the guestroom hallway carpets—and you'll appreciate how the resort has incorporated intriguing artifacts and historical lore into the property.
Speaking about "woven" into the territory, MGM has been fastidious in their placement and expression of the resort. Springfield is the first MGM property that's been built in the heart of a downtown, and rather than having grounds of extraordinary scope and scale, like some of the MGMs, this one is intimate, with just 250 guestrooms. The concept was to integrate the resort into a community on the upswing from an economic downturn and a rare tornado in 2011 which ravaged the area, all the while paying homage to Springfield's colorful industrial past.
During my media-trip stay at Springfield, I drank in a stirring sample of what the MGM has to offer its guests, as well as digested its strong community connections. One of those samples was a round of rum-banana malts at Kringle Emporium, which is a luxury candle shop with an au courant café. That seemed unusual enough (and was a commercial pairing I wouldn't have envisioned), but the story is further enlivened by the fact that the original building was a lovely old church that the MGM moved 500 feet, so that the casino could make its home without any angels frowning.
Dr. Seuss Still Walks the Ceiling
Between Kringle and the main resort building is the Springfield State Armory, a handsome towered structure from 1895 that will be transformed into an events center and comedy club, which is much funnier than armaments manufacture. That plaza area is also host to free concerts, outdoor yoga, ice skating, a handsome park and several businesses connected to the MGM, such as the Indian motorcycle shop, not far from the fabulous mural of the company logo newly painted on the back of the Armory. The complex has 13 street-side entrances that invite its easy downtown access.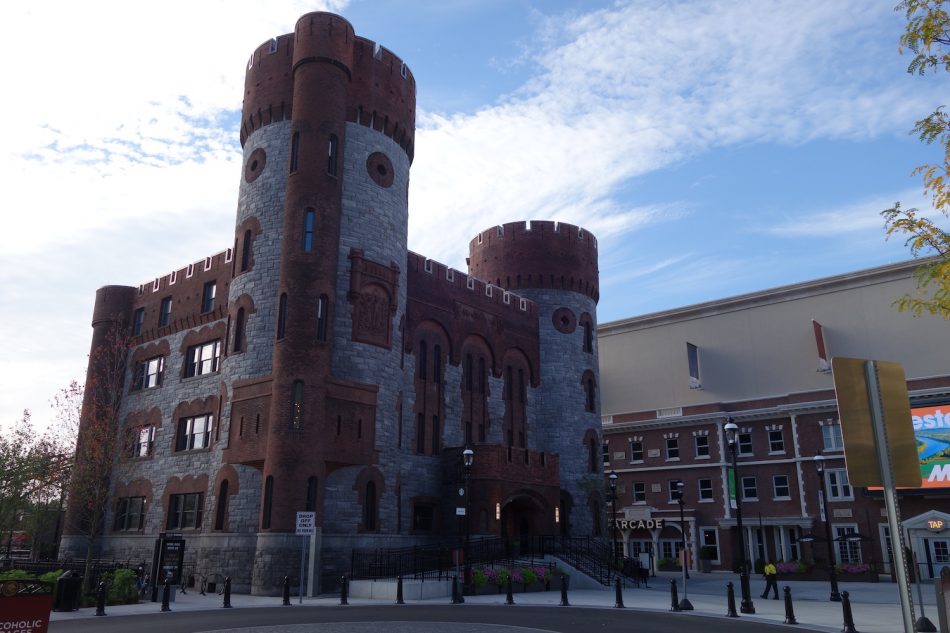 One of the community connections is the preservation of floorboards from Theodore Geisel's—(Dr. Seuss's)—boyhood home, which was demolished by its new owner (a doctor, no less) years back. The MGM managed to get some of those boards, and incorporated them into the ceiling of one of its venues. Those past-meets-present touches are everywhere: there are pressure gauges from old Rolls Royces (another Springfield manufacturer), a wall-display old bank vault front from a local bank, beautiful old books everywhere in the lobby, brickwork to mimic the city's industrial buildings, and antiques of all kinds throughout, many placed in consultation with historians. Improve your vocabulary at the stands holding large unabridged dictionaries: Merriam-Webster was founded in Springfield.
By the way, the Lobby Bar has some lovely antiquities, but the drinks are quite modern. Ashley the bartender masterfully concocted up all 13 (!) of the bar's signature drinks to our crew, which was both a mixologist's theatrical showcase and a thirst slaker.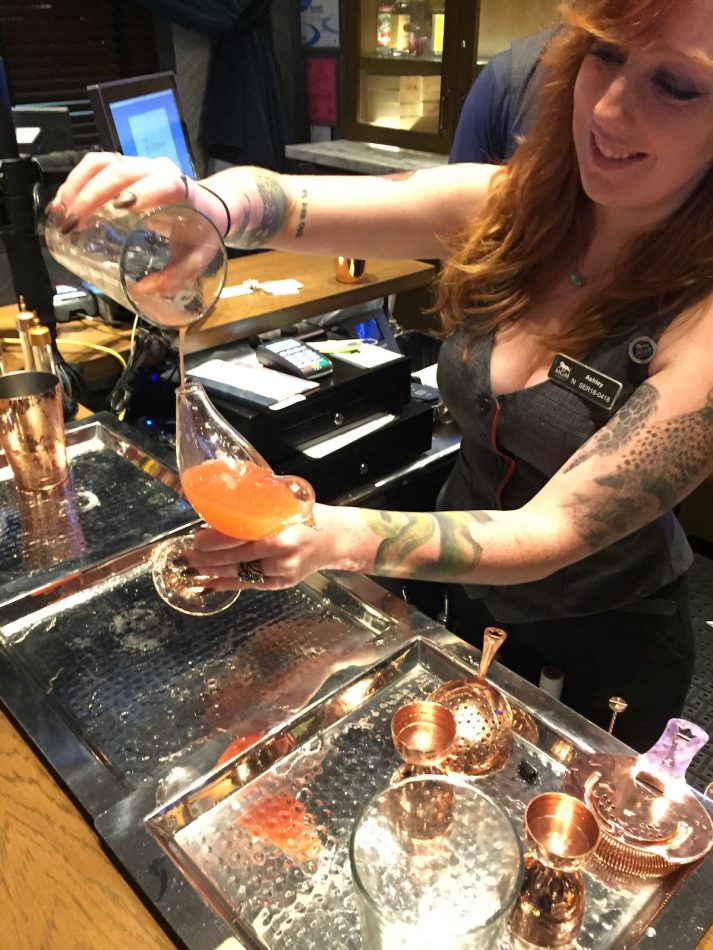 Full Baskets and Full Plates
Speaking of history, the Naismith Memorial Basketball Hall of Fame is minutes away, and that's fitting, because Dr. James Naismith invented basketball (using peach-picking baskets, of all things) in this very Springfield in 1891. The Hall tour is excellent, reflecting not just the NBA but collegiate-level hoops, women's ball, prominent coaches and more. There are excellent individual displays on the greats, but best of all is that I got to shoot some hoops on the full court. (Yeah, it took me a while, but I did drop a three-pointer.) Oh, and that funny Seuss guy? He's got his own museum, again, quite close to the MGM grounds.
You're sure to work up an appetite viewing all this history, but the MGM has you covered. Michael Mina has made a name for himself opening some delectable restaurants out on the west coast, and his Springfield expression, Cal Mare, is just as savory. Right from the outset, from the amuse bouche that seemed like a caviar-topped elegant donut, to the perfectly seasoned branzino, to the truffle pizza (mmm, truffle pizza) to the pork chop, all full yesses on the yes scale. And don't forget the wine, because they have a lot and many of that lot are select.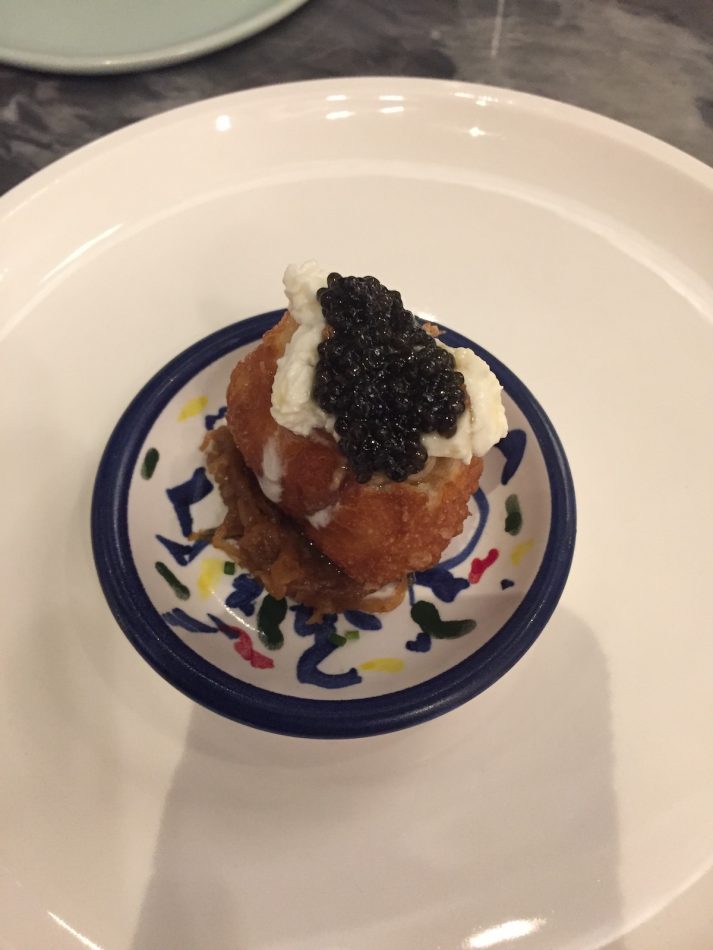 And because celebrity chefs shouldn't work without a little competition, Meghan Gill, winner of a Hell's Kitchen season also graces the MGM with her silver spatula at Chandler Steak House. The kitchen is fully opened to the dining crowd, and it was fun to see the hands-on (well, with thermal gloves) work with the hot meat, faithfully checking prime cuts with thermometers and tender care.
They do believe in ceremony at the Chandler: one of our servers artistically collaged a giant Caesar salad for us tableside, but that took second place to the Manhattan they brought me, served in a swinging-door glass case, releasing boozy smoke when the doors were swung wide. The fact that the drink is served in a sort of Sherlock Holmes glass calabash pipe didn't hurt either. From appetizers to dessert, my compliments. Speaking of dessert—which isn't nearly as fun as eating it—their butterscotch salted-caramel budino: it's the Mt. Olympus of goodness.
Don't miss the South End Market food court area either: great old signage and exposed pipes and ducts invokes the old Springfield factories in an area with many dining choices, including a wine bar and gelato/espresso shop. Bill's Diner's pancakes did it for me.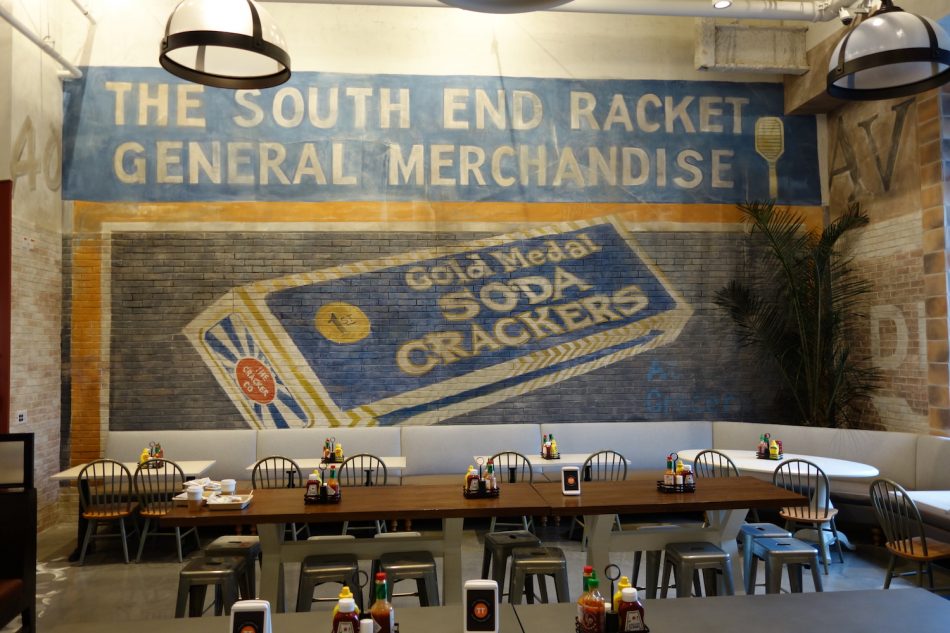 From Food Court to Fun Court
But you can't just gorge to the eyeballs all day and say you had a good time, can you? The MGM has put in some entertainments that will make you move to get your groove. Besides tapping video poker screens to dazzling winnings or theatrically sweeping open your ace and queen at the blackjack tables, you can literally do some sporty moving. Check out the 10 full-size bowling lanes at TAP Arcade, which though I hadn't bowled in years, were great fun. The building was modeled after Springfield's 1907 YWCA, and has lots of sports memorabilia. If you happen to experience a gutter ball or two, encouraging video screens tell you that you "just missed it!"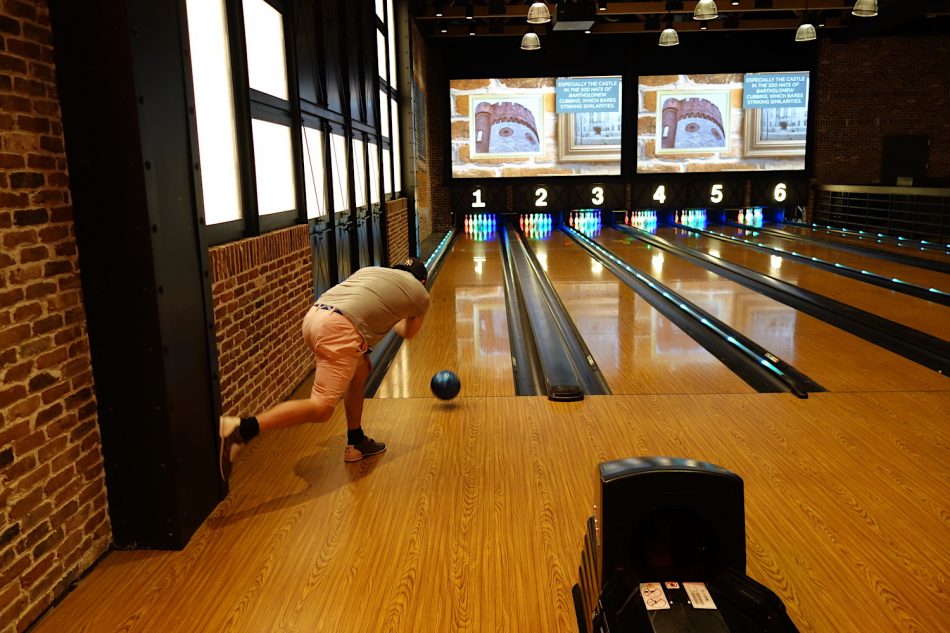 I rolled a strike on the buttery-good lobster roll I had there. Our press crew moved on just a bit later to play TopGolf, where you use actual clubs and balls to swat at a giant screen depicting a virtual golf course. The screen registers how far and at what angle you've struck the ball, so get out your putter when you're on the green. Other games, like Zombie Dodgeball, are available too. Speaking of screens, the resort also hosts a full-sized movie theater with an added civility: a bar.
Lucky for me I was able to make a spa visit in between all of this fevered exertion. A genial woman named Geneva took my stiff neck and made it useful for holding up my head again.
That takes me circling back to that last night at the Commonwealth. As we moved into the wee hours, the DJ continued to break out old chestnuts like "Brick House," which sent a team of about 10 women to serious booty-shaking in the dance area. The raft of Old-Fashioneds had fundamentally immobilized my legs, but I still toasted their efforts. Toasted myself, I contentedly wobbled off to my comfy King Suite, and fell into wonderland.
The MGM Springfield has taken the best of the old, and made it new again. Next time I'll have one less Old-Fashioned and one more pancake.