For me, the best part of traveling has to be the delight of surprise, finding unexpected pleasures in places you thought you had a handle on, even if you haven't been there before.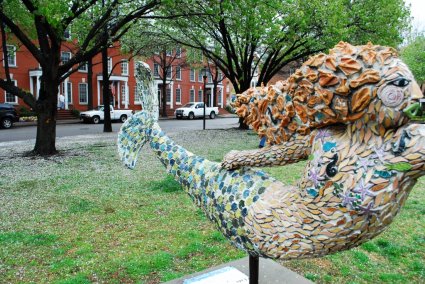 Norfolk, Virginia, provided that in a great, grand way on a recent trip I took there, as I found it a place with scenes of the culinary, arts and sports stripe.
I'd gone thinking, perhaps as a stereotypically snooty Northerner, "Well, old, southern mid-Atlantic city, so what?" and came away realizing "Wow, old, southern mid-Atlantic city with a helluva lot to offer." Who knew I'd hit one of the mid-Atlantic's best-kept secrets – at least to us snooty Northerners anyway.
One great way to explore the city's culinary scene is on a Coastal Food Tours jaunt (www.coastalfoodtours.com),where for $55 per person, you walk roughly three miles over as many hours and sample food at five exquisite restaurants. Be warned: Eat lightly throughout because by stop three, I was nearly stuffed to the bursting point.
Coastal just started up in Norfolk (they're also in DC, Baltimore, Alexandria, Cleveland and Indianapolis), with well-informed guides telling us of the history of Norfolk, and infusion of new chefs who have created an eclectic culinary flavor in this port city. Freemason Abbey (www.freemasonabbey.com/) was first up, an historic church turned eatery, a place of stone, brick, wood and stained glass where we had the award-winning she-crab soup dusted with cayenne pepper and cooled down with Black IPA, a crisp ale from the newly opened O'Connor Brewing Co. in Norfolk.
Next we hit Omar's Carriage House www.omarscarriagehouse.com, sampling a couple of filling Moroccan dishes, one being chicken bastilla, tender chunks of long-cooked chicken in a pastry filled with nutmeg, cinnamon, sugar and raison.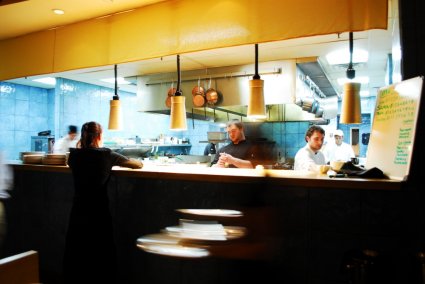 Already full, we trundled off to Todd Jurich's Bistro www.toddjurichsbistro.com in an office building across from the historic USS Wisconsin, upscale all the way and winner of many awards, including the James Beard. Here we sampled duck confit and mushroom Garganelli and phenomenal mozzarella cabrese salad. The bar is cozy and intimate, hosting regular wine tastings.
Not on the tour but worth taking in on your own is The Green Onion in the Ghent section of town, near the art house NARO Cinema (www.narocinema.com), built in 1936, home of movies, shows and $3 popcorn. Green Onion serves killer lunches, reasonably priced and mostly local.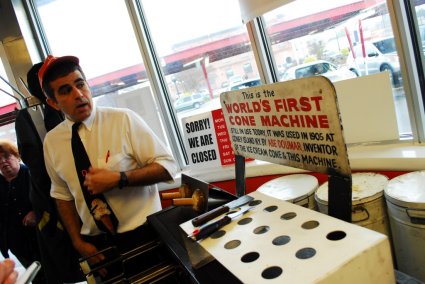 A Norfolk legend is Doumar's (www.doumars.com/), an orange-and-white restaurant that is low key, fun and winner of the James Beard Foundation Award. Owner Thad Doumar's uncle, Abe Doumar, invented the ice cream cone in 1903 and here you'll find the original machine that made them – and still does. Tons of photos dot the old walls, including one of Gen. Douglas MacArthur's funeral procession going by Doumar's in 1964. The fabled military man is buried in Norfolk.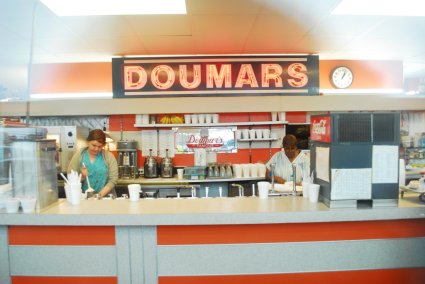 After dinner, I wandered over to catch a Norfolk Admirals hockey game (www.norfolkadmirals.com), the American Hockey League affiliate of the NHL's Tampa Bay Lightning. A pro hockey game for $12 is not a bad way to end an evening.
The art scene in Norfolk is sublime; one night I took in "Leaving Iowa," a compelling comedy-drama at the Tidewater Community College Roper Performing Arts Center (www.tcc.edu/roper), a wonderfully impassioned play about growing up and looking back.
Also not to be missed is a visit to the historic Attucks Theatre, built in 1919 as a place for blacks to be entertained as they were barred from all-white venues. Named after Crispus Attucks, a black who was the first man killed in The Boston Massacre in 1770, the theater has seen the likes of performers BB King, Louis Armstrong, Duke Ellington and Ruth Brown.
Also check out the Chrysler Museum of Art (www.chrysler.org) housing one of the greatest Tiffany glass collections in America, and where shows have included works by Rembrandt, Normal Rockwell, Andy Warhol and many others.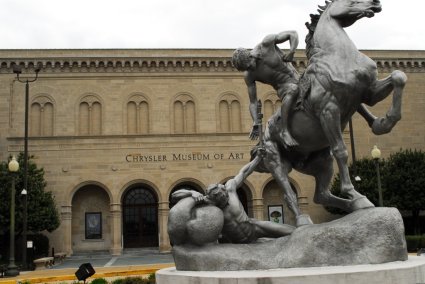 For a most fun way to see the sites, take a $95 tour for on a Segway, those impossible-to-tip-over two-wheeled modes of transport created by New Hampshire inventor Dean Kamen. Segway of Hampton Roads owner/guide Mark Landers is the man to get to wheel you around the city, proudly showing off historic sites, river landmarks and of course, more great places to eat. Check out the entire Norfolk scene at Visit Norfolk Today (www.visitnorfolktoday.com ).
Go to Norfolk with pre-conceived notions and you won't leave the same way. And you certainly won't be hungry.