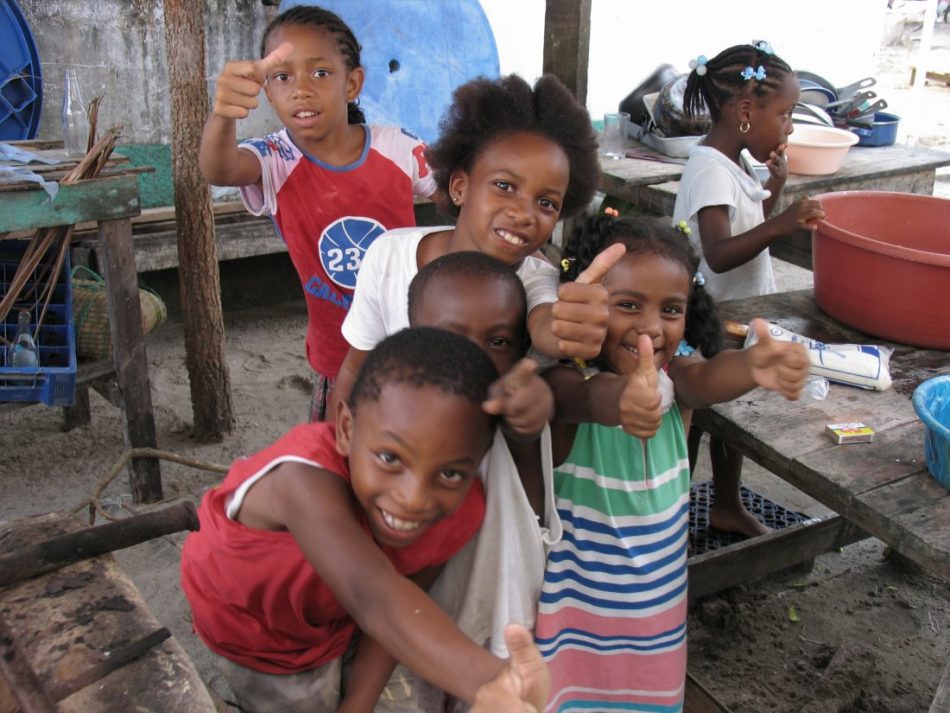 We cannot do everything and there is a sense of liberation in realizing that. This enables us to do something, and to do it well. It may be incomplete, but it is a beginning, a step along the way, an opportunity for God's grace to enter and do the rest.
~ Oscar Romero
Pollo Campero
Jackie, Trout, Molly, and I were on our way back from spending the week in Honduras and were physically and emotionally exhausted from our trip. We had been traveling by bus all day – almost twelve hours, and were tired, sweaty, grumpy, and hungry. But there was hope in sight: we were minutes away from the El Salvador border at El Poy: soon, we would be home. We hopped off the bus to show the border patrol our passports, and I noticed that the sky was beginning to turn that ashy gray color that signifies the near approach of dusk. "Hey guys," I said nervously, "It is going to get dark pretty soon." The other girls nodded, glancing at the sky, and we hurried through the border into El Salvador.
Back in our home country in Central America, I felt such a relief, all those hours of traveling, of sitting cramped next to smelly strangers, of eating nothing but crackers, was worth it. Jackie and I skipped down the street in El Poy, confident as to where we were going for the first time all week. We were going to the bus stop that had dropped us off last Saturday, and we were going home.
We sat down on the curb and slung off our backpacks, glad to be free of our heavy burdens. Looking around, I tapped Jackie on the shoulder, "Why is no one else around?" Jackie swung her head in all directions, "You're right!" "What if the bus isn't running?" Trout chimed in, to which Molly responded, "Oh my gosh, I didn't even think about that." My stomach sank. The sky was growing duskier by the minute and we were waiting alone at a bus stop at the border of Honduras and El Salvador. "Kevin and Trena would kill us right now!" Jackie said. We all laughed.
Always the proactive one, Jackie set off to find out the bus schedule. I went with her, praying with all of my might, God please let us get home tonight. I desperately imagined snuggling in my top bunk bed in Casa Silvia underneath my Salvadoran rainbow blanket; I wanted to be home. Because the closest town to El Poy (La Palma) is a 40-minute drive away, we would have to pay a taxi to take us there and then pay for some kind of food and lodging to tide us over until the next morning's bus. Thus, Trout and Molly went to work rifling through our backpacks, pulling out smelly sweatshirts gray with grime and sorting through our wallets, counting how much money we had in total. I trotted along after Jackie.
I squinted down the street and saw Jackie chatting with what looked like a family in the back of a red Toyota pick-up truck. I came closer and saw the family consisted of a father and mother, their two daughters and one of their daughter's boyfriends, and their uncle. The daughters, named Enma and Hilda, were strikingly beautiful with big dark eyes rimmed by long eyelashes and pink soft lips that spread in welcoming smiles. They had been in Honduras all day to put flowers on their grandfather's grave for Day of the Dead and were headed home to Aguilares, a good two to three-hour drive away from El Poy. Jackie asked if they knew how late the buses ran, to which the girls shook their heads solemnly and told us they had already stopped. "Oh no," I whispered to Jackie. "I guess we are going to have to spend the night in La Palma." Just then, Trout and Molly came running up. "We don't have enough money to spend the night," Trout told us. "What if we get a taxi home and just pay him when we are at the house and have our wallets?" Molly suggested. We all agreed that that was our best option, as expensive as we knew it would be. Jackie explained our situation to the family, and the father pulled out his cell phone and told us he would call a cab. We looked at each other in disbelief. We don't even know these people, I thought to myself. Not knowing how else we would catch a cab, however, we simply allowed ourselves to be the recipients of his generosity. "Thank you so much!", we exclaimed, and the family laughed at our broken Spanish.
The father returned from making the call and told us a taxi would arrive in 40 minutes. "Again, thank you so much," I told the father. Then I noticed the sky. It was quickly getting dark, and I had assumed he would want to drive in whatever light he could. I asked the mother why they had not left yet, to which she replied, "We are going to wait with you until your taxi comes." I shook my head forcefully. "The taxi is not going to come for another 40 minutes," I told her. "You have been traveling all day. You are tired and hungry. We will be fine." Jackie chimed in, "We will be safe. We will go sit in front of that lighted store. Thank you for all your help." The mother didn't budge; she remained standing, solidly resting against the side of the truck, her arms crossed defiantly across her waist. I began to feel panicky, I had nothing to offer these people, no food, no water, no money, yet here they were, offering to spend part of their life with us, with complete strangers, because they wanted to make sure we would be safe. I went to reason with the uncle. "Seriously," I told him, "You should all go. Thank you for offering to wait, but I know you must want to go home. I feel pena that you are waiting here with us." He smiled. "It is not safe for four girls to be sitting alone at night. Do not feel shame. We have nowhere to go tonight. Besides, people in the United States have helped out our family members there when they needed help. That is why we help you. Just remember this when you go home. "I nodded dejectedly, trying to quickly think of some way I could repay this family for their kindness. Although I felt somewhat touched by his message, I did not try to understand what he was telling me. His response frustrated me. I wanted him to tell me something that I could do for them, some way that I could repay them for their kindness. Mostly, I wanted the family to leave so that I didn't feel beholden to them, so that I didn't have this sickening twisty feeling in my stomach. Jackie handed me her last $10 bill, and I walked over to the father who was standing alone. "Thank you so much for waiting with us," I told him, "Here is a little bit of money to help pay for gas on the way home. It's not much." He looked at it and frowned, "No." "Please take it," I whined, "We have nothing else to give you." He kept his arms crossed against his chest stubbornly. I handed the bill to him and left, feeling like I had paid him back.
I returned to find the rest of the group sitting in the back of the pick-up truck, chatting. I joined them and found they had been discussing their favorite Salvadoran foods: Molly's Chikys, Trout's tortillas and avocado, Enma's sopa de gallina. "Ooh, you know a restaurant I love here?" Trout asked us mysteriously, to which she answered her own question, "Pollo Campero! It's bien rico." The girls laughed together, gently sloping their heads toward each other as only sisters can. Then we started shouting out our favorite Salvadoran songs ("Casa Abierta!" "Ojala!" "Sombrero Azul!"), to which the uncle responded with his favorite American songs. He leaned toward Trout and told her he loved the song "Hotel California," so we started to sing it for him in our shaky and off-key sopranos. When he asked us to sing it translated into Spanish, we tried to as best we could but it ended up being something embarrassing like, Bienvenidos al Hotel Californiaaaaaaaaa. Que lugar bonito, que cara bonita. Hay bastante espacio en el Hotel California; cualquier mes del alto, estamos aqui.
Together, we sat in the back of the truck and watched the sun set. I loved the bright pinks and oranges of the sky, the way the sun slipped behind the densely forested Honduran mountains, how the sun's last rays reflected silver along the edges of the clouds but I loved even more the feeling of welcome I had received from this family. The cold metal from the truck jutted painfully into my back, but I didn't care; we were all sitting in the same rusty truck on the same cold metal. We were all uncomfortable; I could tell by the way Molly kept scooting backward and forward as if to relieve the pressure on her butt and because Enma's boyfriend eventually chose to stand up. Time passed and the cab still didn't come. Again, I told the mother they should leave; again, she told me no. When the stars came out, we gazed at the falling stars together, learning and teaching new words to each other. We all shouted in glee when Trout saw her first falling star that night. "Es una estrella cayendo!" I said lamely, to which the sisters looked puzzled then giggled in affirmation.
The cab still had not come and more than an hour had passed, so the father called the cab service again. "He is almost here," the father reported. I thanked him and picked up the $10 bill that I noticed was dejectedly laying in the dust near his feet. "This fell," I told him, pushing it back into his hand. "It's not mine. It's yours," he told me, shaking his head. I sighed. I could not give him my money to thank him. Instead, I just gave him a hug. "Thank you so much," I said.
Then, out of the corner of my eye, I spied Enma and Hilda walking up to the truck, paper bags and boxes in hand emblazoned with "Pollo Campero" on the side. Hilda handed me a bag, a big smile on her face, and said, "Now you can try Pollo Campero for the first time!" I looked at her face, so full of love and giving, and I started crying. I did not feel worthy to receive all that she had given me. I walked away and wept that I had nothing to offer this family. As my shoulders shook and salty tears dribbled down my face, I realized how selfish my feelings of frustration were. There I was, hating that I was beholden to them, when instead I should have been rejoicing with this amazing family that had shared with us their stories and their laughter and their time and now, their food. I wept that I could not comprehend my own feelings, for I had only felt this kind of helplessness one other time before. I wept that I was unable to fully receive their love because I was so conditioned to give equally, to give because I am receiving, and to receive only once I have given. But solidarity does not mean equality. Solidarity means receiving from those who give and appreciating those gifts; solidarity means being open to others; solidarity means giving to those who cannot give to you and finding joy there. So I stopped crying and gave each of them a long hug, thanking them for everything they had given and taught me and apologizing for crying. "I always cry a lot", I tried to explain myself.
When the headlights of the taxi cab illuminated the street, I was relieved that our family could make finally make their trip home but sad to be leaving them. Tearfully, we exchanged emails and phone numbers, which involved hurriedly writing our contact information on a Hamster Dance singing card that Molly had received from her mother in the mail. We told the sisters to visit us in San Salvador whenever they wanted, and offered them a bed in our house if they wanted to stay in our house, inviting them to the vigil commemorating the deaths of the Jesuits on November 10th. Mostly, we thanked them, telling them over and over how grateful we were in whatever Spanish we could muster. As we hugged them goodbye in long, tight, close embraces, the sisters pressed Chiky cookies into our hands as one last tangible gift (they had remembered Molly's favorite flavor) and kissed us on the cheeks. I fought back tears and thanked them again, then climbed into the car, waving all the while. We waved through the back window until the truck was a red spot that faded in the streetlights.
I said goodbye to our family that night, but that doesn't mean I have forgotten them. My sudden tears liberated me, for I realized the freedom in knowing that I cannot always be in control, that I cannot always be the one who gives because I have more—sometimes, I have to be content to receive and to do nothing. And it is in that openness, in that being content to just be, that I find true joy. After all, love is always more than enough.