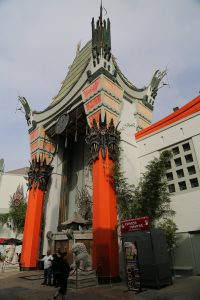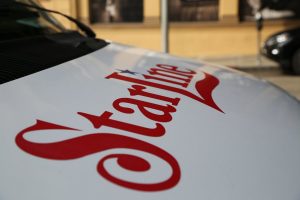 What better time to take a Starline guided tour of Hollywood and hunt for celebrity homes and celebrities than during the Academy Award weekend. Hollywood's epic event attracts a number of celebrities to town, parties and those looking to see celebrities.
Sure Hollywood is more chaotic then usual – with part of Hollywood Blvd shut down in the vicinity of Dolby Theatre and the buzz about the event by most everyone who happens to be in the vicinity of the Dolby Theatre.
But it is business as usual for Starline – this company was founded in Hollywood in 1935 with tours of Movie Star's homes and today is the both the oldest and largest sightseeing company in all of Los Angeles.
When you visit Hollywood you can't help but notice the presence of Starline with their info booths, employees handing out flyers and strong presence near the TCL Theatre. It might be easy to dismiss their tours as being very touristy and to some extent they are – but in reality their guides are the ones who make this more than just a touristy tour.
Conveniently located, you will start your tour in front of the TCL Chinese Theatre – Hollywood's epicenter for glitter, glam and grit. The Hollywood Walk of Fame lines both sides of the street and outlines of hand-prints of famous individuals are embedded in the concrete in front of the Theatre for thousands of visitors to gawk at each year.
During a recent Celebrity Home tour in a "topless" mini van we set out in search of celebrities, celebrity owned businesses and celebrity owned homes. Our driver was born and raised right here in Hollywood and has developed a unique passion for the industry and a sixth sense for where to spot celebrities. With eyes like a hawk as we drove around celebrity hotspots such as Bel Air and Beverly Hills he pointed out several well known celebrities spotted while driving. He regularly spots A listers – the day before he pointed out Neil Diamond and Al Pacino on one of his tours to awestruck visitors.
It is one thing to drive these luxurious neighborhoods yourself – it is another experience altogether to drive it with a guide who party's inside some of their homes, knows a number of A listers personally and has a 395 page directory of the latest celebrity owned homes. We were able to stop directly in front of several of these mansions due to the fact they are located on quiet streets.
As we drove, he pointed out impressive mansions as well as estates that are on a "different scale" – the mega mansions of celebs such as Sylvester Stallone, Charlie Sheehan (we viewed rows of paparazzi vehicles lined up outside), Cher, Zac Efron, Jon Voigt, the house where Michael Jackson was found dead, Jay-Z & Beyonce and many more!
Arguably one of the "high" lights of this tour is time spent on part of Mulholland Drive. As former R.E.M. lead Michael Stipe sings in the song Electrolite, "If I ever want to fly. Mulholland Drive. I am alive". His lyrics are spot on – this is an inspirational drive with excellent views at times overlooking both the Valley to the North and to the south over Los Angeles. At one point our guide requested we close our eyes for 20 seconds and when we opened them he was perched on a section of Mulholland overlooking one of LA's most ritziest neighborhoods encompassed by Beverly Ridge, Bel Air and Beverly Park. Big name celebrities such as Denzel Washington, Oprah Winfrey, Garth Brooks and Nicole Kidman among others have homes here.
Another memorable drive is down the Sunset Strip. This legendary part of Hollywood comes alive when the guide explains which celebrity owns certain restaurants, hotels, which hotels the A listers stay and where you can find some of the hot and historically significant nightclubs and party spots. Of note are the Whiskey a Go Go Bar, 1 OAK, Rainbow Bar & Grill and the Mondrian Los Angeles (hotel).
It was pointed out to us that Mel's Drive in is open 24 hours a day and makes a great stop for midnight or 2am junk-food – especially if you have been doing some drinking that evening.
If the walls in the establishments along the strip could talk – they would tell some intriguing stories. Fortunately our particular guide entertained us with some of these stories!
In addition to their normal scheduled tours, Starline operates an extensive and very popular hop on hop off bus system in several prominent parts of Los Angeles including Hollywood, Beverly Hills, Santa Monica & Venice as well as downtown Los Angeles. These prominent Double Decker buses serve 70 stops in Los Angeles.
Logistics:
Visitors who have a short time in Los Angeles can connect to this hop on hop off bus system via the Flyaway Bus from LAX (board on the lower/arrivals terminal under the green Flyaway Bus sign) to to a number of destinations including Union Station (near downtown), Hollywood and Santa Monica. All timetables for each route and bus stop are listed on their website. This is an easy way to get around town. One ticket, avoid the hassle of driving yourself and all day use of any of these Starline buses. Purchase tickets directly from the Starline website.
If you are driving use the parking garage at 6801 Hollywood Blvd (enter from Orange Ave or Highland) – take your parking ticket and Starline will validate it for 2 free hours of parking.
For more information about tours and to reserve a particular tour or hop on hop off bus ticket, visit www.starlinetours.com