As our group of ten sipped on Stoney Mules on the patio of the Lantern Restaurant & Grill located on the edge of Stoney Lake in the Kawartha region of Ontario, I was content. At that moment, while enjoying this drink made of vodka, ginger-rhubarb shrub, mint and club soda, I could understand why this part of the province is so much in demand by tourists.
The tree covered shoreline and the beautifully designed restaurant combine to make it an alluring eating place where one can dine and feel the enticement of nature. So beautiful is the region that the Ojibwa gave it the name kawartha meaning 'land of shining waters'.
In this aura of the outside world, the Lantern Restaurant stands as a beacon calling vacationers to fine dine amid the fresh country air. Located at McCracken's Landing on Stoney Lake, 45 kms (28 mi) north of Peterborough, this dining place is a gem of gastronomic ingenuity created by its two co-chefs and co-owners, Geoff and Lesley Kirkland.
After our drink on the spectacular patio with a breathtaking view of the lake, we entered the warm and inviting atmosphere of the restaurant. It had a feeling of an elegant eating place.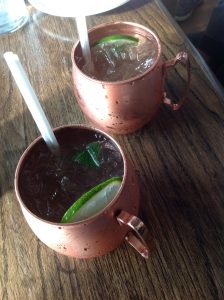 Our waiters were well-mannered, well-trained and well versed about every item on the menu. The restaurant ran like clock-work. In the words of Geoff, the policy of the restaurant is a happy staff makes for happy customers that makes for happy shareholders. On the edge of the beautiful waters of Stoney Lake, this entrepreneur had well-described a cycle of success.
Both Geoff and Lesley's goal is to offer the best that Peterborough and the Kawarthas have to offer from farm to table in that area. Using only local ingredients, they have achieved a level of creativity in offering new dishes in the Peterborough area. They have classic dishes but with what they call innovative and modern twists. Because they rely on the ingredients from the farms within their vicinity, they have a seasonal rotating menu as well as daily food and drink specials.
For example, the night we visited the establishment, we were offered their tapas-style Chef's Special, a mélange of everything fresh from their kitchen that evening. The meal that followed was no less innovative, tasty, and memorable. It started with a creamy rich mushroom soup paired with steamed then grilled artichokes accompanied by a tangy dipping sauce. For the entrée, we had a tender flaky baked perch sitting atop small cubes of roasted spiced potatoes and grilled asparagus with a lemony slightly tangy sauce dribbled all over. Texture, flavour, and presentation were phenomenal. This luxurious dinner ended with a flaky light butter tart from which oozed a slightly runny hot filling, the likes of which our group had never come across. Albeit Peterborough and the Kawarthas are known as 'Butter Tart Country' (there's even a tour in this region that features only in this tart!), this version boggles the palette. So light and refreshing, its partnering with a cold homemade scoop of ice cream spooned over rhubarb-strawberry sauce was the finale of fine dining for that evening.
As we crossed the evening shimmering waters of Stoney Lake, the taste of that fine meal remained with us. In fact, the next morning, while standing in line at our lodging for the buffet breakfast, my mind raced back to the Lantern Restaurant & Grill. Yesterday evening I dined like a king and today, while in line, I had returned to the mundane.
For Further Information, Contact:
NOTE: the Lantern is now Hobart's Lighthouse – visit: www.hobartslighthouse.ca
Peterborough and the Kawarthas Tourism: 1400 Crawford Drive, Peterborough, Ontario K9J 6X6; Tel: 1-800-461-6424; E-mail: info@thekawarthas.ca ; Website: www.thekawarthas.ca