It is hard to believe ten years has already passed since prolific writer and traveler, Rolf Potts released his book Vagabonding: An Uncommon Guide to the Art of Long-Term World Travel. We interviewed Rolf a number of years ago – one of our very first interviews. With this anniversary – we asked Rolf several questions relating to the book and his career. He offers some invaluable insights. Vagabonding is now available on audiobook.
Giveaway – we are giving away 5 Vagabonding Audiobooks – to the first five correct answers to some "Rolf trivia".

See the bottom of this post for details.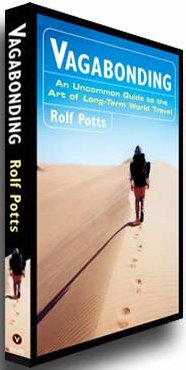 Q. It has been 10 years since you released, "Vagabonding: An Uncommon Guide to the Art of Long-Term World Travel" – which emphasizes Independent discovery and exploration of the world and involves spending quality time on the road. In essence, Vagabonding is a lifestyle. In 10 years the fundamentals of Vagabonding remain the same, but with a vastly changed "landscape of connectivity", information overload at times and regional "worlds" that continue to shrink in terms of cross cultural exchanges and sometimes erosion thereof, can you offer some advice to the current generation of young travelers for how to have Independent authentic experiences while on the road – both benefiting themselves personally as well as those they come in contact with?
I think the best advice for finding independent, authentic experiences on the road is to remember a couple of core principles I talk about the book: slow down, and don't micromanage things. In the "landscape of connectivity," the temptation is to know too much at once, to be a "consumer" in places rather than a seeker, always worried that something better might be happening someplace else. We're able to plan so much in advance these days that it has become harder to just show up in a place and let things happen. Slowing down is a great way to combat this, since it allows the place itself steer your journey rather than your expectations of what you thought that place would be. Embrace the small difficulties of being in a place, and let things happen. Often this will mean putting down your smartphone, not worrying about finding a wireless connection, and just walking around. When you're too connected on the road the temptation is to always be chattering with, and performing for, the virtual world, when in fact the whole point of the journey is to engage the place you're in on its own terms. Seriously. Keep your electronic interactions to a few minutes early or late in the day — less if possible — and interact with the world in front of you, in all of its subtle and surprising glory.

Q. Looking back on your travel and writing career, can you elaborate on what you value as "success" in this line of work?
I think success — both as a traveler and a writer — is a personal thing. It has to be, or else you're seeking success for the wrong reasons. For me, success as a writer means always finding new challenges. Ten years ago I wrote almost exclusively about travel; now I find a lot of satisfaction in other forms as well, like cultural criticism, graphic narrative, or investigative journalism of the type I did for Sports Illustrated last year. Hopefully I'll always be delving into new forms as a writer, both inside and outside of the travel milieu, never falling back too much on what I've done before. It's even more important to have a personal and intuitive sense of success as a traveler, lest you fall into the kind of arbitrary competitiveness that leads some travelers to count passport stamps and bloviate ad nauseum in hostel lounges. In Vagabonding I talk about how travel, as an ongoing experience of the unfamiliar, doesn't really lend itself to conventional notions of "success." If you're too fixated on a static notion of travel success — that is, if you aren't embracing your mistakes and making a fool of yourself from time to time on the road — then you'll probably miss out on some of the best experiences travel has to offer.

Giveaway
We are giving away five Vagabonding audiobooks to the first five people who correctly answer ONE of any of these five questions. The questions are themed based on Rolf's travels. Only one winner per question. The giveaway is open until each each of these 5 questions has a correct answer by 5 different individuals.
In order to win, the answer must be posted in the comments section at the bottom of this post with a valid email address listed so that we can email you the audiobook download link. Identify the question # with your answer.
1. What is the name of the company that provided the vest for Rolf's "No Baggage Challenge" for his round the world trip in 2010?
2. Where does Rolf call "home" when he's not traveling the world? The name of the US state will suffice.
3. What is the name of the first author that Rolf interviewed for his "travel writers" interview series on his own website?
4. What is one of Rolf's favorite budget destination cities in the world? (hint, it is the capital city of Thailand)
5. What is the name of the movie starring Leonardo DiCaprio, that Rolf tried to infiltrate in 1999, while backpacking through Thailand?

Follow Along

You can find download the audiobook here: http://www.audible.com/pd/Travel-Adventure/Vagabonding-Audiobook/B00GCHWZHG/
Follow Rolf's adventures on his website here: www.rolfpotts.com/ and read more about his Vagabonding book here: www.vagabonding.net