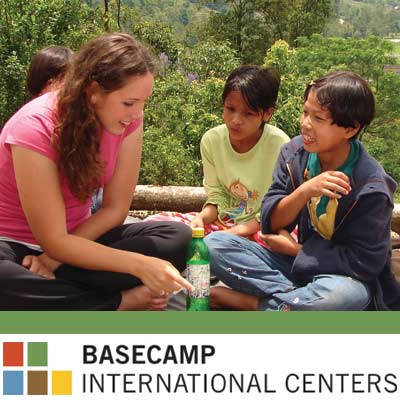 Basecamp International Centers believe international volunteering promotes cross-cultural learning that helps create global awareness, understanding between cultures and provides the platform for positive change.
Our volunteers have taught in schools, provided disaster relief support for the International Red Cross, conducted essential research to improve the management strategies of threatened environments, built homes for impoverished people, provided vocational training and programs for street kids and have worked in co-operation with hundreds of local organizations to distribute aid and improve the quality of life for people throughout Asia, Africa and Latin America.
Basecamp has volunteer placement on Social, Health and Medicinal, Environmental, Children and Building Projects in Nepal, Peru, Ghana, Nicaragua, Tanzania, Costa Rica and Ecuador.We believe everyone can contribute by volunteering. Recent graduates from high school, college or university, professionals taking a career break, recent retirees, individuals or groups who are interested in a change and the chance to enrich their own life and the lives of others. If you are 18 years or older you can apply for any of the placements available.
If you are from 16-18 years old you may apply for placements near our Volunteer Abroad Office and Residence, so that we are able to give you more support. Both students and professionals are needed for placements in all our countries.
Upon arrival in country our staff will pick you up at the airport and return you to our Orientation Center for a safety briefing and general country orientation. For this program you are required to complete one week of language training and orientation which is included in the cost of the program. At the end of that week you will transfer to your placement to begin volunteering. Our staff are available to assist you 24 hours a day, 7 days a week should you require help of any kind.
Basecamp International Centers welcomes all the interested volunteers from around the world to volunteer and make a difference. If you are interested in this placement then please contact us for the details:
Phone: 613.541.7862
Toll Free: 866.646.4693
Fax: 613.541.1604